Backend
S.U.N. Festival promo party in Dublin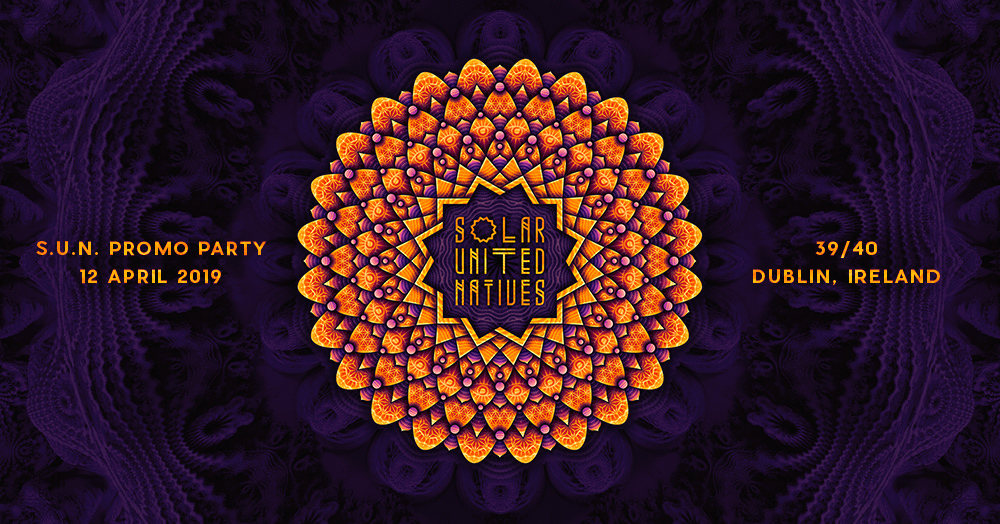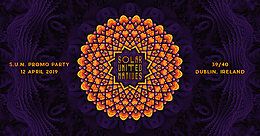 Line Up
PsyEmber & Psychedelic Gaff are joining forces to collaborate with Solar.United.Natives (S.U.N. Festival) and bring a bit of the beautiful vibe of this festival to Dublin 🌞
SUN Festival is one of the most know festivals in Europe dedicated to the Psychedelic Trance Culture taking place between the 15th to 21th July of 2019 in the amazing location of Csobánkapuszta in Hungary. Is a very special one for try to put up the idea of a community festival.
This year's Gathering will be special as it kicks off with a Full Moon and a Lunar Eclipse 😍
The idea of doing a promo party in Dublin is to bring more people to the festival with us and it's happening 😃 every year the family going from Ireland to the festival is getting bigger!
Why not go for a festival in a sunny country?!
You will have the chance to buy tickets for the festival at the promo party. If you want you can also became a membership of the festival and get a lifetime free entry in all their events.
For more infos about SUN Festival 2019 check their event page or msg us!
🌞🌞🌞🌞 LINE UP 🌞🌞🌞🌞
🔸 Boom Shankar (BMSS Records/Solar.United.Natives) - DE * 1st time in Ireland
🎧
soundcloud
🔸 Mush (Solar.United.Natives) - HU * 1st time in Ireland
🎧
[click here]
🔸 Fluffy Alien (Oggy Psy Club) - IN
🔊
soundcloud
🔸 JuliosMap (Psychedelic Gaff/Oggy Psy Club) - BR
🎧
soundcloud
_____________________________________________________
🌞 LOCATION
📌 39/40 (the old Voodoo Lounge)
Doors open at 9pm
Over 18's (ID required)
🌞 TICKETS
Link:
[residentadvisor.net]
Early Bird: 10€ + Ticket fee (SOLD OUT)
1st Release: 12€ + Ticket fee (SOLD OUT)
2nd Release: 14€ + Ticket fee
At the door: 15€ all night
🌞 DECORATION by Oggy Psy Club Dublin & PsyEmber
🌞 FUNKTION ONE Sound System
🌞 UV FACE PAINTING
🌞 PHOTO by Gustavo Bandeira
_____________________________________________________
🌞 MORE ABOUT THE DJS 🌞
🔸 BOOM SHANKAR (1st time in Ireland)
German based Boom Shankar is a Dj for Psychedelic Trance, the label manager of BMSS Records and an event promoter within Europe. Having been initiated into the Goa Trance scene in the early Nineties and by traveling the globe ever since, his sets are a mirror of the constant melting pot of fundamental Psytrance characteristics.
Whether he is guiding the dance floor through the night or into the morning, the outcome is always a voyage filled with a depth and an energy that allows the crowd to feel a sense of freedom through Trance. Groovy, deep, mature, hypnotic and clearly distinguishable.
Having played at many underground & major events worldwide, he has developed a full understanding of the flow and the energies of each dance floor and is flexible in terms of "styles". Through his impromptu sets, he is able to interact personally with each dance floor, taking the audience on a transformative journey. His sets are a direct form of communication through music.
Besides this, Boom Shankar is the label manager of BMSS Records where he has released 9 best-selling compilations so far: Transmissions, Transition, Cosmic Connections, Trancendance, Trancefusion and Return to the Source (20 Years of BMSS) feat. artists such as Aes Dana, Braincell, Tristan, Sonic Species & Avalon, Eat Static, Pogo, Lucas & Mechanimal, Egorythmia, Ovnimoon, Headroom & Zen Mechanics, Entheoegenic, Talpa, Outsiders and many more. He is working on his tenth one which will probably see the light in 2019.
In addition, Boom Shankar is part of the S.U.N. Festival crew in Hungary, the Alice im Wummerland party series in Germany plus is involved in many other global productions.
Facebook:
[facebook.com]
Soundcloud:
soundcloud
Instagram:
[instagram.com]
Bandcamp:
[bandcamp.com]
Beatport:
[bit.ly]
BMSS website:
[BMSS.eu]
____________
🔸MUSH (1st time in Ireland)
I've been playing music since my childhood. I started as a drummer, and then in 1992 we became infected with my friend Oleg Peti with the new beat, which was the cradle of trance. We further infected our friends, which resulted in our first public party with Oleg in '93 at Banan Club. This party has entered to history. The feeling was so caught by the people (and the audience was very mixed) that there was no question of continuing. From 1996, I started to write music for ten years in Sicily. I put together a start-up studio and went on the road to learning. A few years after my return to Hungary I am dj-ing again, thanks to Oleg and Snag, and to the SUN festival. SUN is the only organization that brings people back to the original atmosphere. All SUN festivals are a time-trip to the basic concept
Mixcloud:
[click here]
____________
🔸 FLUFFY ALIEN
Nithin aka Fluffy Alien discovered psytrance music at the age of 16 in India. There he realized the connection between human mind and this powerful music.. He started his DJ career in Ireland with Oggy Psy Club Dublin. He loves to chase the Groovy sounds, awesome rhythms in various ranges of BPM and he will make you feel the music how he feels it for sure .. he always transmit great energy to the dancefloor to see the happy hippie faces.. Full on , Twilight, Progressive and hi-tech are the most played sets.. who knows what's gonna be the next😉
Facebook:
[facebook.com]
Soundcloud:
[click here]
____________
🔸 JULIOSMAP
Julio began his contact with electronic music in 2006 when he attended to a dj course in his hometown São Bernardo do Campo (Brazil). For a few years varied his style between Electro, Minimal and Techno, when he also organized his first party called "Astech", back in 2008. But in 2011 after his first festival dedicated to the psytrance culture he fell in love with the people and the music and began to explore the fastest BPM's in his mixes.
With his untiring search for new songs, he has a characteristic style exploring psytrance and its variations, playing without rules and making his mixes a moment where he can enjoy doing what he loves to do.
Based in Dublin since 2014, few years later he started to organize the indoor party "Psychedelic Gaff" trying to bring what he experienced in different festivals to the parties, has already brought artists as 2012live, Vertival, Anoebis, Insane Creatures, Selective Mood, Via Axis, Virtual Light, Merkaba and others to play in Ireland.
During this time he had the opportunity to play in festivals around Europe as S.U.N. Festival (Hungary), Solar Seeds Transylvania (Romania), Alien Vibrations (Ireland), Sundown Gathering (Ireland), Fuinneamh (Ireland) and Audio Garden (Ireland).
Facebook:
[facebook.com]
Soundcloud:
[click here]
Instagram:
[instagram.com]
Youtube:
[youtube.com]
_____________________________________________________
_____________________________________________________
S.U.N. Festival 2019:
[facebook.com]
[solarunitednatives.org]
[facebook.com]
[facebook.com]
soundcloud
[click here]
[instagram.com]
[twitter.com]
[youtube.com]
[melymosolyalapitvany.hu]
Video from last year:
youtu
Location from the air:
[roundme.com]
You can buy tickets here:
[oneticket.hu]
[hadra.net]
[accessallareas.org]
[beatbase.com]
Location
Location
39/40 (the old Voodoo Lounge)
39-40 Arran Quay - Dublin 7 - Dublin/Ireland
Entry
Entry
TICKETS
Link:
[residentadvisor.net]
Early Bird: 10€ + Ticket fee (SOLD OUT)
1st Release: 12€ + Ticket fee (SOLD OUT)
2nd Release: 14€ + Ticket fee
At the door: 15€ all night