§ SUMMER_CELEBRATION 2015 § Free Event!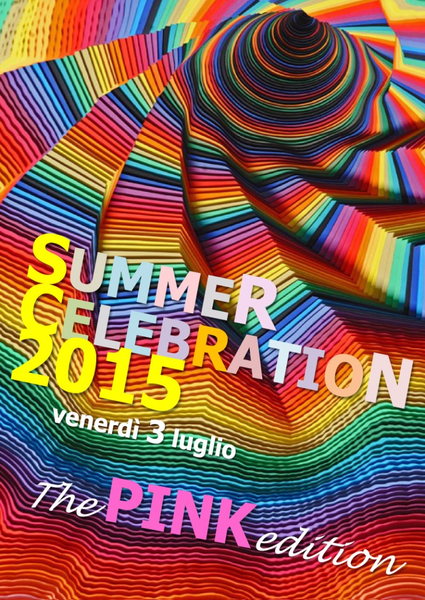 Line Up
Summer Celebration torna per la sua 9a edizione e sarà speciale!
A differenza delle ultime edizioni, per questa volta, abbiamo deciso di proporvi un unico giorno ed un'unica notte cercando comunque di ricreare le stesse atmosfere passate ma con qualche novità. Sfrutteremo la "notte rosa" (anche conosciuta come il capodanno della riviera) per offrirvi un evento unico che avrà inizio alle prime ore del pomeriggio (venerdì 3 luglio) e proseguirà fino al mattino del giorno successivo.
Per questa occasione abbiamo deciso di puntare su molti degli artisti e djs che ci hanno accompagnato nelle passate edizioni con alcuni giovani emergenti e new entry. Le sorprese non mancheranno e anche quest'anno l'ingresso sarà completamente gratuito!
Non ci resta che attendere l'estate per riscoprire i colori e i suoni di questa nuova Celebrazione.....on the beach!! ♥

:::::::::::::::::::::::::::::::::::::::::::::::::::::::

SUMMER CELEBRATION 2015 // The PINK Edition //

Venerdì 3 Luglio
apertura ore 15:00

Line-Up:

DYNAMIC SPHERE
ITAKAM
BRAIN JAM
SUPERNATURAL
MASTERKAOS // Switzerland
MAIKI
PSYBABA
DARIO
JIMMY9
MARIO BROSS
GEPPA
MENTAL CRYSIS
STARIXX
FRAKTAL ARABESQUE


:::::::::::::::::::::::::::::::::::::::::::::::::::::::

THANKS FOR SUPPORT TO:
Veleno Music, Riot Squat, PsyFly Tribe, Biba Rec., Dark Alien, Dirty Sound, Electronic Experience, Trocadero Staff, Naskapi Tribe.
Info
INFO:
- camping area (accanto all'area evento) per tende, camper, caravan, ecc (a pagamento)
- dancefloor on the beach
- bar e restaurant area
- shop area
- showers
- wc
- visuals
- decorations
INFO-MAIL:
summercelebration@hotmail.com
INFO-LINE:
+39 3383531566
+39 3384068675
+39 3473134539
INFO-WEB:
[facebook.com]
Entry fee
Entry fee
FREE ENTRY - INGRESSO LIBERO - GRATIS
Organizer
Organizer
Summer Celebration TEAM 2015