Backend
Summer of Love 2018 - Open Air Festival Vienna: Day 1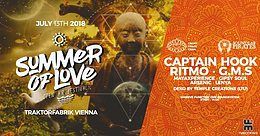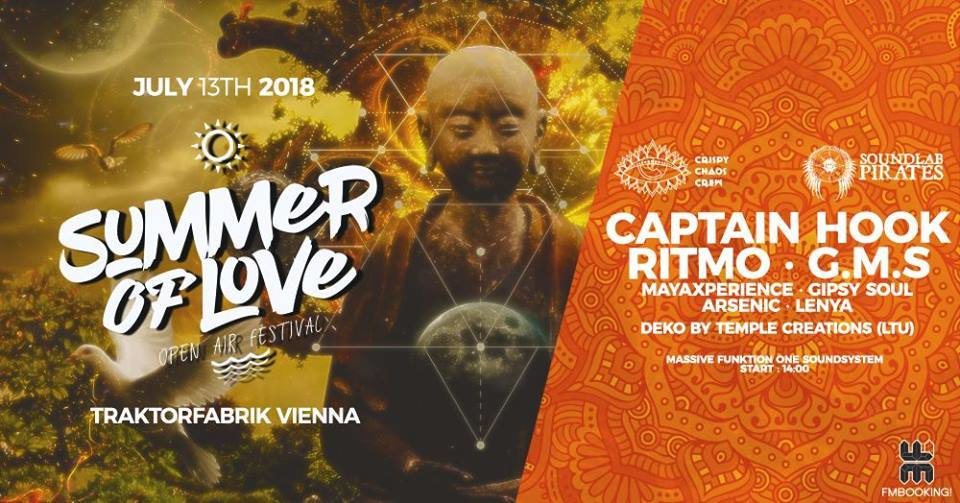 Line Up
▬▬▬▬▬▬▬▬▬▬▬▬▬▬▬▬▬▬▬▬▬▬▬
٠•●Ƹ̵̡Ӝ̵̨̄Ʒ●•٠ LIVE ACTS ٠•●Ƹ̵̡Ӝ̵̨̄Ʒ●•٠
▬▬▬▬▬▬▬▬▬▬▬▬▬▬▬▬▬▬▬▬▬▬▬
►► CAPTAIN HOOK (ISR)
Iboga Records
soundcloud
►► RITMO (ISR)
Iboga Records
soundcloud
►► G.M.S (ESP/ NL)
Future Music / FM Booking
soundcloud
▬▬▬▬▬▬▬▬▬▬▬▬▬▬▬▬▬▬▬▬▬▬▬
✮✮ DJs ✮✮
▬▬▬▬▬▬▬▬▬▬▬▬▬▬▬▬▬▬▬▬▬▬▬
► mayaXperience
Soundlab Pirates Records
soundcloud
► Gipsy Soul
Soundlab Pirates Records
soundcloud
► Arsenic
C³ - Crispy Chaos Crew
soundcloud
► DJane Lenya
C³ - Crispy Chaos Crew
soundcloud
▬▬▬▬▬▬▬▬▬▬▬▬▬▬▬▬▬▬▬▬▬▬▬
Deco
Ƹ̵̡Ӝ̵̨̄Ʒ DECO: Ƹ̵̡Ӝ̵̨̄Ʒ
Temple Creations (LT)
[facebook.com]
▬▬▬▬▬▬▬▬▬▬▬▬▬▬▬▬▬▬▬▬▬▬▬
Info
Summer of Love 2018 - Open Air Festival Vienna -
Day 1: Freitag, der 13.07.2018
hosted by Soundlab Pirates & C³ - Crispy Chaos Crew
✮ CAPTAIN HOOK (ISR) ✮ RITMO (ISR) ✮ G.M.S (ESP / NL) ✮ MAYAXPERIENCE ✮ GIPSY SOUL ✮ ARSENIC ✮ LENYA ✮ CHAI & SWEETS ✮ MASSIVE FUNKTION ONE SOUNDSYSTEM ✮ DAYTIME FESTIVAL ✮ BIG OUTDOOR AREA ✮ DECO by TEMPLE CREATIONS (LT) ✮ SOUNDLAB PIRATES & CRISPY CHAOS CREW ✮
▬▬▬▬▬▬▬▬▬▬▬▬▬▬▬▬▬▬▬▬▬▬▬
Liebe Sommer Freunde!
Wir freuen uns mächtig euch mitzuteilen, dass wir heuer die Ehre haben am FREITAG, dem 13.Juli, den Mainfloor am "Summer of Love 2018 - Open Air Festival Vienna" hosten zu dürfen!
Dabei bündeln wir, die Soundlab Pirates & die Crispy Chaos Crew, ein weiteres Mal unsere Kräfte, um euch ein Lineup der Superlative zu bieten!
Da alle guten Dinge 3 sind, präsentieren wir euch gleich 3 Psytrance Legenden: Captain Hook & RITMO aus Israel, sowie G.M.S aus Spanien & Holland!
Sie haben so ziemlich auf allen großen Psy Festivals & Partys auf diesem Planeten gespielt und dürften niemandem mehr in der Szene unbekannt sein. Mit ihrer atemberaubenden Musik haben sie bereits vielfach die Charts angeführt und viele Menschen in die bunte Welt des Progressive Psy entführt. Ihr Sound ist einzigartig, die Bässe tief & die Energie mitreißend!
Ebenfalls vertreten sind unsere hauseigenen Acts & DJs mayaXperience, Gipsy Soul, Arsenic, sowie die bezaubernde Newcomerin DJane Lenya!
Das Open Air Daytime Festival findet wie bereits letztes Jahr in der Traktorfabrik, 1210 Wien statt! Das riesige Gelände lädt nur so zum feiern und stampfen ein und überzeugt auch sonst mit seinem einzigartigen Ambiente!
Für den passenden Sound wird ein massives Funktion One Soundsystem sorgen!
Alles in allem dürft ihr euch noch auf viele Überraschungen und Specials freuen – so viel können wir euch jedenfalls verraten: Es wird ein großartiges Open Air Festival in Wien werden!
More info soon…
Wir freuen uns auf euch!
Soundlab Pirates & C³ - Crispy Chaos Crew
▬▬▬▬▬▬▬▬▬▬▬▬▬▬▬▬▬▬▬▬▬▬▬▬▬
Ƹ̵̡Ӝ̵̨̄Ʒ SOUNDSYSTEM: Ƹ̵̡Ӝ̵̨̄Ʒ
MASSIVE Funktion One Soundsystem by NOMEX Eventtechnik
▬▬▬▬▬▬▬▬▬▬▬▬▬▬▬▬▬▬▬▬▬▬▬
Ƹ̵̡Ӝ̵̨̄Ʒ DECO: Ƹ̵̡Ӝ̵̨̄Ʒ
Temple Creations (LT)
[facebook.com]
▬▬▬▬▬▬▬▬▬▬▬▬▬▬▬▬▬▬▬▬▬▬▬
٠•●Ƹ̵̡Ӝ̵̨̄Ʒ●•٠ DATE: ٠•●Ƹ̵̡Ӝ̵̨̄Ʒ●•٠
Day 1 - Psytrance / Progressive:
FRIDAY 13.07.2018
START: 14:00 // END: 22:00
Day 2 - Techno / Tech House:
SATURDAY 14.07.2018
START: 14:00 // END: 22:00
More info here:
[facebook.com]
▬▬▬▬▬▬▬▬▬▬▬▬▬▬▬▬▬▬▬▬▬▬▬
Summer of Love - Open Air Festival
THE LOVESTORY
Unsere Liebesgeschichte lässt sich vermutlich mit einem Wort zusammenfassen: Toleranz.
Wir lieben das Leben – die Diversität – elektronische Musik – wir lieben was wir tun!
In der einzigartigen Location "Traktorfabrik" im 21. Wiener Gemeindebezirk, feiern wir aus diesem Grund das SUMMER OF LOVE - Open Air Festival.
Location
Traktorfabrik, Louis-Häfliger-Gasse 12, 1210 Wien
Entry fee
▬▬▬▬▬▬▬▬▬▬▬▬▬▬▬▬▬▬▬▬▬▬▬
٠•●Ƹ̵̡Ӝ̵̨̄Ʒ●•٠ PRE-SALE INFOS ٠•●Ƹ̵̡Ӝ̵̨̄Ʒ●•٠
VVK Tickets ab 20 €
► Online:
[reservix.de]
- 20€ + vvk Gebühren
oder
► wienXtra-jugendinfo - 20€
Babenbergerstraße 1/ Ecke Burgring
1010 Wien
Mo. - Fr. 14:30 - 18:30 Uhr
✮✮✮ ATTENTION!!! ✮✮✮
🔥 SPEZIAL GRUPPEN-TICKET - LIMITED OFFER 🔥
5x Tickets um nur €65,- statt €110,- (€45,- Ersparnis!)
Sharing is caring, so tell your friends & get your special price tickets now! Only for a short time available. ❤️
Erhältlich sind die Gruppentickets unter
[eventjet.at]
oder einfach den QR-Code scannen. -->
[goo.gl]
▬▬▬▬▬▬▬▬▬▬▬▬▬▬▬▬▬▬▬▬▬▬▬
Organizer
Organizer
Summer of Love - Open Air Festival, Crispy Chaos Crew - C³, Soundlab Pirates