Summer End 2009
Matalascanas (Huelva) ·
Spain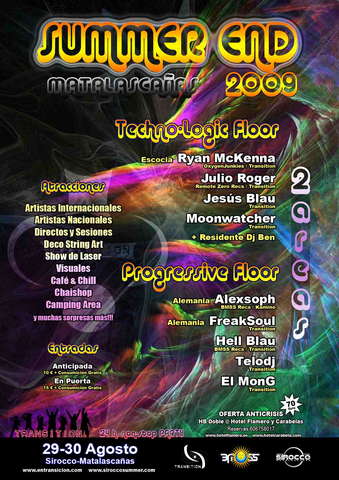 RYAN MCKENNA (OxygenJunkies/Transition) UK
[myspace.com]
ALEXSOPH (BMSS/Kamino Prod) DE
[myspace.com]
HELLBLAU (BMSS/Transition) SP
[myspace.com]
JULIO ROGER (Transition) SP
[myspace.com]
MOONWATCHER (Transition) SP
FREAKSOUL (Transition) DE
TELODJ (Transition) SP
EL MONG (Transition) SP
Deco
Deco
TRANZ VISUALS
TANGENT ELEMENTS
Visuals
BELTRANZ VJ
Performance
LUNITECNIA
[lunitecnia.com]
Info
Concept:
Transition presents SUMMER END 2009, a non stop 24 hours experience in a wonderful place to unite our energies and feel the magic of being in the moment..... happiness. Come and get into this bubble where time and space does not exist, and where the music is the only guidance of your conciousness...
Two floors, two parties, two magic experiences in one...
Laser Shows
String Art
Chaishop
Camping Area (book your area in this phone number: 0034606758017)
Caffee & Chill
... and much more!!
ADVICES
* This party will take place in a natural environment. Please, take care of our mother nature and use the rubbish bins and ashtrays around the floors.
* Pets, dogs, weapons, or drugs are forbidden inside the location. Respect your nature and others.
* All handbags will be checked by the security team at the gates, please, cooperate with the organization in this matter so that everybody can enjoy the whole experience.
* If you want to use the camping area, you must book your area in this phone number: 0034 606758017.
¡¡¡BooM!!!
More info in:
[entransicion.com]
[siroccosummer.com]
Location
Location
Sirocco (Matalascanas)

SUMMER END 2009 will take place in a priviledge location, an utopian place in complete fussion with the natural environment of the Dunes Park of Matalascanas. Take the N-483 to Almonte-Matalascanas, and once in the beach town take the first round to the right. Take the next round and come back to Matalascanas, in some meters you will see the parking entrance of Sirocco.
Entry
Advanced Tickets: 10 euro
Gate Tickets: 15 euro

(1 free drink included)

Get your tickets in these hotlines:
Madrid - 650282143 (Pedro)
Sevilla - 697646048 (Limón)
Huelva - 669930819 (Manuel)

Partners of the Association MAKE YOUR TRANSITION will not pay the entrance ticket, but showing the Membership Card at the gates.
Added

11y 10m

· Update

11y 10m

· 1 ·