SubTech Sessions6 |MAX COOPER_uk(Traumschallplatten),SQL_nl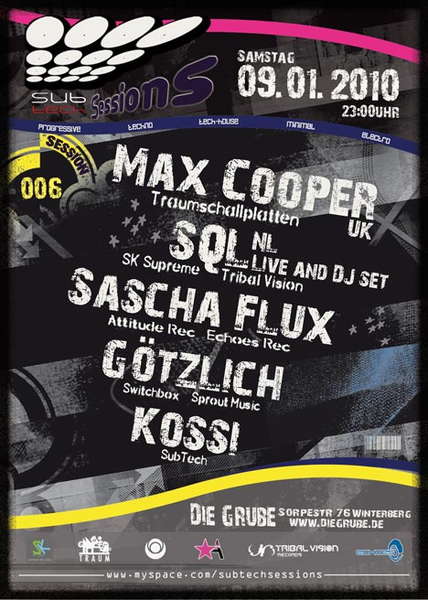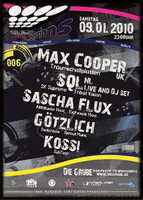 Live
Line Up
SQL _nl
(SK-Supreme / Tribal Vision)
MAX COOPER _uk
(Traumschallplatten)
SQL _nl
(SK-Supreme / Tribal Vision)
GÖTZLICH _de
(Sprout / Switchbox)
SASCHA FLUX _de
(Attitude Rec / Echoes)
KOSSI_de
(SubTech)
Artist Infos
MAX COOPER
Nach seinen ersten Flügen auf Firefly-Records und diversen Zwischenstopps z.B. bei Evolved Rec oder Autist Records, ist der gebürtige Londoner 'Max Cooper' Ende 2008 beim weltweit
bekannten Label Traumschallplatten gelandet.
Zum Labeleinstand lieferte Max einen melancholisch-schön treibenden Remix von Extrawelt's 'Garten von Eben' ab, der zu Recht weltweite Aufmerksamkeit auf ihn zog. Seit dem hält er mit seinen Remixen u.a. für Dominik Eulberg, sowie mit seinen eigenen Releases die TechnoWelt bei Atem und gilt nicht zu Unrecht als einer der aktuellen Geheimtips des renommierten Label aus Köln. Freut Euch auf ein Set der besonderen Art.
[myspace.com]
SQL
... aus Amsterdam blickt mit 22 Jahren bereits zurück auf eine beachtliche Anzahl Releases, u.a. auf Tribal Vision, Baroque und SK-Supreme Records. Seine Produktionen finden sich in Playlists von DJ's aus verschiedenen Genres und 'Distorted Reality', einer seiner Tracks aus 2009, belegte mehrere Wochen Platz 1 der Beatport-Minimal Charts und war unter anderem in der Playlist von Richie Hawtin vertreten.SQL verbindet Elemente aus unterschiedlichsten Bereichen der elektronischen Musik, woraus er seinen eigenen Soundcharakter entwickelt hat, ohne dabei Genres & aktuellen Trends zu sehr zu folgen. Als einzigen Gig in Europa zwischen seiner Brasilien- & seiner Mexiko-Tour im Dezember & Januar, ist er bereits zum zweiten Mal in unserer noch kurzen SubTech-Geschichte bei uns zu Gast.... und diesmal gibts neben einem erstklassigen DJ-Set auch SQL Live on Stage!
[myspace.com]
GÖTZLICH
Bereits seit mehr als einer Dekade ist Götzlich dem Schwarzen Gold in Scheibenform verfallen. In diesem Zeitraum waren Australien, Thailand, Kanada, Mexiko oder Portugal nur einige seiner zahlreichen Stationen, wo er auf Festivals, Open Air Events und in Clubs den Dancefloor zum beben gebracht hat. Seit 2006 produziert er mit seinen Teampartnern Sally Doolally & Nuke unter dem Namen "Beauty & the Beat & Nuke", und mittlerweile blickt das erfolgreiche Trio auf 12 Releases auf diversen Labels zurück. Aktuell widmet er sich allerdings mehr dem Revival des Techno-Acts "Switchbox", denn dieser LiveAct wurde von Götzlich & Nuke erfolgreich durch die ersten geplanten Releaaes auf Sprout Music im Dezember 09 wiederbelebt.
[myspace.com]
SASCHA FLUX
... steht ebenso seit über 10 Jahren hinter den Decks. Für den Start seiner Laufbahn er hätte sich kaum einen besseren Ort wünschen können als den Backyard-Club auf Thailand's Partyinsel Koh PhaNgan, wo er seinen ersten Gig spielte und etwas später auch Resident Dj wurde. Seit dem haben seine Sets so bekannten Clubs wie dem Maxim Club in Tel Aviv, Camera Club in Wien, Metaverso in Rom oder Studio80 in Amsterdam den Floor gerockt. Aber auch in diversen deutschen Clubs wie der Distillery in Leipzig, Butan Club in Wuppertal oder auf
dem Fusion Festival, ist er ein gern gesehener Gast an den Reglern. Mit seinem ersten Release 'Never trust the Drugweib' auf Dezign Music aus Griechenland, machte er auch als Producer auf sich aufmerksam und weckte das Interesse verschiedener Label wie z.B. Echoes Records aus Israel oder Attitude Recordings aus Kanada. Weitere Releases zeigten schnell, dass er weder als DJ, noch als Produzent, einfach in eine Schublade zu stecken ist.
[myspace.com]
KOSSI
Eröffnet wird die Nacht vom Wahlberliner Kossi, in NRW vielen bekannt durch zahlreiche Events die er zwischen 2006 & `07 im Butan Club in Wuppertal organisiert hat. Zur Zeit hauptsächlich als DJ Team mit seiner Partnerin Kiddo unterwegs, kommt er am 09.Januar mit seinem Solo-Act nach Winterberg.
[myspace.com]
Location
Location
Musik & Kulturfabrik
'Die Grube'

Sorpestr. 76

59955 Winterg Siedlinghausen
Entry
Entry
Eintritt Normal: 10,-€
+
Eintritt Specials:
8,- für alle mit einer weiteren Strecke als 50 km
5,- für alle mit einer weiteren Strecke als 75 km!
(Es zählt der eingetragene Wohnort! bitte gültigen Ausweis zur Bestätigung mitbringen!
Birthday Kids (18+) zahlen nix!

Birthday Kidz (18+), mit Geb.Tag am 09. oder 10.Jan haben freien Eintritt !!!
Organizer
Organizer
SubTech Sessions & 'Die Grube'
Web
myspace.com/subtechsessions