SubTech Sessions3- GREG COYLE-Transient Rec/ TRUE LIES(live)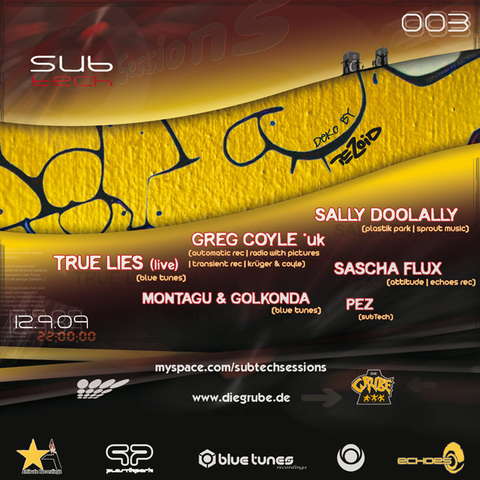 !!!ACHTUNG!!!.........ÄNDERUNG!!!
LEIF HATFIELD......hat seinen Gig leider
gecancelt !!!.............(wird aber bei nächster Gelegenheit nachgeholt !).
Wir haben uns bemüht für Euch ebenso hochklassigen Ersatz zu finden,
und freuen uns mit dem Labelmanager der beiden weltweit bekannten Labels
Automatic Records und Transient Records aus England, einen Artist gefunden zu haben, der perfekt ins SubTech Sessions Konzept passt.
Please welcome ... !
GREG COYLE
(Labelowner Automatic Records / Radio with Pictures / Transient Rec)
(aka Coyle von Krüger & Coyle , aka Lunar von Purple & Lunar, aka London Sewer Tour aka ... )
[myspace.com]
+++
MONTAGU & GOLKONDA
(Blue Tunes)
[myspace.com]
+++
SALLY DOOLALLY
(Plastik Park)
[myspace.com]
+++
SASCHA FLUX
(Attitude / Echoes Rec)
[myspace.com]
+++
PEZ (SubTech Sessions)
___
Deco
Deco
PEZOID
[pezoid.de]
... auf seiner Website steht Visionary Artist und das triffts auf den Punkt.
Seine Werke sind einfach aussergewöhnlich und er hat damit seinen eigenen Style definiert.
macht Euch ein Bild :
[pezoid.de]
Info
Um Euch den Start in die Indoorsaison so angenehm wie möglich zu machen,
haben wir diesmal ein extradickes LineUp zusammengestellt.
Alle Artists sind bekannte Namen der Progressive Szene und blicken auf jahrelange Erfahrung und weltweite Auftritte in Clubs und auf Festivals zurück.
Freut Euch also auf eine Nacht vollgepackt mit hochklassigem Sound!
Grade in der Progressive Szene hat sich in jüngster Vergangenheit so einiges getan und Labels wie Plastik Park (A&R Sally Doolally), Sprout (Label Artist:Leif Hatfield), Attitude Rec (Label Artist:Sascha Flux) oder Blue Tunes Rec (Labelheads: Montagu & Golkonda) und viele weitere Label die aus dieser Szene stammen, erfreuen sich grosser Beliebtheit bei DJs und Hörern aus verschiedensten Lagern.... und SubTech Sessions bringt Euch diesen frischen Sound präsentiert von nationalen und internationalen Acts einmal monatlich nach NRW!
Wie in den Infos bereits erwähnt, musste Leif Hatfield leider seinen Auftritt canceln.
Dafür kommt aber niemand geringeres als Mr. Greg Coyle himself aus England zu uns gejettet:
Greg Coyle hat mit seinen Labels Transient Records den Goabereich, sowie mit Automatic Recs die Progressive House & Progressive Trance Szenen der ganzen Welt maßgeblich beeinflusst und vorangetrieben.
Der Output der beiden Labels setzte Maßstäbe und brachte so einige musikalische Meilensteine hervor.
Die Vinyls aus seiner Schmiede landeten regelmässig auf den Plattentellern von John Digweed, Sasha und vielen weiteren Größen, und platzierten sich genauso regelmässig in den oberen Rängen der Salescharts in den Plattenläden dieser Welt.
Im Moment widmet er sich seinem neuen Label \"Radio with Pictures\",
\"Krüger & Coyle\", der Name seines Projekts mit Sebastian Krüger aka SBK, dürfte hier wohl den meisten bekannt sein, denn wer erinnert sich nicht an \"The Witness\" .... den \'Ah Shiva\' Track ;-), ...
Aber auch der Track \"Subtle Thrust\", aus der Feder des Producer-Duos \"Purple & Lunar\" aka Richard Kegg & Greg Coyle, dürfte spätestens beim Hören ziemlich jedem ein Begriff sein und bei dem ein oder anderen Gänsehaut und ein zufriedenes Grinsen hervorrufen.
Für mehr Infos, und Sound unserer Gast-Artists, besucht unsere MySpace Seite
[myspace.com]
Da gibts Biografien und Links zu allen Artists & Labels, und natürlich Sound !
Zum warmgrooven gibts davon jetzt jede Menge auf unserer Seite ... bzw in unserem Blog.
Auf
[myspace.com]
könnt ihr alle mixe streamen, die unsere Gast DJ´s zur Verfügung gestellt haben ... und im Blog
[myspace.com]
gibts die Download-Links dazu.
aktuell im player:
1. Sally Doolally - Boom Festival Radio Podcast "Mindstream 004" june09
2. Montagu & Golkonda - Promo DJ Set / April09
3. DJ Koszki - Tubular - Promo DJ Set / Aug09
4. SQL - Promo DJ Set / May09
5. Sascha Flux - Rocketzound Promo DJ Set / July08
viel spass damit :)
noch mehr infos gibts hier:
"Die Grube"
[diegrube.de]
Location
Location
Musik & Kulturfabrik
\"DIE GRUBE\"
Sorpestr. 78

59955 Winterberg