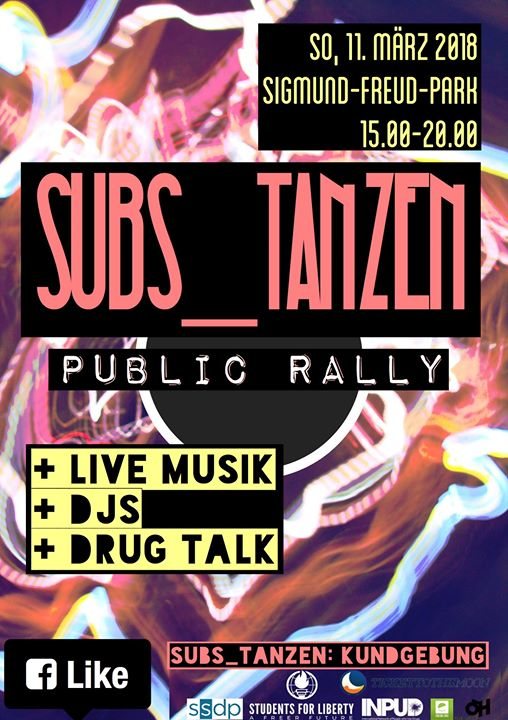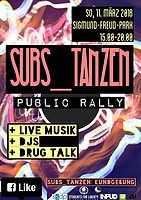 Line Up
Wir sind permanent von ihnen umgeben,
dennoch möchte niemand öffentlich darüber reden.
Wir brechen das Eis- tanzend.
٠•●●•٠ SUBS_TANZEN ٠•●●•٠
Ein Tag zum Feiern, Diskutieren, Vernetzen, Denken und Träumen! Komm vorbei, wenn sich aktivistische Bewegungen der ganzen Welt treffen, um zu tanzen und über die aktuelle Drogenpolitik zu reden. Die Kundgebung wird veranstaltet von Individuen und Organisationen aus verschiedensten Richtungen– alle sind sie sich jedoch darüber einig, dass der "Krieg gegen die Drogen" gescheitert ist und beendet gehört.
☼ ♪ ♫ ♪ ♫ ♪ ☼
Samy Hajar
soundcloud
Poco Peyote (formerly Psicotrópicos)
soundcloud
Alem Bay (Men with Secrets)
soundcloud
☾ ♪ ♫ ♪ ♫ ♪ ☾
S'guade
[click here]
Franjazzco (disko404/jukebox)
soundcloud
b2b
Alamut (Super Unusual Beings)
soundcloud
Dr. Highway + Mr. Patrol (Galactic Township)
Electric Fence Anita b2b Alexander
[click here]
٠•●●•٠ Speakers ٠•●●•٠
Anyone's Child: Families for Safer Drug Control
INPUD
Global Drug Survey
Veterans for Medical Marijuana
ENCOD - European Coalition for Just and Effective Drug Policies
ARGE CANNA
LISTE PILZ
Students for Sensible Drug Policy
Deco: Tagtool crew
Together we are strong. Together we are change.
Tanzt mit, für eine sinnvolle Drogenpolitik!
☮
Location
Location
Sigmund Freud Park
Universitatsstrasse
1010 Vienna
Organizer
Organizer
SSDP Österreich
Added

3y 6m

· Update

3y 6m

· 1