STRATOSPHERE 2ND EDITION The Natural Psychedelic Experience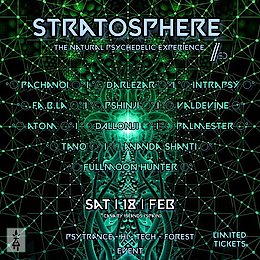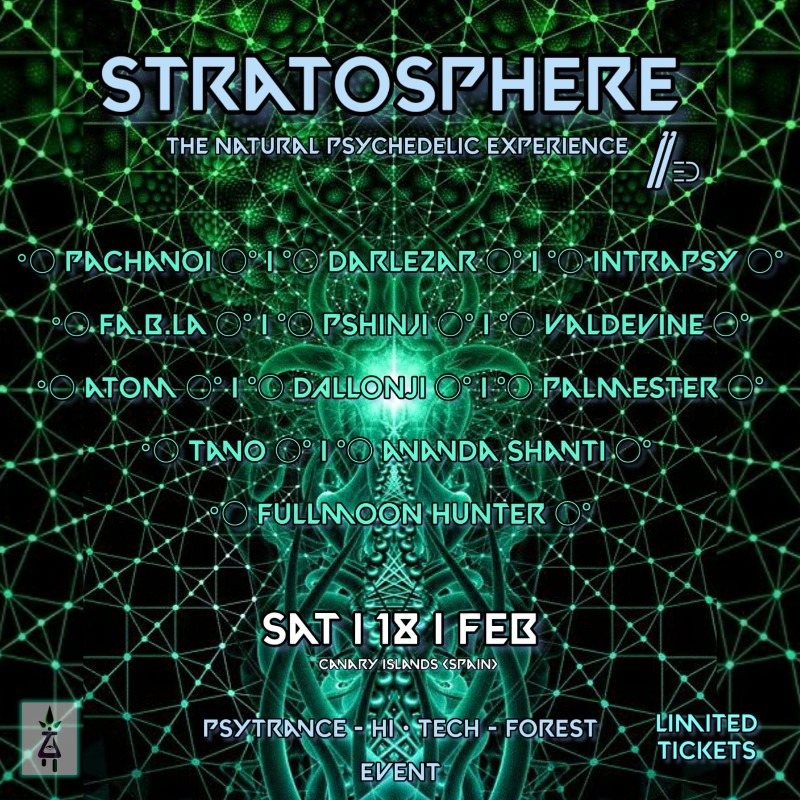 Line Up
21:00 a 23:00 Warmup World Sounds
23:00 a 00:30 Valdevine Acid Techno
00:30 a 02:00 Palmester Progressive
02:00 a 03:00 Fullmoon Hunter Psytrance
03:00 a 04:00 Darlezar Psytrance
04:00 a 05:00 Fa B La FullOn
05:00 a 06:00 Pachanoi Hi-Tech
06:00 a 07:00 Pshinji Hi-Tech
07:00 a 08:00 Atom Psytrance
08:00 a 09:00 IntraPsy FullOn
09:00 a 10:00 Ananda Shanti FullOn
10:00 a 11:00 Dallonji Progressive
11:00 a 12:00 Tano Progressive/Techno
Info
SOLD OUT
Presentamos a:
2ª EDICION DE STRATOSPHERIC The natural psychedelic experience.
18 de febrero de 2023 hasta el 19 de febrero de 2023
ENTRADAS LIMITADAS  MENSAJE PRIVADO PARA MAS INFO. (150 SITIOS DISPONIBLES) RESERVA CON TIEMPO! (LA ULTIMA SEMANA YA NO SUELEN QUEDAR SITIOS).
Todo esto podrás encontrarlo en nuestro evento:
- PSYTRANCE MUSIC!
- Bebidas en abundancia! (Bar non stop)
- Parking
- Zona de Camping y esparcimiento.
- Fluo shop
- Body painting
- W.C.
- Y MUCHO MAS...

NOTA IMPORTANTE:
Al estar en un entorno muy delicado (Pinar y Monteverde) se requerirán ciertas pautas de seguridad a seguir que serán transmitidas en el INFOPOINT de la fiesta el día del evento, así como en los flyers que se repartirán a la entrada del mismo:
PROHIBIDO HACER FUEGO (Habilitaremos zonas específicas para el mismo).
DEJA A TUS MASCOTAS EN CASA (La música alta pude ser perjudicial para sus oídos).
EVITA TRAER BOTELLAS DE CRISTAL PARA PREVENIR INCENDIOS.
TRAE ROPA DE ABRIGO.
¡INTENTEN LLEGAR CON LUZ SOLAR PARA QUE NO SE COLAPSE LA CARRETERA POR LA NOCHE!

ENGLISH VERSION:
Welcome Psytrance Family!

Introducing:
2ND EDITION OF STRATOSPHERIC The Natural Psychedelic experience.
Saturday 18th February until Sunday 19th February
LIMITED TICKETS  PRIVATE MESSAGE FOR MORE INFO. (150 PLACES AVAILABLE) MAKE YOUR RESERVATION WITH TIME! NORMALY, THE WEEK BEFORE THE PARTY WE ARE RUN OUT OF PLACES!

SOLD OUT
You can find all this in our event:
- PSYTRANCE MUSIC!
- NON STOP BAR
- Parking
- Camping and recreation area.
- Fluo shop
- Body painting
- WC
- AND MUCH MORE...

IMPORTANT NOTE:
Being in a very delicate environment (Pine Forest and Monteverde) certain safety guidelines will be required to be followed, which will be transmitted in the INFOPOINT of the party on the day of the event, as well as in the flyers that will be distributed at the entrance of the event:
FIRE PROHIBITED (We will enable specific areas for it).
LEAVE YOUR PETS AT HOME (Loud music can be harmful to their ears).
AVOID BRINGING GLASS BOTTLES TO PREVENT FIRE.
BRING WARM CLOTHES.
¡TRY TO ARRIVE WITH SUNLIGHT SO THE ROAD DOES NOT COLLAPSE AT NIGHT!

More info soon…
See you in the dancefloor Psytrancers!
Added

1m 30d

· Update

1m 10d

·