Backend
STRANGER-LIVE@SOME OF THESE DAYS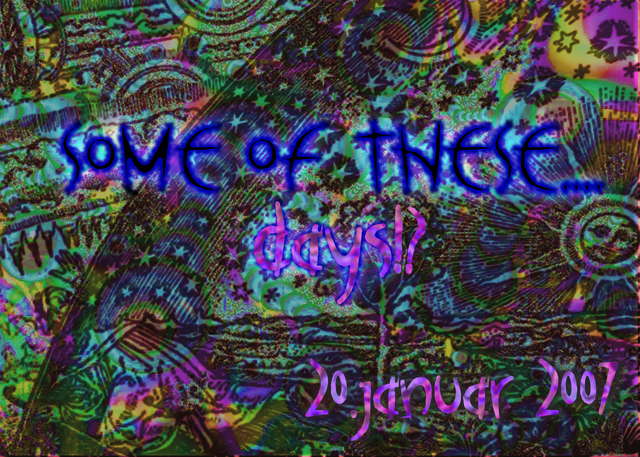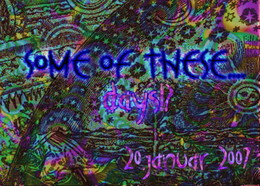 Line Up
Line Up
STRANGER (GREECE-TantrummREC.Parvati REC.DiscoValleyREC)
EKLECTRIK (Bushafritta-LondON)
Info
Ein paar Facts: 320 qm, ein kleiner chillout,
direkt im u bahnbogen am alexanderplatz hinter dem brauhaus......
14 Kw Mayer monstersoundsystem!!!!

am morgen some fruits for free
10E 20% less entry before 24h

CHANGE IS OUR ONLY CONSTANT OUR TRIBAL RYTHM . THE SOUNDTRACK ON OUR JOURNEY TO ETERNITY: WITH ABSOLUTE ACCEPTANCE OF CHANGE COMES UNITY. IT IS THE KEY TO OUR FREEDOM. FOR CHANGE DEMANDS NO BOUNDARIES. NO FEAR. NO SEPERATIONS.

THIS MUSIC CHALLENGE US TO HAVE FAITH IN CHANGE. TO TRANSFORM OLD INTO NEW. TO CALIBRATE OUR SENSES TO THE INEVITABLE. LET IT GUIDE US TO UR INNER ESSENCE WHICH IS HARD-WIRED TO THE UNIVERSE AND CONTAINS EVERYTHING THAT IS KNOWABLE

THE IMMAGINATION CANNOT BE CONTAINED. THIS MUSIC PREPARES THE MIND FOR THE JOURNEY TO THE INFINITE. THESE SOUNDSCAPES ARE INVISIBLE MAPS. ON INITIATION INTO CONSCIOUS AWARENESS.

THESE SOUNDS CAST THE SAND FROM OUR EYES OF DISTRACTION. THEY GIVE US INTENSE AND DIRECT CONTACT WITH REALITY. THROUGH THEM WE REALISE THAT WE ARE ALL CONNECTED TO OUR DESTINY. INNER AND OUTER REALLITIES ACCELERATE. WE BECOME MORE ALIVE. EVERYTHING IN THE UNIVERSE IS CONNECTED. AS THE ENERGY OF TRUTH FLOWS BETWEEN THESE CONNECTIONS. OUR VSIONS PF THE SEPERATE ASPECTS WILL BECOME INCREASINGLY BLURRED SO THAT WE WILL FINALY SEE EVERYTHING AS IT TRULY IS PERFECT WHOLE AND COMPLETE.

MUSIC IS MUSIC AND NOBODY WILL EVER HALT THE CONTINUAL BIRTH AND DEATH OF NEW AND OLD MUSIC : SO WE CAN DO IS WATCH DANCE AND CELEBRATE THE EVOLUTIONARY PATH OF THE SOUNDS THAT SHAPE AND DEFINE OUR LIVES.

THE DREAMER BECOMES A WARRIOR WITHIN CIRCLE OF CHANGE : WITHOUT BOUNDARIES WE ARE ONE. WE HAVE NO FEAR. WE NEED NO SECURITY. TOGETHER WE ARE THE INSTRUMENT OF CHANGE. THE NORTH OF THE NIGHT. THE SOUTH OF THE DAY. THE EAST OF THE DAWN. THE WEST OF THE DUSK.

DISSOLVED OF OUR DIFFERENCES WE ARE THE SOLOMON OF THE WISDOM. THE MEDICIN WHEEL OF THE CROW AND THE ELK. THE MANTRA OF A SADHU OR THE CHANTS OF A BUSHMAN. THE INVOCATIONS OF DISTANT ANCESTORS ALL BECOME ONE IN THIS OCEAN OF SOUND. STRETCH YOUR WINGS AND FLY. WITH THE WINDS OF CHANGE:

line up:

23- 0 coming in
0- 2 Shawnodese
2- 3 EklectriK live
3- 4 Chinaski
4- 5 EKlectriK dj set
5- 6 Stranger
6- 8 Projekt25
8-10 Steven Hc
10-12 M3Dra

can be changed suddenly.....
Location
club Faces
Rochstraße Bogen 132 / 134
10178 Berlin Mitte