★ STAR WARS EP 4 ★ X7M LABEL NIGHT ★ SEVEN MONKEYS ➨ MAJOR7 ➨ THE BIG BROTHER ★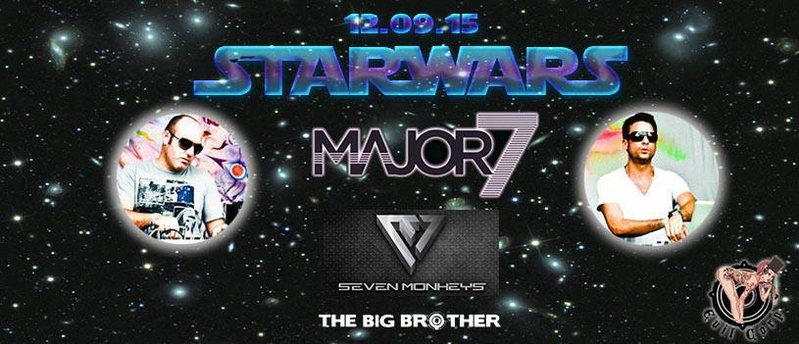 Line Up
➨➨ EVIL CORP ARE PROUD TO PRESENT:
╔═.♥.═════════════╗
X7M LABEL NIGHT
╚═════════════.♥.═╝
★★★★★◉☾ X7M STAGE LIVE ☽◉ ★★★★★
★ SEVEN MONKEYS ★ (Special Guest) IL / BR
✔ (Spin Twist Records)
♬
soundcloud
Seven Monkeys are Nadav Bonen, Barak Argaman (Israel) Jonatha Yunoki (Brazil)
[facebook.com]
★ MAJOR 7 ★ IL
✔ (X7M Records)
♬
soundcloud
MAJOR7 is the second project from both talented electronic producers Nadav Bonen & Barak Argaman, the same 2 persons that stand behind X-noiZe (Hommega rec).
Bonen and Barak collaborate again this time in progressive psytrance music-.
8 years after producing X-noiZe psytrance/Full-on music they decided to come up with a new project under the name of MAJOR7 .
MAJOR7 founded at the end of 2010, as a low b.p.m(132 –138) progressive psytrance project that use a variety of techno elements along with psychedelic atmosphere .
It is prog psy trance with a modern progressive club beat, dancy and refreshing it integrates power and force with a moderate tempo groove and fresh techno elements of futuristic music, characterizing the next generation of progressive trance sound.
As it was and is with these 2 guys - the production level, the experience as producers, and their dj skills, along with their originality and the need to push themselves to Excellency - drive them constantly to create quality electronic music.
MAJOR7 started performs around the world , after releasing just 2 EPs ...
The first EP of Major7 that got released jump them strait up to place number 2 on beatport psytrance top 100 .
2012 year will be the year of Major7 in psyprog trance , after shaping their sound to an original sound , with a top level production skills .
Currently Major7 working on their debut album that will be released by Iboga rec .
The "buzz" on their music is massive and djs all over the prog psytrance scene play their tracks already. stay tuned for more music , only and just only quality stuff from this act!
★ THE BIG BROTHER ★ IL
✔ (X7M Records)
♬
soundcloud
THE BIG BROTHER is ERAN .based in TEL AVIV, ISRAEL,he is making music since 2003 and performing worldwide since 2004.
he known in his fullon project DUALCORE and his psy project POINT.
The Big Brother sound is psychedelic progressive trance , strong tight bass lines , Squall leads , hypnotic rhythms with a dark spooky feel .
the kind of tracks you will love to hear on a real psychedelic outdoor parties...
THE BIG BROTHER collaborate with leading artist like MAJOR7 and SUB6 and MANDRAGORA and 4I20 …
First track Release at IBOGA RECORDS, MIRAGE ep release at X7M RECORDS, THE BIG BROTHER $ 4I20 -Symmetry release at X7M RECORDS
SOON new ep Vitruvian Men at X7M RECORDS
so see you soon at the dance floor!!!
★ AVENGERS ★ IT
✔ (X7M Records)
♬
soundcloud
★ POINT ★ IL
✔ (Nightbase Music / United Beats Records )
♬
soundcloud
★ GOOD FELLAS ★ IT
✔ (Evil Corp)
♬
soundcloud
★ BOOT SEQUENCE ★ IT
✔ (Indipendent)
♬
soundcloud
••••••••••••••••••••••••••••••••••••••••••••••••••••••••••••
★★★★★◉☾ X7M STAGE DJ ☽◉ ★★★★★
★ RAVEHEART ★ IT
✔ ( Evil Corp)
♬
soundcloud
★ULTIMA SPHERA VS KENYA DEWITH★ IT-MEXICO
✔ ( Evil Corp B2B )
♬
mixcloud
★ FRASCKY ★ IT
✔ ( Evil Corp)
♬
soundcloud
★ DIGITAL IMPULSE ★
✔ Artrance Records
♬
soundcloud
★ SIR ★ IT
✔ ( Different Reality)
♬
soundcloud
★ DIABOLIK ★ IT
✔ (Evil Corp)
♬
soundcloud
★ HAMADA vs AMIN ★
( tunisia&marocco-it )
►https://www.facebook.com/pages/HMD-project/428801410567702?fref=ts]
►https://www.facebook.com/pages/Amin-aka-Casper/718772951483693?fref=ts
••••••••••••••••••••••••••••••••••••••••••••••••••••••••••••
TIMETABLE:
22-23 Ultima Sphera vs Kenya Dewith
23-00 Diabolik
00-01 Frascky vs Digital Impulse
01-02 Sir
02-03 POINT Live
03-04 THE BIG BROTHER Live
04-05 AVENGERS Live
05-06 SEVEN MONKEYS Live
06-07 MAJOR7 Live
07-08 GOODFELLAS Live
08-09 Bootsequence Live
09-10 Arabica
Info
★★★★★◉☾ SOUND SYSTEM ☽◉ ★★★★★
► ►► ► 20 KW DB LINE ARRAY
★★★★★◉☾ INFO ☽◉ ★★★★★
► ►► ►PSY SHOPS
► ►► ► FOOD
► ►► ► FOTO BY STEFAN PAUN
► ►► ►HAPPY HOUR DALLE 22 A MEZZANOTTE E DALLE 8 DI MATTINA ALLE KIUSURA.
★★★★★◉☾ COME ARRIVARE ☽◉ ★★★★★
► ►► ►AUTO
Uscita autostrada: Fiera
Uscita tangenziale: Stalingrado. Proseguire su Via Stalingrado verso il centro, Via Calzoni è la traversa sulla sinistra in corrispondenza dell'Unipol. Dal centro uscire da Porta Mascarella direzione autostrada, proseguire su Via Stalingrado, superare la Fiera e girare a destra in corrispondenza dell'Unipol.
► ►► ► AUTOBUS
dalla Stazione Centrale autobus n.25 ogni mezzora fino alle 00:36, fermata Casoni.
Da Via dei Mille (adiacenze stazione) autobus n.28 ogni quaranta minuti fino alle 00:26, fermata Fiera.
autobus notturno: 61
per il ritorno dalla Fiera autobus n.28 ogni venti minuti a partire dalle 05:45 (ferma in Piazza VIII Agosto), oppure autobus n.39 ogni venti minuti a partire dalle 05:30 (ferma in Stazione Centrale.
► ►► ► NAVETTA
Se non vuoi Guidare,hai bevuto o credi di farlo oltre al limite consentito per legge facilmente raggiungibile (0,5 di tasso alcolemico, 0 per i neo patentati) Salvaguarda la Tua e Altrui Incolumità nonché la patente e il mezzo.CHIAMACI ALLO 3270639459 !!! ASSOCIARSI E' SEMPLICE E GRATUITO,.Visita la Pagina e se Ti Piace Condividila.
[facebook.com]
★★★★★◉☾ INFO PHONE ☽◉ ★★★★★
► ►► ► 3890569360
► ►► ► 3428772852
Location
Location
BOLOGNA CENTRO - MAGIC CLUB

VIA ALFREDO CALZONI 7
Entry fee
Entry fee
► ►► ► 13 EURO BEFORE 00.00

► ►► ► 17 EURO AFTER 00.00
(1 DRINK)