STAKANOVISMO presenta: ASCHE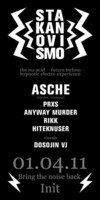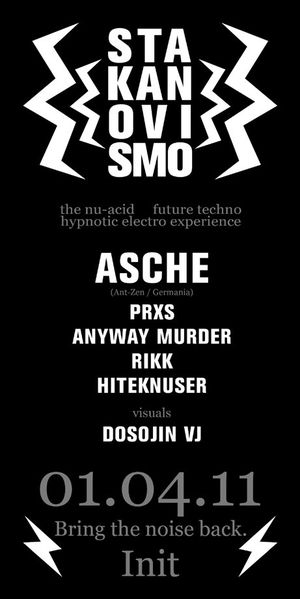 Live
Line Up
ASCHE (Ant-Zen/Germania)
DJs
RIKK (neo trance)
PRXS vs Anyway Murder (nu-acid)
Hiteknuser (nu school industrial)
Info
Non è uno scherzo: il 1 Aprile STAKANOVISMO riporta le lancette indietro. Riporta il Rumore. Con un ospite a dir poco incendiario, ASCHE, il "Distorted DJ" per eccellenza... Andy Schramm torna alla consolle di STAKANOVISMO a distanza di due anni con il suo live potentissimo, ad alta pericolosità per i padiglioni auricolari. Il suo ultimo ed acclamatissimo album "The Easter Island Phenomenon" è ancora fresco e pronto ad incendiare il pubblico di STAKANOVISMO con i passaggi più devastanti ("Count Suckers", "Wasted Hedon", "Knee Chopper", "Another Prig") e quelli più atmosferici e dilatati ("Destroying Home", "Dogday Sunrise"), in un terrificante incontro di hardcore industrial, techno futurista e wall of sound immensi. Ovviamente non potranno mancare le sue hit di sempre: "Petunia", "Monster", "Kiss the Whip"...

Un attesissimo ritorno che non deluderà il pubblico di STAKANOVISMO sempre attento ai suoni più oltranzisti ed originali in circolazione.

Tra Pan Sonic, Radium e Aphex Twin, ma tutto molto più potente, oscuro, antagonista.



VENERDI 1 Aprile 2011


STAKANOVISMO BRING THE NOISE BACK.


▲ the nu-acid | future techno | hypnotic electro experience ▲



live.

ASCHE

(Ant-Zen/Fich Art)



dj.

PRXS vs ANYWAY MURDER (Musicaoltranza/Trips Und Traume)
(fx+turntables+laptop set)



RIKK (Dead Sun Day/Chaos Order)



live intro.

HITEKNUSER (Stakanovismo)


visuals.

DOSOJIN (MustHard)


Start – 23:00

Ingresso – 10 Euro / 8 Euro in Lista



INIT.

Via Stazione Tuscolana 133

Roma.


▲



STAKANOVISMO, l'appuntamento alternativo ed antagonista della capitale, è un festivàl di luci e suoni che celebra l'anno zero della nuova Preistoria.



Dai resti post-industriali e dalle ceneri della musica techno, il suono di STAKANOVISMO è la celebrazione del "Rumore" come unica colonna sonora di questi anni Zero – un Rumore con la maiuscola che non è e non vuole essere caos senza controllo, bensì sintesi propositiva di quei nuovi linguaggi babelici che STAKANOVISMO si propone di recuperare e riordinare in nuove forme.



Oltre il rave, la nuova "cosa" passa da qui.

Tra cannibalismi post-techno, futurismi nu acid, abluzioni neotrance.

Cuore, muscoli, pancia.



BRING THE NOISE BACK.
Location
INIT. - Via della Stazione Tuscolana, 133
Entry fee
Entry fee
8,00 (lista "goabase" alla porta)
Organizer
Organizer
Stakanovismo & INIT.