Stadtguerilla feat. Allgäu Vibez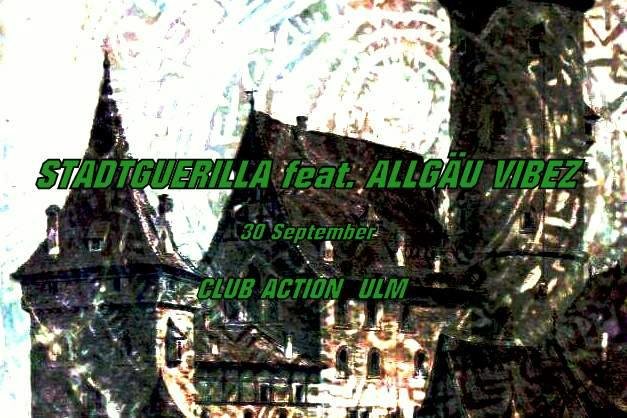 Line Up
So die Festivalzeit ist so gut wie vorbei. Jetzt ist wieder Zeit das Action auf zwei Floors wieder zum beben zu bringen.
Mit Allgäu Vibez zusammen hat die Stadtguerilla ein Line-up mit Artist die einen guten Festivalsommer hingelegt haben. Ob Freqs of Nature, Master of Puppets, MoDem Festival, zurück zu den Wurzel oder auch Simsalaboom und Funnymoon Festival. Mit Sicherheit hat der eine oder andere von euch es diesen Sommer dort rocken lassen. Wen nicht dann werden die Membrane von ASG-ULM den Sommer euch nochmal erleben lassen.
Es haben sich im Süden wohl zwei Festivals mit dem Namen Waldrauschen etabliert.
Um Missverständnissen vorzubeugen werden wir in Zukunft "by Allgäu Vibez" hinzufügen.
Line-up:
Live:
Audiosynthax
Alice-d prod.
soundcloud
Yons
Quintessence rec.
soundcloud
===================================
DJ:
Freaky Hippy
Stadtguerilla
Ginger Power
Atman Tribe/Terrarista Tribe
soundcloud
Kazulu
Alice-d prod./Cerebral Chaos
soundcloud
Kimmei
Banjan rec.
soundcloud
Thanatos
Brain Massacre Project/Scared Evil rec.
soundcloud
VonSie
Stadtguerilla
=====================================
Deko:
Neobokad`s Dream
[facebook.com]
=====================================
Soundsystem by ASG-ULM
Wie immer gibts natürlich auch ne Afterhour von 6-10 Uhr.
Die ist aber nur für die Gäste von der Veranstaltung. Also wer meint er muss noch auf ne Afterparty der kann sich den Weg in
Club-Action sparen wir lassen ab 4 Uhr keinen mehr rein.
Eintritt ab 18 vergisst euren Perso nicht !!!!!!!
Wir akzeptieren keinen Muttizettel!!!!!!!!
No Drugs
No Rassism
No Intolerance
Location
Location
Club Action
Beim Alten Fritz 3
89075 Ulm