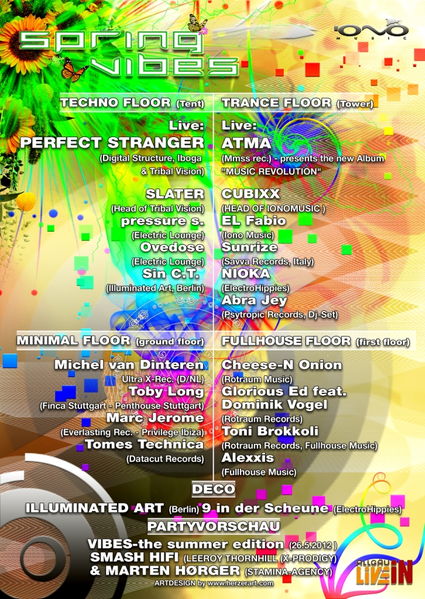 Line Up
*****PERFECT STRANGER (Digital Structure, Iboga, Tribal Vision)*****
[discogs.com]
From the mid 90s Yuli Fershtat has been committed to his love for Trance, which is as dance as music gets. But a generic label would not do justice to the depth of his heartfelt music, which transposes feelings from across the wide range of human emotions. In his creation, you will find tracks inspired by the bliss of sunbeams, by an ironic but yet candid take on the simple pleasures of life, or by the darker side of the self.
His demanding standards regarding what our man qualifies as the art of sound, have led him to appropriate today's trend, undoubtedly Techno, which he also DJs with a rare understanding and acute intelligence. This so called new hybrid sound of his, that incorporates Progressive Trance, embedded in the dirty Techno-ish grooves and breakdowns, actually enables to maintain that oldschool Goa spirit, in a totally new and exciting presentation and composition, which makes it the ultimate brain candy out there at the moment.
*****ATMA (Mmss rec.) - presents the new Album "MUSIC REVOLUTION"*****
[facebook.com]
It has been 20 years now since Andrei Oliver Brasovean embarked on his journey into the world of electronic music production.
After a long and successful career with different musical projects, Andrei is surprising us again with a brand new Atma album: 'Music Revolution'. While most of the electronic music nowadays is based on linear drums, baselines and overuse of sound effects, Atma leads us into a completely new perspective of electronic music.
TECHNO FLOOR (TENT)

DJ´s:
SLATER (Head of Tribal Vision)
pressure s. (Electric Lounge)
Overdose (Electric Lounge)
Sin C.T. (Illuminated Art, Berlin)




TRANCE FLOOR (Tower)

DJ´s:
EL Fabio (Iono Music)
Cubixx (Head of Iono Music, Berlin)
Sunrize (Savva Rec., Italy)
NIOKA (ElectroHippies)
Abra Jey (Psytropic Rec., Dj-Set)



MINIMAL/ELECTRO FLOOR (ground floor)

DJ´s:
Michel van Dinteren - Ultra X-Rec. (D/NL)
Toby Long - Finca Stuttgart - Penthouse Stuttgart
Marc Jerome - Everlasting Rec. - Privilege Ibiza
Tomes Technica - Datacut Records

FULLHOUSE FLOOR (first floor)

Dj´s:
Cheese-N Onion (Rotraum Music)
Glorious Ed feat. Dominik Vogel (Rotraum Rec.)
Toni Brokkoli ((Rotraum records, Fullhouse Music)
Alexxis (Fullhouse Music)
Deco
Deco
DECO:

ILLUMINATED ART: (Berlin)
9 in der Scheune (ElectroHippies)
Info
Shuttlebus:

Abfahrzeiten von ZUM ins Go In
Ab Kempten 22 Uhr und 24 Uhr
Ab KF Plärrer 22:45 Uhr
MOD 23 Uhr

Rückfahrzeiten:
Nach MOD und KF 5 Uhr
Nach Kempten 6 Uhr

Kostenlose Tel. Nr. für Sammeltaxi aus Kaufbeuren (günstiger als Taxi): 0800248400 ( rechtzeitig anrufen!!!)

Sammeltaxi Kempten: 0831/12555
[zum-kempten.de] (Hier stehen alle Linien)

greetz EL Fabio
Location
Location
Club Go In
Kaufbeurerstr. 34
87634 Obergünzburg
Organizer
Organizer
Club GO IN + Electrohippies