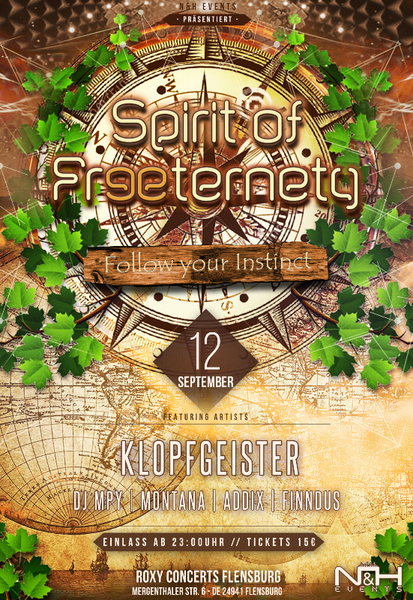 Line Up
Line Up
Klopfgeister
Addix
Mantara
Finndus
Dj MPY
Deco
Deco
Wir als N&H events dekorieren immer selber, obwohl wir schon ein großes Sortiment an Deko haben, lassen wir uns immer wieder was neues einfallen.
Info
Nachdem die erste SPIRIT OF FREETERNETY einen erfolgreichen Start bekam und wir ausschließlich gutes Feedback von euch erhalten haben, präsentieren wir euch nun die zweite Ausgabe von diesem Event! Hochmotiviert haben wir uns an die Arbeit gemacht um für euch noch einen oben drauf zu legen.
Unter dem Motto 'Follow your Instinct' laden wir euch ein am 12.09.15 zu SPIRIT OF FREETERNETY in's ROXY CONCERTS FLENSBURG. Wir haben keine Mühen gescheut euch ein besonderes LineUp zu organisieren und freuen uns auf:

KLOPFGEISTER
ADDIX
MANTARA
FINNDUS
DJ MPY

Die uns zusammen im bunt getauchtem Roxy zu massiven Proggresive, FullOn & Dark-Sounds zum stampfen bringen bis die Wolken wieder Lila sind. Wer nicht mehr kann, erfrischt sich an der Bar wo es kostenlos Obst & Wasser gibt. Aber auch an Durstige ist gedacht, für die kosten ALLE GETRÄNKE NUR 1€ bis 1:00Uhr. Für eine Abkühlung sorgt der, in Farben getauchte, Außenbereich. Wer will hat die Möglichkeit sich Poster, T-Shirts von dem Event & vieles mehr als Andenken an diese Nacht zu besorgen, lasst euch überaschen!
Location
Location
Mergenthalerstraße 6, 24941 Flensburg
Entry fee
Entry fee
Vorverkauf 15€
Abendkasse 18€