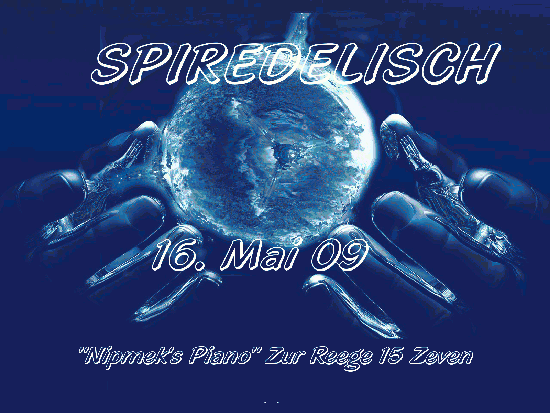 Expanding Conscience (Filthy crew) Argentinien/Cananda
[myspace.com]
Alpha (interzone.pa) Hamburg
[myspace.com]
alpha
Hamburg · Germany

Here since 18y 4m · 5,343 Posts
[myspace.com]
[interzone-pa.com]
Antagon (interzone.pa/ mind-expansion) Hamburg
[antagon-liveact.de]
[myspace.com]
[mind-expansion.net]
PGM & ILA (Savva Rec.) Bremen
[myspace.com]
[four-realities.com]
DarkRuss (IZ-ON Crew/Scared Evil Rec.) Itzehoe
[myspace.com]
DarkRuss
Graz · Austria

Here since 12y 1m · 238 Posts
Butshi (Klangspectrum) Rendsburg
Teilchenbeschleuniger (N.B.O. Rec.) Bremen
[953nsiserv.de]
[myspace.com]
Krischka (N.B.O. Rec.) Hamburg
[953nsiserv.de]
Wenns noch voll ist:
Patrix (NewBrainOrder/Psycircle)
[newbrainorder.com]
[953nsiserv.de]
Hionpm
49082 · Germany

Here since 14y 2m · 449 Posts
Chill
sperater barbereich zum rumlungern und chillen
Info
-------------------------------------------------------------------------
ja liebe leutz,
Diesmal haben wir ne wunderschöne !!raucher!! location in zeven gefunden.
Sie liegt genau im Industriegebiet, ausserhalb von zeven.
Heisst also, es wird laut und es gibt genügent parkplätze rum um die Loc.
Diese ist ausgestattet mit einer klaren druckvollen 4-Punkt Anlage aufn Floor,
seperater barbereich mit billard, kicker, dart, electronisches menschärgeredichnich ;) usw
Die 3 deko teams werdens dann zum leuchten bringen und
die beiden Laser werden ne schöne show abziehen ;)
es wird natürlich ne garderobe 1,-€ (damit eure sachen sicher sind) und..............
..................... !!!günstige!!! getränke geben..
Kurze (Jägermeister/Wodka/Whisky) = 1,00 € 2cl
Cola/Fanta/Sprite/O-Saft/A-Saft = 1,50 €+Pfd 20ml
Energy = 2,00 €+Pfd.20ml
Bier(Becks) = 2,00 €+Pfd.70ml
Flasche Wasser = 1,50 €+Pfd.70ml
Mischgetränke = 2,50 €+Pfd.20ml
wenn die sonne rauskommt und es warm ist, wird draussen ne 2te PA anlage angeschlossen.
dann kann man auch im dazugehörigen biergarten sitzen,
wo man nach progressiven klängen, mit nen kühlen bier, den tag geniessen kann.
Drinnen auf dem floor wird es dann auch open decks geben, beides bis open end ;)
also bringt eure cds mit.....
und ach ja.....
nach soner bewusstseinserweiternde nacht, wird es natürlich die möglickeit geben,
sich vor der heimfahrt ins aufgebaute zelt zu legen und bis zum montag durchzuratzen.
Neben den biergartenfloor gibt es nämlich ne grade frischgemachte (kein scheiss) rasenfläche zum campen und grillen. (das volleyballfeld dabei nicht zu vergessen ;)
+ es gibt camping/grill mit parkplätze
Hier einige bilder von unseren letzten partys..
[953nsiserv.de]
+
[953nsiserv.de]
********** BIRTHDAY PARTY FOR THE N.B.O. MUSCHI **********
**********
[myspace.com]
**********
********** Da mein Gig leider gecanceled ist, in kaub.
goabase
werde ich doch zu meiner eigenen Party kommen und hoffen noch auflegen zu können :) **********
********** More Infos? plz watch the Meeting Point **********
Location
Location
"Nipmek's Piano"
Zur Reege 15
27404 Zeven

* Aus Richtung der A1 kommend an der Anschlußstelle Bockel Richtung Zeven abfahren
* Ca. 12 km der Bundesstraße folgen. Vorsicht, in Brüttendorf steht ein Blitzer!
* Direkt am Ortseingang Zeven vor Mercedes Schulz rechts in den Südring einbiegen
* Nach einigen hundert Metern hinter den beiden Bahnübergängen direkt hinter Baustoffhandel WECO rechts in die Straße 'Zur Reege' einbiegen.
* Dem Straßenverlauf ca. 1km folgen - Nipmek's Piano findet ihr dann zur rechten Seite.