Backend
Space Odyssee 2018 / The 4th Episode
Langgöns / Giessen / Frankf… ·
Germany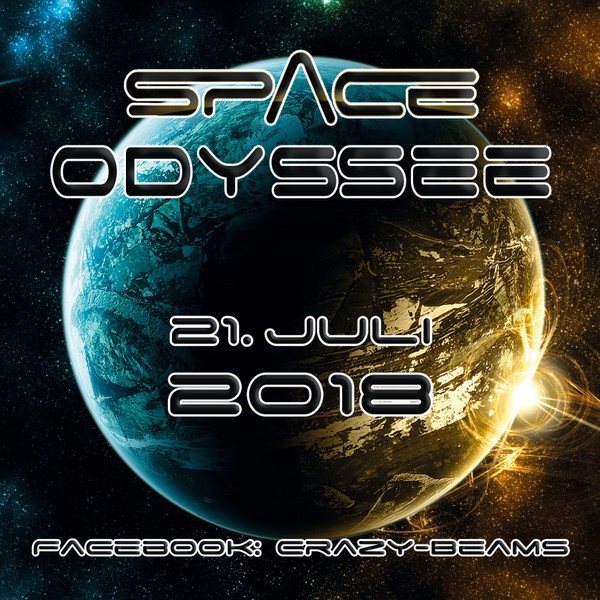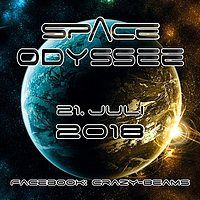 Line Up
So bald ist es wieder soweit der Sommer kann kommen!!!
Bereitet euch auf das fünfte Kapitel der Space Odyssee vor gleichzeitig 12years of Crazy Beams.
[facebook.com]
Es wird dieses Jahr ein schönes Dekoteam noch zusätzlich den Floor und die Stage beschmücken freut euch auf ExoMind Decoration
[facebook.com]
aus Berlin die sehr gut auch zu unserem Deco Concept passen, ausserdem wird diese Video gemappt von VisualDisorder und eine der spacigsten Lasershows von Crazy-Beams ausserdem wird es einen shop von StellaLuna geben mit coolen Klamotten und allerwelts Schmuck der besonderen Art more Infos soon
٠•●ૐ●•٠· Timetable: ٠•●ૐ●•٠·
15:00 ٠•●ૐ●•٠· Mischi Mix
17:00 ٠•●ૐ●•٠· Errorsmith
19:00 ٠•●ૐ●•٠· Octogoat mit E-Guitar
21:00 ٠•●ૐ●•٠· Rustlerfari
23:00 ٠•●ૐ●•٠· Kopfwerk
01:00 ٠•●ૐ●•٠· Guwanji
03:00 ٠•●ૐ●•٠· Dj Skyliner
05:00 ٠•●ૐ●•٠· Dj Stick
07:00 ٠•●ૐ●•٠· DhadhaDj1000Dream
09:00 ٠•●ૐ●•٠· Mario Nier
11:00 ٠•●ૐ●•٠· Dj Stony69
13:00 ٠•●ૐ●•٠· Effected Massimo
15:00 ٠•●ૐ●•٠· Open End ٠•●ૐ●•٠·
Angefangen von Prog bis Psychedelic, Night Psy und Forrest werden wir Musikalisch einiges im Peto haben. Für alle die die Location noch nicht kennen es ist ein wirklich großes Areal Camping for free wir werden euch diesmal genug chillplätze schaffen ansonsten könnt ihr sehr gern euch ein Zelt oder eine Base aufbauen und das Wochenende einfach mal genießen.
Big Camping Space Camping for free
also decken nicht vergessen...
Da wir keinen Müllpfand nehmen hoffe ich ihr verlasst euren Platz auch so wie er war als ihr angekommen seid!!! Respect the Nature Boom Shiva and Feel the Spirits...
Für die Normale Theke wird es wie gewohnt 10€ Getränke Karten geben das ist nicht um euch das Geld aus der Tasche zuziehen sondern hat organisatorische Gründe zum einen brauchen wir kein Wechselgeld und zum anderen habe ich einen Überblick wieviel Geld auch wirklich da sein müsste! Bitte daher um Verständnis die Karten sind auf jeder Crazy-Beams Party einlösbar können aber auch am Ende der Party ausbezahlt werden.
Anfahrt mit dem Auto direkt an der Autobahnabfahrt A5 Ober Mörlen runter und nach der Brücke rechts in den Feldweg von FFM natürlich vor der Brücke quasi geradeaus in den Feldweg.
Die meisten haben die Straße leider nicht im Navi schreib sie hier trotzdem hin "Kremermühle 1" in Ober Mörlen / Bad Nauheim.
Anfahrt mit Zug am besten bis HBF Bad Nauheim und von da aus mit dem Bus nach Nieder Mörlen Endstation Weingartenstr. oder per Taxi bzw. Minicar
Minicar Rockenberg
Tag und Nacht
06033/97 36 800
٠•●ૐ●•٠·Dj Skyliner ٠•●ૐ●•٠·
soundcloud
٠•●ૐ●•٠·Effected Massimo ٠•●ૐ●•٠·
[click here]
٠•●ૐ●•٠·Guwanej٠•●ૐ●•٠·
soundcloud
٠•●ૐ●•٠·Dj STICK (Osaka / Japan)٠•●ૐ●•٠·
soundcloud
٠•●ૐ●•٠·Dj1000DREAM (Osaka / Japan)٠•●ૐ●•٠·
soundcloud
٠•●ૐ●•٠·Kopfwerk٠•●ૐ●•٠·
soundcloud
٠•●ૐ●•٠·Mico X٠•●ૐ●•٠·
[click here]
٠•●ૐ●•٠·Mario Nier٠•●ૐ●•٠·
[click here]
٠•●ૐ●•٠·Octogoat٠•●ૐ●•٠·
soundcloud
٠•●ૐ●•٠·DJ STONY69٠•●ૐ●•٠·
[click here]
٠•●ૐ●•٠·Mischi Mix٠•●ૐ●•٠·
Ukb wird 20euro sein für über 24h feinsten Sound und allem was dazu gehört für nen feines kleines privates Festival die Security ist total in Ordnung denkt bitte dran Sie sind auch zu eurem Schutz da. Stay Open Minded
Feel the Spirits Boom Shiva
Infos folgen
Deco
Wie immer Spektakulär ! Laserhow mit 5 RGB Lasern der etwas anderen Art ausserdem abgefahrenes Videomapping von VisualDisorder