SPACE GARDEN 2007 - 4 JAHRE SPACE FROGZ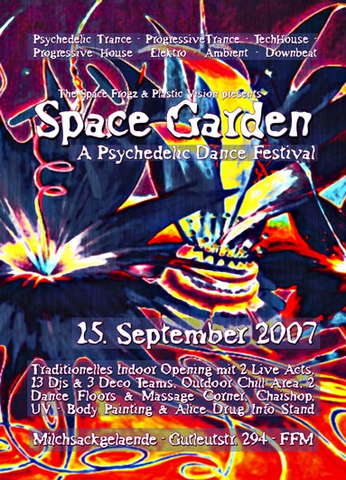 Live
Line Up
++ LAMAT [ ap records ] LIVE! - cancelled - mußte leider aus persönlichen Gründen früher zurück nach Mexico
++ DURCHBLICK LIVE! [38db tonsportgruppe]
~ PSY FLOOR ~
++ Dj Mel [ Meller | AP Rec. ]
++ Yan [ Gecko | Space Frogz ]
++ Stefan Ludley [ Psylofant ]
++ Anubis [ Space Frogz ]

~ GROOVE FLOOR ~
++ Tom Elekto [frischfleisch]
++ Marco Scherer [ Meller | AP Rec. ]
++ Flip Flop [ Signalwerk ] t.b.c.
++ Harry Heide [ Toxic Tunes ]
++ J.sus 23 [Parallelwelt | Düsseldorf]
Chill
~ CHILLOUT GARDEN ~
++ Dingenskirchen [ Space Frogz ]
++ Ralf Shanti t.b.c.
++ Suse [ Space Frogz ]
++ Y. Augenstern t.b.c.
Deco
Deco
++ Y. Augenstern [ Space Frogz ]
++ Cosmic Faerie [ Space Frogz ]
++ Plastic Vision [ Wiesbaden ]
++ Anubis [ Space Frogz
++ Captn Goa & his dirty little Helpers
Info
Heuer nun zum fünften Mal findet Mitte September die Space Garden auf dem Milchsackgelände statt. Ihreszeichens eine geschichtsträchtige Veranstaltung, mit sehr viel Tradition. Die 1. Space Garden legte den Grundstein der SPACE FROGZ, jener jungen wilden & ambitionierten Partycrew, die diesen Sommer ihr 4 Jähriges Bestehen feiert und seitdem frischen Wind in die hiesige Goa-Scene gebracht hat. Außerdem war es die vorletzte Party, die damals im legendären SPACE PLACE gefeiert wurde, kurz darauf ging diese glorreiche Ära zu Ende.
Motiviert durch den grandiosen Auftakt wurde das Deko Konzept Jahr um Jahr verfeinert und immer neue Bilder und Objekte kamen hinzu, welche den einzigartigen Space Garden Look ausmachen. Auch dieses Jahr gibt's wieder neue Elemente zu bewundern.
Stephy, ihres Zeichens verantwortlich für die wunderschönen Traumsafari O.A. feiert ihren Geburtstag, aus diesem Anlass werden wir dieses Jahr wieder die Party in Zusammenarbeit mit PLASTIC VISION veranstalten, ihr könnt euch also auf jede Menge gute Stimmung und natürlich feinsten Sound und phantastische Deko IN & OUTDOOR freuen.
Wie immer gibts einen tollen Outdoor Chillout, der natürlich beheizt ist und von unseren lieblings Space Frogz Chillout Spezialisten beschallt wird.
Musikalisch heißt es (mal wieder) "back to the roots" - weniger psychedlic, mehr Vielfalt!
mehr Infos @
[space-frogz.de]
Location
Location
Milchsackgelände, Gutleutstr. 294, 60327 Frankfurt
Added

13y 2m

· Update

12y 10m

· 61 Parties ·

/ 195