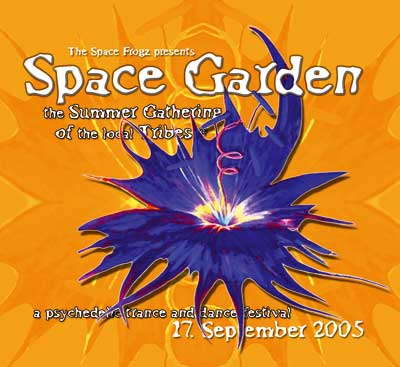 Live
Line Up
--- the Summer Gathering of the local Tribes ---

Marathi LIVE! | Tamil rec. | Fullmoon 2005
Psychedelic Floor
--------------------------------
-Stefan Ludley | Psylofant.de | Antaris 2005
-Fairy Anne | Carisma Project | Excalibur
-DJ X | Carisma Project | G.o.t.T. 2005
-Kinder der Wetterau | Mad Marten vs. die Blaue Raupe | Isra-Psy-Event
-Harry Heide | Toxic Tunes | Traum Safari 2005
-Astronom | Dimensionssprung / D.K.K. | Anuana Tribe O.A. 2005
-Cello | Frankfurt | Space Garden 2004
-Yan | Gecko | Gathering of the Tribes 2005


--- Progressive Floor ---
--------------------------------------------
-Schlafcola vs. Marsroboter | Fullmoon, Naked & VooV 2005
-projekThiel vs. Diwi | Space Frogz
-Institut für Sinnestäuschungen Schwarzwald | Fat-Jam.de
-Drop Out vs. Ex | Don't Panic Corp. | Mainz | Gathering of the Tribes 2005
-Walthari | Mana Traya e.V. Giessen | Freiraum Festival 2005
-Martin West vs. Orakel | Miracle Events | Maikaefersammeln 2005
-Fun-da-Mental Family | CipWeed | Open Maind 2005
Chill
--- Open Air Chillout Area ---

Dj Rushmoon | Space Frogz | info
Genetic | Space Frogz | FFM
Suse | excess | FFM

+ very special Guests
Deco
Optix:

Yoachim Augenstern | blacklight wizard | info
Dragonmaster | space light development | info
Cosmic Faeri | blumenkönigin | space frogz
Schnarchi | der kleine Kreis
Sub-Arts.net | welovetechno
Alice-Project | Connecta


Captn Goa & his dirty little Helpers

*
Info
Alle Jahre wieder, nun zum dritten mal , starten wir mit der Space Garden die Indoor Saison. Dieses Jahr wollen wir eine art lokales Summer Gathering veranstalten und haben dazu nahezu alle Tribes in Rhein Main und Mittelhessen eingeladen daran teilzunehmen.
Insgesamt haben über 20 verschiedene Tribes zugesagt, aus denen sich 5 Deko Teams & 25 Djs rekrutieren, welche auf 3 Floors & 2 Non Sound Chillouts für Audiovisuelle Eindrücke der Extraklasse sorgen werden.
Für das leibliche Wohl sorgt ein Chaishop, eine SchischaBar und ein Catering Stand wo es rund um die Uhr köstlichkeiten aller Art gibt, artgerecht auf und zubereitet ; )
mehr infos und Bilder gits auf unserer Homepage:
[space-frogz.de]
2 dance floors,
2 non sound chillouts &
one big outdoor chillout area with sound,
chaishop, schischBar and catering with food & herbals
alice project special chillout
*
trip time: 18 h+
*
Be there or be square!
*
Location
Location
Milchsackgelände, Gutleutstr. 294, 60327 Frankfurt
Added

15y 2m

· Update

14y 11m

· 61 Parties ·

/ 195