Sounds Of Destruction (2 dance floors - HT&HC) + after party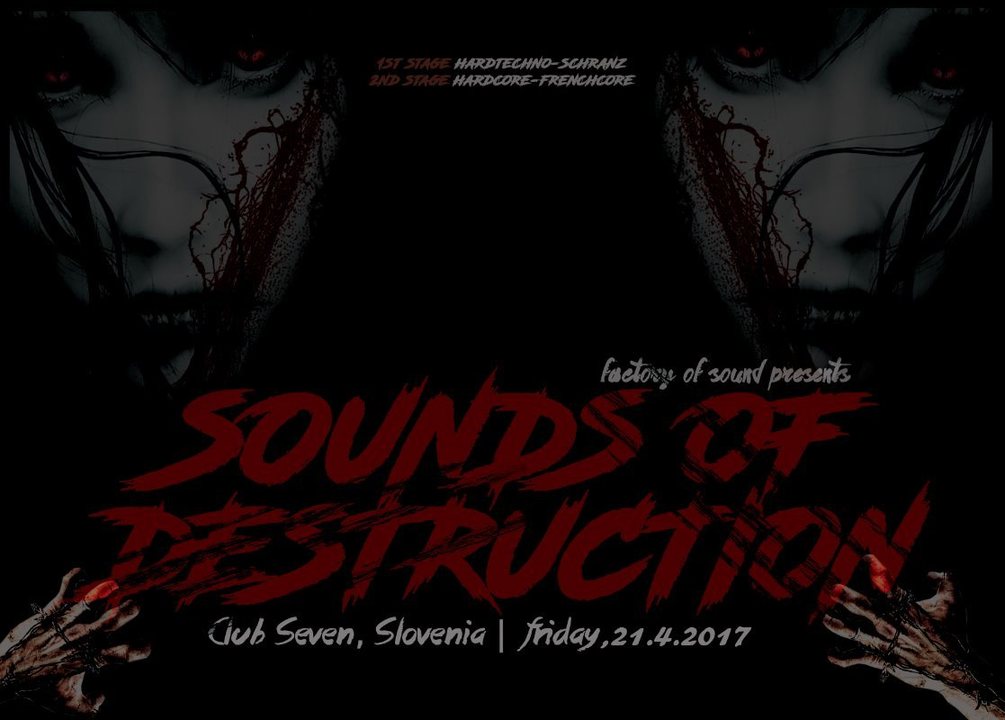 Line Up
SOUNDS OF DESTRUCTION @ CLUB SEVEN, 21.4.2017
+ AFTER PARTY
=> 2 stages with hardest electronic music <=
| HARDTECEHNO - SCHRANZ || HARDCORE - FRENCHCORE |
=> 10 hours of music + after party <=
=> FLOOR 1
| hardtechno - schranz |
:::... TEKKERKANE ...:::
GER - Harter Modus / Section-seven.de
:::... SHEAKS ...:::
AT - Total illegal
:::... TIAS ...:::
CRO - Underground Rijeka
:::... XENNON vs. ROKOS ...:::
SI - Slovenian hardtechno unity
:::... SILVESTER ...:::
SI - Total illegal
:::... AGORA ...:::
SI - Total illegal, vezotonik
=> FLOOR 2
| hardcore - frenchcore - industrial |
:::... JAGGER ...:::
IT - Hard Matter Unit
:::... SYMPHONY vs DjV ...:::
IT - Hard Matter Unit
:::... KATARINA O'HALLORAN ...:::
CRO - United by Hardness
:::... T-REX ...:::
SI - Frenchcore time
:::... PAYMON ...:::
SI - Industrial time
:::... HKH ...:::
SI - Hardcore time
:::... KATRONICA ...:::
SI - Warm up set
----||||----
ON LOCATION AFTER PARTY
from 8 am till the music ends
| 1 FLOOR |
:::... MAJKL M ...:::
SI - Hardtechno is my religion
| 2 FLOOR |
:::... DEFINED INSANITY ...:::
SI - Hardcore morning
----||||----
Info & accreditation:
factory.of.sounds@gmail.com
18+
Info
Tekkerkane:
Born 1986 in Schwetzingen Germany, Patrick aka Tekkerkane had an early interest in music. Especially the uprising electronic music genres took a big place in his heart. As he got older his taste evolved more and more to hard drum driven productions with a big love for heavy basslines. His special style of mixing Hardtechno is unique in the scene. He will always serve a premium selection of brand new, forward driven, bassline heavy tracks on the dance floor, topped with some Hardtechno Classics that you never heard before in a way like this. What makes his style so special is his unique style of cutting tracks, making his sets various and loaded, heating up clubs all over Europe. Promise, you never heard Hardtechno this way! Not just that he is definitly a music addict, you can always be sure to see and feel his energy when he hits the decks. "Hardtechno is Life, not a Crime" If you want to find out more about Tekkerkane just visit any party he is djing. You can be sure to always find him on the dancefloor, raving full madness, if he is not actually behind the decks to bring you joy. "CAUSE DJS CAN DANCE!"

Jagger
Jagger, born in Poland but moved to Italy in the very little age, approaches to hard music in 2009 participating to various events in the north-west Italy; in 2011 with a group of friends, he decides to try and make his own party. What in beginning was nearly a joke soon becomes his biggest passion and interest, growing his skills day by day. Until today he performed in some of the best clubs, events and festival in North Italy (Hardcore Italia, Warning, Malefik, HardcoreFest, Sunbeat, Hardtellina, The Bass Valley, Hard Attack, Fearless and many more...)

His very own style based off a fine blend of Frenchcore-uptempo-hardfloor&crossbreed will drive you crazy on the dancefloor, guaranteed!


Symphony
His passion for hard music grows from the most tender age. Resident of the Discoteca Shock! (Paesana, IT). In 2015 he joins HardMatterUnit and starts performing at many parties in North Italy (Warning, Sun Beat, SpringBreak, Hardtellina, Sunset, Hard Attack, Fearless and more)...

DjV
His style spaces from hardcore main to UpTempo, passing through frenchcore, with extraordinary technique. He performed in lots of parties and festivals in North Italy and Switzerland, alongside many international artists of the hardcore scene

Tias:
Matija Skorvaga - Tias
Born in Rijeka ,Croatia..22 years old
He started to listen electronic music when he was 13 ,in 2013 he started to mix tracks in his room ,only 2 years after he plays at many clubs in his city and wider ..
3 years after he bacames a resident DJ of Nina Boat Club in his hometown ..
He played on partyes with artists like : Johnny Kaos ,Tkno ,Unique ,D.R.N.D.Y ,Bassel Darwish ,Tomy DeClerque and others..his style is dark groovy techno with robotic vocals..


Katarina O´Halloran:
Katarina O´Halloran was born in Zagreb, Croatia. Pretty soon, her interest in electronic music was growing up. First she was underground culture promoter, event organiser, producent and DJ. She learned a lot over the years, inputting more and more personality into her music. Interested in different styles of underground techno (acid, dark, industrial) and hardcore (gabber, industrial, mainstream).
Location
Location
Club Seven
Spodnje pirniče 56
1211 Ljubljana - Šmartno
Slovenia
Entry
Entry
/// SOLD OUT /// Pre-Early bird tickets: 6€ (16.1.- 22.1.2017)
Early bird tickets: 8€ (30.1. - 12.2.2017)
Presale: 10€
At the door: 13€
After party ticket (from 8 am): 3€
** to get early bird ticket write on
factory.of.sounds@gmail.com
*** ticket includes onlocation after party
Organizer
Organizer
Factory of Sound