Sound System Culture - On the Radical Roots of Rave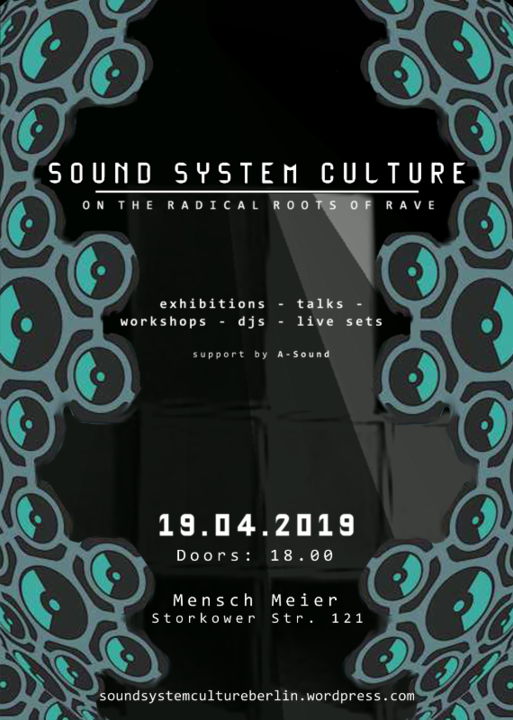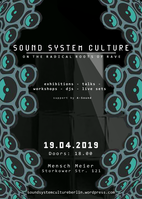 Line Up
Supported by:
- A-Sound System
- Triple P Sound System

18:00: Opening & Welcome
18:00: EXHIBITIONS: David Riley, Ed Twist: Photos & Artworks of Sound System Culture
18:30: TALK: He Zhao: The Revolutionary Essence of Social Dance
19:00: WORKSHOP: Meetup Berlin x Prizm Berlin: FLTI Panel
19:30: TALK: Feli Concat: Rave & Psychoanalysis
20:00 - 22:00: INPUT: David Riley, Ed Twist: Reflecting on & answering questions about their exhibitions
20:30: TALK: Lukas Jakob Löcker: Musique Concrète Jungle – Spatial Delivery Research
21:00: WORKSHOP: E.L.L.I: Listen! - Material and Loops – A Hearing Experience
21:30 - 10:00 (next day): DJs & Live Performances
22:00: TALK: Bianca Ludewig: Sound System Culture, Hardcore Techno and the Berlin Fuckparade
22:00: A/V SYNTH PERFORMANCE by Saou TV & Kevin Koen
23:00: TALK: Stefanie Alisch: Sound System Cultures of the Black Atlantic: Angolan Kuduro
23:30: 🔈🔈🔈🔈🔈 😏

Music:
- Benjammin
- Chantal
- DJ Pult
- dj zhao
- Feli Concat
- Gretchen Bazooka
- Hägen Daz
- Jahminta Zulu
- Jah Forcefield (Bademah & Zentash Gigawatt Dubz)
- Jukebox Utopia
- Mila Chiral - live
- One Woman Army in Dub
- Pmp Mzk (Harlekinsound)
- Smi
- Spiriel
- Aporia Barrage
- Token
Info
Info
A good soundsystem creates a portable universe made up of sights and sounds, feelings and faces, characters and attitudes, beliefs and ideals. It's about memories of the past and visions of the future. It's a microcosm of a scene that's born of all of us, combined. And, at the very least, it'll always be there the morning after for us to admire, add to and improve on.

Soundsystem Culture: On the Radical Roots of Rave will be a celebration of everyone who has ever gathered those ingredients of euphoria & sustained them, indefinitely. Not only that, but it will help others to create even more sonic bubbles which will carry the culture forward, one soundsystem at a time.

Understanding the sound system as a social space, we want participants of different genres and scenes (from roots, dub and contemporary bass music to techno/tekno) to gather and exchange.

In a colorful program of exhibitions, live-performances, workshops, talks and diverse music Berliners and international artists are entering into a dialogue and are actively shaping the event.
Organizer
Organizer
Sound System Culture Berlin