Backend
Sound of the Sun / Goa Season Opening / Fabio & Moon Live!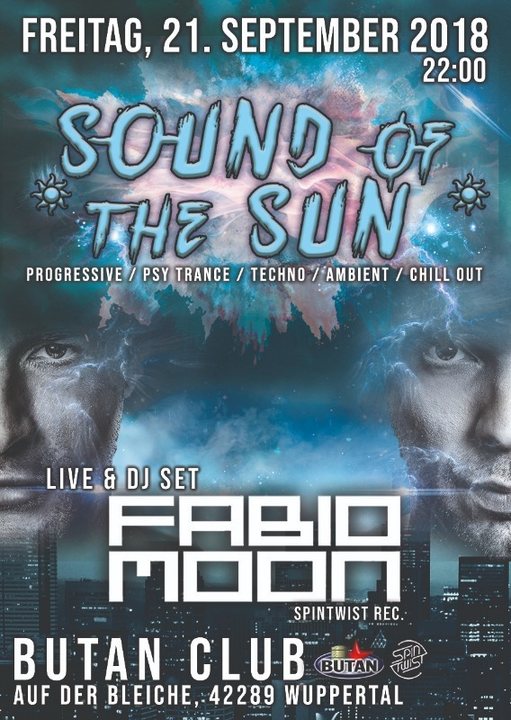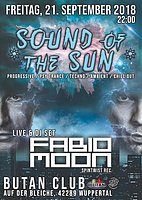 Deco
★ Decoration: ★
◢ FARBSTOFFTRÄGER
( eXtravagant Events / V.I.B.E.Z.)
[facebook.com]
Info
Info: Pünktlich zum Saisonstart präsentiert euch Vibez Production mit Fabio und Moon einen seltenen Gast im Butan. Die Beiden Hamburger Jung's sind nicht nur im Schanzenviertel eine Bank, ihre Live Set's sind auch international sehr beliebt und aufgrund der ebenfalls recht gefragten Soloaktivitäten der beiden Künstler extrem rar. Zum Saison Start hat das bewehrte Vibez / Butan Team neben einem dicken Support Line Up ebenfalls auch noch eine tolle Deko, einen liebevollen Chai Shop und ein super faires Eintrittspreissystem für die gesamte Familie welches final auch für den Rundumwohlfühlfaktor sorgt. Der Bus und alle Floors sind natürlich geöffnet und sollten wir bei über 25 Grad liegen, gibtr es noch ein kleines Special im beliebten Outdoorbereich des Club's und drinen CO2 Kaltgeschopsse :-)
Namaste !!!
Steckbrief
Fabio & Moon---
Both being notorious for their excessive passion for party and a knack for the appropriate music, their joined forces represent a mighty double dose of up-to-date Progressive sound. So it's no wonder that the gigs and releases of Fabio & Moon hit the nerve of the international dance floors from the very first moment.
It was around 2005. Fabio knew that there was some other DJ in his hometown Hamburg named Benni Moon - and Benni Moon knew that there was some other DJ in his hometown Hamburg named Fabio. When the two of them met each other on the way to a gig, they eventually made acquaintance. Also, they figured out that they were neighbours.
Next thing they figured out was that next door there was quite interesting music: Both already had a great background as musicians and thus a lot of experience. Since they got along very well with each other, they started DJing together. This venture turned out to be a very promising one when the dance floor went on fire during their first mutual gig in 2007. One year later, Fabio and Benni decided to take their musical relationship to the next level and moved to a shared apartment as well as a shared studio.
Their sound could be described as fresh, playful, vocal-orientated, minimal Progressive Trance with a lot of bouncy offbeat rhythms and a touch of Pop. Already their debut, the Disco Damage EP, reached a number 1 ranking in the charts of Beatport. The follow-up turned out to be even more successful- the Crazy Trip EP became a highly acclaimed hit. Also the next releases, including a collaboration with Interactive Noise, gained remarkable good feedbacks.
The bursting-with-energy live appearance of Fabio & Moon did the rounds within the international scene. Among numerous gigs at many big open air festivals in Europe, like Summer Never Ends, Waldfrieden Wonderland, VuuV or Psychedelic Circus, especially their set at Aurora Festival 2010 in Greece became a memorable event in terms of fresh'n'frisky Progressive pleasure.
---
youtube
---
youtube
---http://www.youtube.com/watch?v=L49bB52ceDE&feature=related
Location
Butan Club
Auf der Bleiche, 42289 Wuppertal
Entry
Entry
Abendkasse:
22h - 23h 4 Euro
ab 23h 4 Euro plus 1 Würfel ( Gesamtkosten: 5-10 Euro )
ab 24h 10 Euro und 1 Würfel oder wahlweise 13 Euro Festpreis !!

vvk: 8 Euro plus VVK Gebühr