Backend
Sonic Night > Dacru meets Grasshopper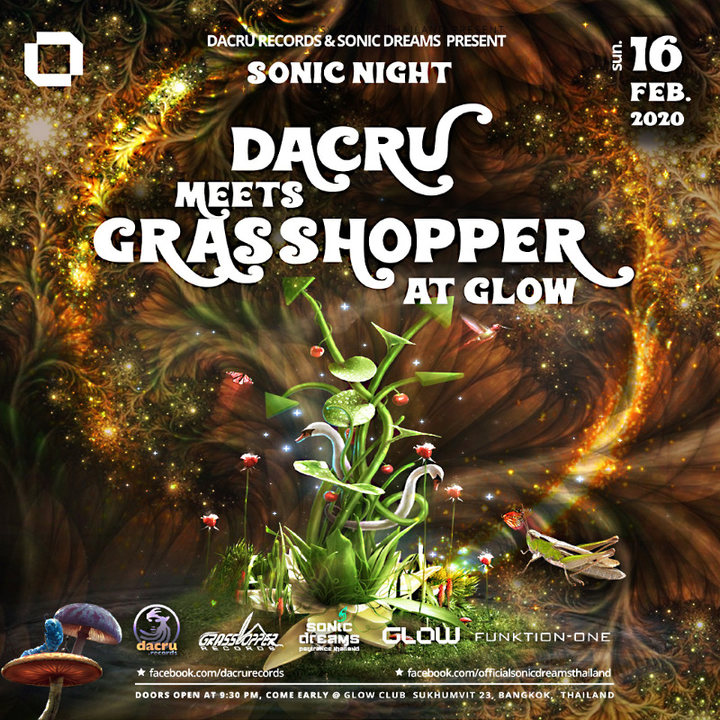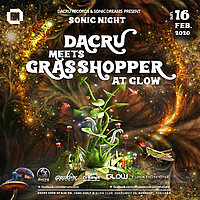 Line Up
HATTA
Grasshopper Recs - Japan

DJ DAJIRO
DigitalBlock - Japan

JACK THE JACKAL
Dacru Records - Sonic Dreams - Thailand

PUFFER P
Dacru Records - Sonic Dreams - Thailand
Info
About

Grasshopper Recs
Grasshopper Records is a psy/prog/trance label which is based in Japan, and was founded by DJ Hatta from Wakyo inc (A well known Japanese electro dance music label).
Grasshopper Records was started in 2008, and as the name may suggest, hopes to convey a feeling of liveliness and motion.
Our main theme is to promote serious middle groove psy-trance artists and music. We hope to spread global trance awareness, and are currently working with artists and producers from South America, Europe, and of course top local acts from Japan.
Grasshopper Records is always keen to support new talent and music at any time.
This is still just the beginning for us, and we are excited about growing and developing more into the future.

Dacru Records
Dacru Records is a Belgian psytrance label. The label boosts a strong selection of artists, from major names with a 20 year career under the belt to younger promising talents. The rosters includes names like U-Recken, Talamasca, DigiCult, Spirit Architect, Tropical Bleyage, Bitkit, E-Mov, Electric Universe, Aquila, Overdrive, A-Tech, Transient Disorder and more. The aim is to release timeless music with a strong emphasis on the psychedelic and melodic.
Besides being a record label Dacru has also been making a name as event promoter with over 80 events since 2001, that's a whole of a lot of experience that goes into organizing quality productions. The events have taken place all over Belgium, from The Netherlands to Germany and even in exotic places as Thailand and include big and small indoor events, open air festivals, bus trips, 11 day pop up clubs and more. Some of the party lines include Organic Dreams, Tribal Roots, After Sunrise and Nova's Incident open air.
Entry
Entry
➜COVER CHARGE:
250 THB + 1 drink
Organizer
Organizer
Sonic Dreams & Dacru Records