Solstice Gathering 2018 - A Psychedelic Sant Joan Tale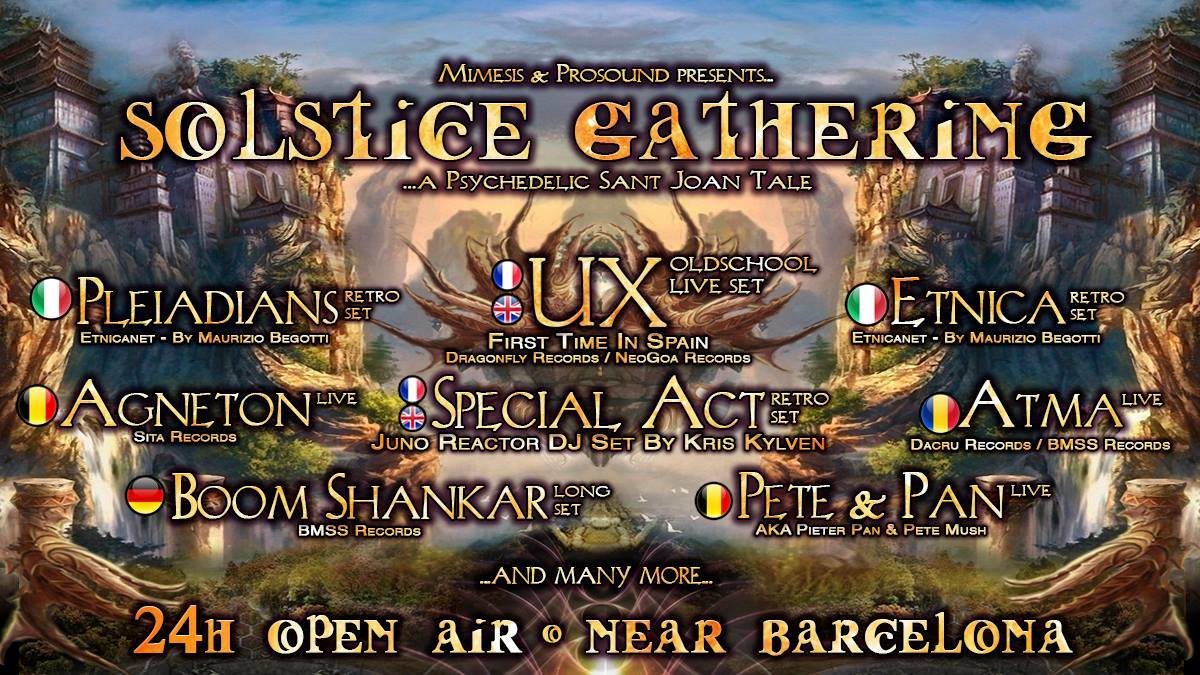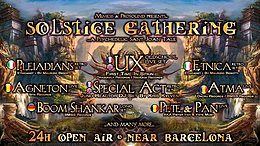 Line Up
★ UX [Oldschool Live Set] ★ Dragonfly Records / NeoGoa Records ★ FR/UK ★ 1st Time In Spain!
youtube
★ JUNO REACTOR RETRO DJ SET BY KRIS KYLVEN ★ FR/UK ★
soundcloud
★ PLEIADIANS [Retro Set] ★ Etnicanet / by Maurizio Begotti ★ IT ★
soundcloud
★ ETNICA [Retro Set] ★ Etnicanet / by Maurizio Begotti ★ IT ★
soundcloud
★ AGNETON [live!] ★ Sita Records ★ BE ★
soundcloud
★ ATMA [live!] ★ Dacru Records / BMSS Records ★ RO ★
soundcloud
★ BOOM SHANKAR [Long Set] ★ BMSS Records ★ DE ★
soundcloud
★ PETE & PAN [live!] ★ a.k.a. Pieter Pan & Pete Mush ★ BE ★
soundcloud
★ EX-GEN [live!] ★ 3D Vision / Dropland Recordings ★
soundcloud
★ CELS MIMESIS [live!] ★ Mimesis ★
soundcloud
★ DUMI [Oldschool Vynil Set] ★ Prosound ★
★ CÉSAR MIMESIS ★ Suntrip Records ★
soundcloud
★ PSYTOTIX ★ Dropland Recordings ★
soundcloud
★ OVERCLOUDS ★ Sindar / Own Spirit ★
soundcloud
★ EIVYAN ★ Trance Culture ★
soundcloud
★ METAPHYSICAL ★ Bassground / Munay ★
soundcloud
★ TRYPNOIZ ★ Biomechanical Recs ★
soundcloud
Info
Sant Joan is a magical night in which we celebrate the summer solstice (delayed 2 days due to our calendar). A family and friends gathering night, so we thought is the perfect ocasion to summon forces and make a party that last on our memory!!
Sounds familiar? :D Yes, it's back!!
After the big success of last year's Solstice Synergy organized with Trance Culture, we wanted to give continuity to the concept, and again join forces with another crew to offer you an unforgettable experience!
And this year we gather with noneless than Prosound, with who we collaborate since many years and well known by all the organisers for their professionally on managing sound systems, infrastructure and events. And on top of that now they just made a big upgrade getting a full power Amate Audio Line Array of 16.000W that is ready to blast for this special night :D
So, get ready to discover what Mimesis and Prosound can provide working together since the very beginning, bringing the best of ourselves on the decoration, infrastructure, sound and lightning... ♥
But of course an amazing sound and decoration is not all, we're making sure of improving a lot the infrastructure and services to create the most comfortable possible conditions, we will share updates soon… :)
And last but not least, all our passion and what we do revolves around the music, so we also wanted to make a big step forward on this way, and you'll agree with us that this is with no doubt THE MOST AMBITIOUS LINEUP WE EVER MADE…
And all this trying as always to keep a popular prices accesible to everybody, to gather the family and spend the night all together!
So… we invite you to join the event and stay tuned for the updates… and get ready cause 23rd June we want to tell you a story…
SOLSTICE GATHERING 2018 - A PSYCHEDELIC SANT JOAN TALE
24H OPEN AIR NEAR BARCELONA (Penedès Area)
>> PRESALES ALREADY AVAILABLE! 100 FIRST EARLY BIRDS AT ONLY 15€!
[seetickets.es]
=================ஜ۩۞۩ஜ===============
●ૐ● SOUND ●ૐ●
★ 16.000W Line Array Amate Audio* ★ by ProSound Audio Rental
[facebook.com]
*100% designed and manufactured in BCN ♥
=================ஜ۩۞۩ஜ===============
●ૐ● OTHERS ●ૐ●
★ Performances ★ Market Area ★ Food stands
More info soon…
٠•●●•٠٠•●●•٠٠•●●•٠٠••●●•٠•●●•٠٠•●●•٠٠•●●•٠٠••●●
Organize:
★ MIMESIS & PROSOUND ★
[facebook.com]
[facebook.com]
٠•●●•٠٠•●●•٠٠•●●•٠٠••●●•٠•●●•٠٠•●●•٠٠•●●•٠٠••●●
Location
Location
60km from Barcelona MORE INFO SOON
Entry
Entry
-> PRESALES: 18€ (can enter at any hour)
- BUY HERE:
[seetickets.com]
-> GATE BEFORE 0:00H: 20€
-> GATE AFTER 0:00H: 25€ (Including 1 soda/beer/big water)
Organizer
Organizer
Mimesis + Prosound