Solarado Solar Eclipse Celebration (PRE-EVENT)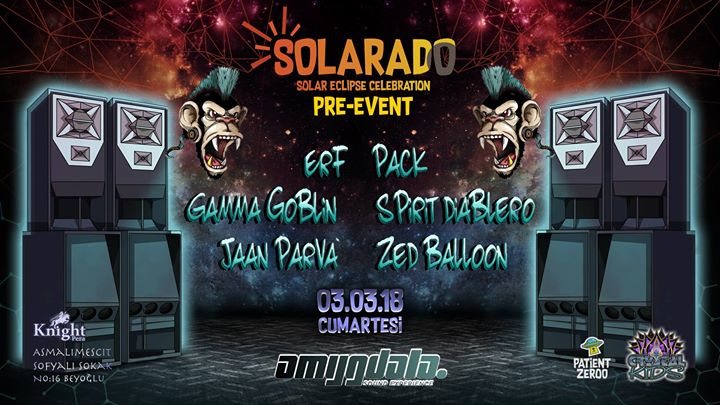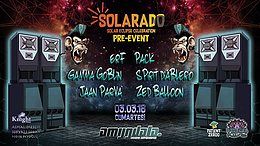 Line Up
☼ Solarado Solar Eclipse Celebration (PRE-EVENT) ☀
Herkese selam. Yazin gerceklesecek olan Solarado Solar Eclipse Celebration etkinligimizin ilk Pre-Eventini ''Funktion One'' ses sistemi kalitesiyle 03 Mart 2018 tarihinde Taksim Knight Pera da sizlere sunuyoruz. Bu özel gece de sizleri aramizda görmekten mutluluk duyariz.
▓▓▓▓▓▓▓╔»LINE UP«╗▓▓▓▓▓▓▓
☠ ERF - IR (COSMIC CREW RECORDS) - LIVE
►https://www.facebook.com/ERFANNIIKSERESHT
♫
soundcloud
☠ PACK - TR (Crystal Kids) - DJ Set
►https://www.facebook.com/onurpack/
♫
soundcloud
☠ SPIRIT DIABLERO - TR (Crystal Kids/Mind Manifest Project) - DJ Set
►https://www.facebook.com/spiritdiablero/
♫
soundcloud
☠ GAMMA GOBLIN - TR - DJ Set
►https://www.facebook.com/gammagoblinou/
♫
soundcloud
☠ ZED BALLOON - TR (Crystal Kids) - DJ Set
►https://www.facebook.com/ZedBalloon/
♫
soundcloud
☠ JAAN PARVA - TR - DJ Set
♫
soundcloud
▓▓▓▓▓▓▓ BIOGRAPHY ▓▓▓▓▓▓▓
★PACK☆
Onur Pekinöz aka PACK was born in Istanbul. He started getting interested in music 15 years ago playing guitar and drums. After completing his DJing course at Connection Records, Turkey; he started mixing tracks as a Dj at 2010. By that time he was playing house / techno. Psytrance was calling him so hard and he started play psytrance in 2013. Since then he played at almost all indoor psytrance parties in Istanbul. In 2014-2015 summers he was in the line up at all outdoor festivals in Turkey. He plays progressive psytrance and twilight as well as psydub as a resident DJ at Crystal Kids.
★SPIRIT DIABLERO☆
Caner Genç made a stride to his musical life by taking education of baglama and education of base music at the age of 13. He was graduated from Department of Music in Bursa fine arts high school. He took part in the concerts by playing baglama, bass quitar and percussion in different regions of Bursa, Eskişehir, Istanbul and Germany during his high school times. Then, he won Department of State Conservatory Basic Sciences in Ege University. The rest of this period, he performed by tending to production and Dj in many places in Izmir and Istanbul within working of electronic music. After the conservatory education in Izmir, he entered department of musicology in Mimar Sinan State Conservatory. He studied by being interested in technology of sound recording and field of analog period electronic music during hiseducation period in here. He has maintained his musical studies as a producer and a DJ. He is a resident DJ/Producer at Mind Manifest Records and Crystal Kids.
*Enstruments which can be played by him: Piano, bass quitar, synthesizer, percussion and baglama
★ZED BALLOON☆
Zed Balloon is a new project which is connected to Psychedelic music.
When he performs , plays poignant melodies
with groove-laden to Intelligent dance music with organic Progressive sound on the atmospheric scenes.
The project contribute to psychedelic music scenes which may touch on us while together.
i've made this project just to show power of dance with love by
the universal energy.
Much love from Istanbul
Deco
Deco
Beste Koş & Gözde Gökâlemi (aka Patientzeroo)
Location
Location
Knight Pera
Asmalımescit. Sofyalı Sokak. No:16
34430 Taksim