Backend
Solarado Presents // Holistic Inferno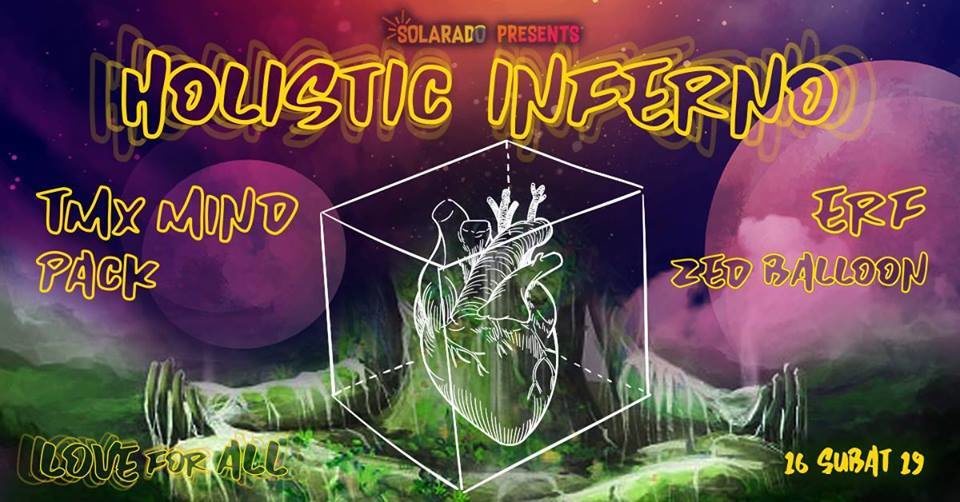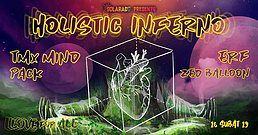 Deco
★ ART WORK ★
Poster Design: Gözde Gökâlemi(aka Patientzeroo)
Decoration : Solarado Art Crew
Info
"Bütüncül bilinç, bilincinde olduğumuz şey lehine veya aleyhine tepkilerden bağımsızdır - ve asıl kritik nokta da budur. Doğru eylem, yani kötü sonucu olmayan bir eylem anlamında saf bir tepkiyi sadece o zaman verebiliriz. Bütünsel bilinç ne umursamazlıktır, ne de herhangi bir şekilde benmerkezcidir. Tamamıyla bensiz insanın yaptığı gözlemdir. İnsanın içini aşkın şekilde kıpırdatır - böylelikle kişinin tepkisi de büyük ve ruhani değerleri içerir: gerçek, sevgi, bilgelik, iyilik, saflık, güzellik... Bunların tümü şifalı güçlerdir.
Bütüncül bilinçte hepimiz Bütün'le birliktelik uyum içindeyizdir. Bütüncül bilinçteki saf ve ham gözlem, mükemmel adaleti temsil eden tarafsızlık gibi tarafsızdı"
Mehta
Sevginin birleştirici gücüyle dans pistinde buluşalım!
"Holistic consciousness is free - and this is the essential crucial point - of reaction for or against that of which we are conscious. Only then can we make a pure response in terms of right action, which is action entailing no ill consequence. Such bare observation in holistic consciousness is not indifference nor is it self-centered in any way. It is observation by the truly selfless man. It stirs one transcendentally - and then one's response will embody the great spiritual values: truth, love, wisdom, goodness, purity, beauty, all of which are healing powers. So in holistic consciousness, we are in communion, in harmony with the Totality. Pure, bare observation in holistic consciousness is impartial with the impartiality which characterizes perfect justice."
Mehta
Let's meet on the dance floor with the power of love!
FACEBOOK EVENT LINK
[facebook.com]
Location
Eski Beyrut Taksim
Şehit Muhtar Mh. İmam Adnan Sk. No:8/2, 34435 İstanbul