Sindar & Euphoria - presents- HI-SUMMER III
La Granada - Vilafranca (Ba… ·
Spain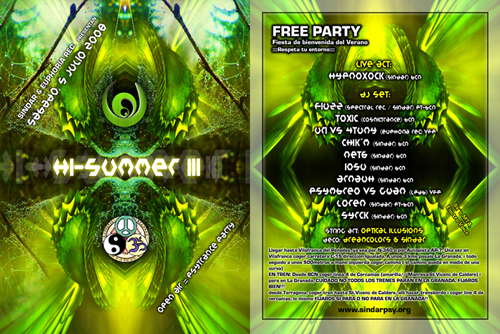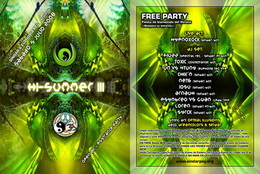 Live
Line Up
-specail guest-
TRANCEMISSION (Iboga) Mexico
Hypnoxock (Sindar) Bcn
Fiuzz (Sindar / Spectral Rec.) Pt-Bcn
Uri (Euphoria Rec) VFP
Toxic (Cosmictrance) Bcn
Chik´M (Sindar) Bcn
Net6 (Sindar) Bcn
Iosu (Sindar) Bcn
Arnauh (Sindar) Bcn
Psymbreo VS Gwan (LPDB) VFP
Loren (Sindar) Pt-Bcn
Syrck (Sindar) Bcn
Deco
Deco
String art by: Optical illusionS (bcn)
Deco by: Dream Colors (Bcn)
& Sindar (Bcn)
Info
Info
This party will be maked for everybody who feel good in celebrate the summer arrive in nature and with friends (all of us) :)
(The sound system will be: 8K´s MT4 Electro Voice.)
There will be a BAR service with cold drinks.
More info
[sindarpsy.org]
BooM ShankaR
(Sindar & Euphoria team)
Location
La Granada - Vilafranca (Barcelona)
By car:
From Barcelona, go direction to Vilafranca del Penedes, by N-340 or AP-7. Once there and before enter in Vilafranca del Penedes, go direction IGUALADA with the road C-15. Ride like 3km and then you see La Granada direction to your right hand, don´t go to La Granada, go front 500 meters more and in the midle of the first curve on the street, turn left there (in a sand road). (there will be signs to, after Vilafranca, so just falow them).
------------------------------------------------------------
Llegar hasta Vilafranca del Penedes, ya sea por N-340 o por Autopista AP-7. Una vez en Vilafranca coger carretera C-15 direccion Igualada. A unos 3 kms pasais La Granada, i todo seguido a unos 500metros a mano izquierda coger camino ( el camino queda en medio de una curva)
EN TREN: Desde BCN coger linea 4 de Cercanias (amarilla// Manresa-St.Vicenç de Calders) i para en La Granada, CUIDADO NO TODOS LOS TRENES PARAN EN LA GRANADA, FIJAROS BIEN!!!
Desde Tarragona, coger tren hasta St.Vicenç de Calders, alli hacer transbordo i coger line 4 de cercanias, lo mismo FIJAROS SI PARA O NO PARA EN LA GRANADA!!
------------------------------------------------------------
For see the MAP please click here:
[sindarpsy.org]
Organizer
Organizer
Sindar & Euphoria Rec.