Shivaples 2020 - psychedelic rave ball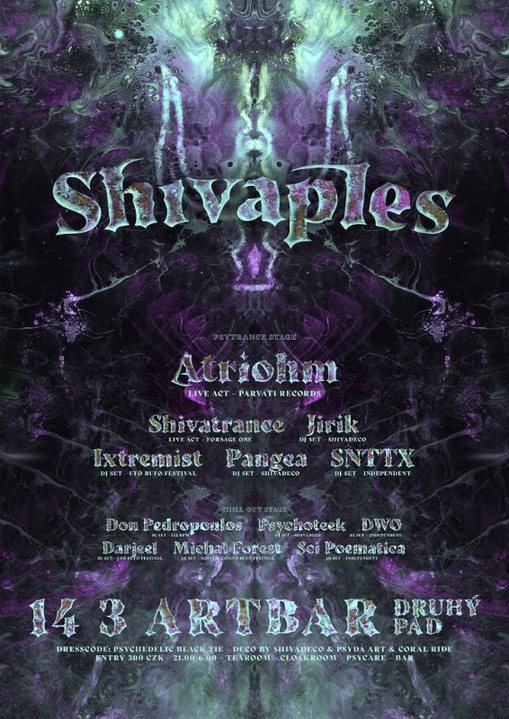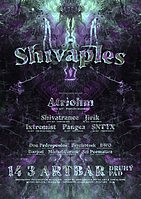 Line Up
PSYTRANCE STAGE:
ATRIOHM LIVE (Parvati Records) /MK/
Atriohm
soundcloud
SHIVATRANCE LIVE (Forsage One) /CZ/
Shivatrance
soundcloud
JIRIK (Shivadeco) /CZ/
[click here]
IXTREMIST (Ufo Bufo festival) /CZ/
soundcloud
PANGEA (Shivadeco) /SK/
mixcloud
SNTTX (Independent) /CZ/
soundcloud
------------------------------------------------------------------------------------------
CHILL-OUT STAGE:
DON PEDROPOULOS (142 bpm)
mixcloud
PSYCHOTEEK (Shivadeco)
DJ Psychoteek
mixcloud
DARJEEL (Ufo Bufo festival)
mixcloud
MICHAL FOREST (Shivadeco, Ufo Bufo festival)
mixcloud
SCI POEMATICA (Independent)
Sci Poematica
soundcloud
DWO (Independent)
DWO
mixcloud
Deco
Deco
Shivadeco a Psyda art
Info
Info
Let us, Shivadeco crew, invite you to the highlight of the winter season - for the third time in a row! Everyone who has attended before knows this is a once-in-a-lifetime event that's gonna resonate in your memory for a long time. Dust off your evening suits and gowns, put your old pumps and dress shoes on, try your luck in the raffle, dance to the midnight waltz and you might as well become the King or Queen of the ball. Of course, the level of your participation in this festive psytrance gala is only up to you.

As always, apart from the local bar there will also be the Čajoděj tea stand to take care of you and also PsyCare to help with any difficult experiences. There will also be a cloak room and some vegetarian refreshments waiting for you.
Location
Location
Artbar Druhý pád, Štefánikova 1