Shanti&Αtma IN Greece Full on night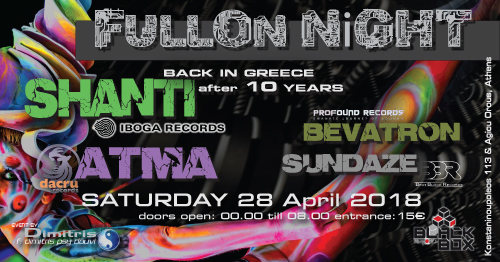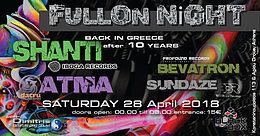 Line Up
SHANTI
-----------------------:
Shanti's phenomenal output is a consequence of starting to produce at a young age . He played his first club in Amsterdam at the age of 13.
He shaped his early recordings along with the first wave of trance pioneers resulting in dozens of releases and gigs across the globe.
ॐ<><><><><><><><><><><><><><><><><><><><><><><><>ॐ
ATMA
-------------------------:
Aka Andrei Oliver Brasovean is one of the pioneers of electronic music in Eastern Europe.
Born in Transylvania and now living in Germany, he started to produce techno music in 1991. Few years later he focused his productions mostly on goa and trance music.
Known around the globe for his unique style and his "full live" performances,.... and with more than 18 years of electronic music production, and hundreds of live performances on both: techno & trance scene, ATMA made his entrance between the most established names in the electronic music scene.
With his long musical background and the experience of working other musical styles he developed a totally unique style of trance music. Deep melodies, perfect harmonies, psychedelic sounds and pumping basslines, it's his "new definition" of the trance dance music.
After the great success of his first two solo albums, "Beyond Good & Evil" (Geomagnetic.Tv) and "The Secrets Of Meditation"(Y.S.E / Millennium Records), Atma is back in business with his brand new album, "Music Revolution", released in November 2011 on german label Bmss Records.
Beside his trance projects, Atma works as music composer for commercial bands (house, techno, dance, pop, rock, hip hop..) and also as a film music producer.
On the international scene he played at festivals and parties all around the world: Dubai (U.A.E), Germany, UK, Swiss, Austria, Denmark, Italy, Bulgaria, Romania, Macedonia, Serbia, Chile, Ireland, Spain, Slovakia, Czech Rep, Poland, Hungary, Portugal, Russia, USA, Greece, Turkey, Sweden, .
ॐ<><><><><><><><><><><><><><><><><><><><><><><><>
BEVATRON
---------------------:
The mind behind the project Bevatron is named Theo
and was born in Pella (Greece/Macedonia).
In the early 90's he moves to Frankfurt (Germany)
where he comes in touch with electronic music for the first time.
Around 1995 he starts playing music as a dj in clubs,
local events and private parties and starts building his name
until 2000 when he moves back in Greece and plays in almost every
city as a guest dj. In 2003 he is introduced to Reason/Cubase
and starts making his own tunes on his computer.
Five years later Bevatron is born, a project that mixes European Psytrance
with Latin Psytrance influences combining dynamic basslines,
pagan melodies and astonishing soundscapes filled with bursts
of powerful leads that describe his own personal taste!
ॐ<><><><><><><><><><><><><><><><><><><><><><><><>ॐ
SUNDAZE
----------------------:
aka Dimi Goulas from Greece
is djing since 1992 around the clubs and gigs.
His influences is electronic sounds such as
Ambient, Chill Out, Deep House, Progressive House, Progressive Trance,
music you will find on his sessions .
Dimi is Manager PR for Beat Block Records label
also a duo from Quantus band with Volkan Erman
a project of deep progressive, & tech house
having the first 2 massive releases for
Ovnimoon Records and Spiral Trax on 2015
Kinetic Energy EP & Helium EP.
You can find his work resident episodes called
OmTree at Radio Q37
ॐ - FULL DECO By PsyUnity
:
[facebook.com]
ॐ - NUTCIRCUS ! PERFORMERS
(stilt show,fire show,glow show)
BLAKIE+JOKERERY
:
[facebook.com]
Location
Location
Black Box Methodia
Κωνσταντινουπόλεως 113 & Αγίου Όρους
10447 Athens