Backend
Śhānti! Taurus Teaser Psy&Techno Carnival party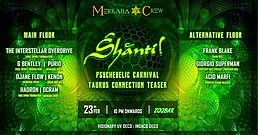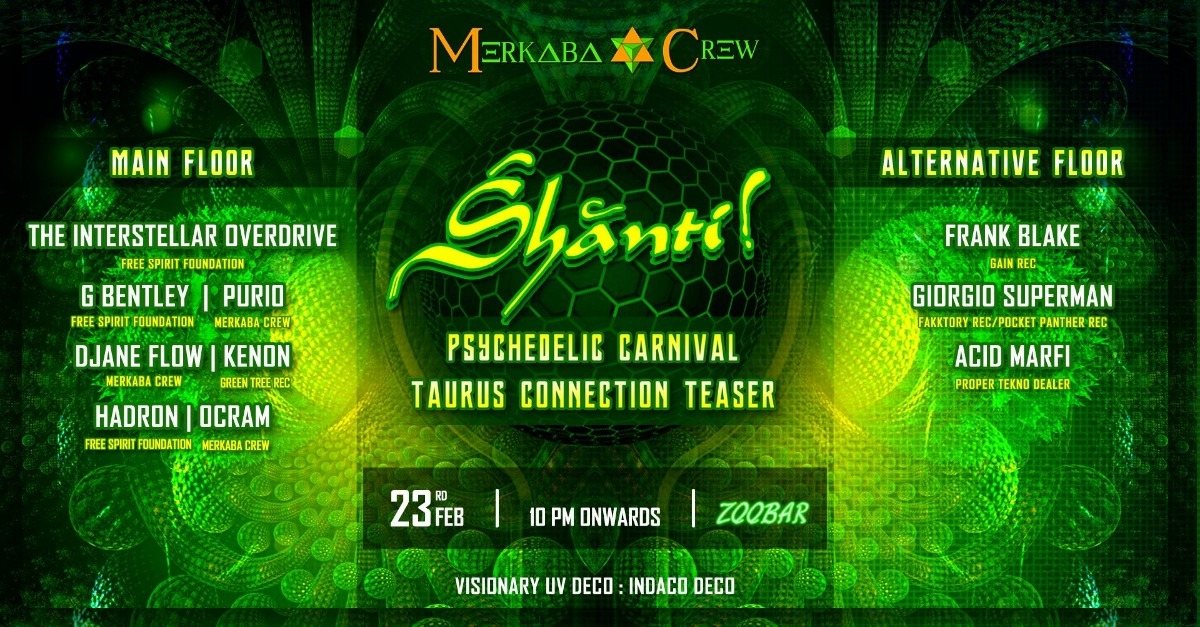 Line Up
ॐŚhānti! Taurus Teaser! Psytrance&Techno Carnival!ॐ
Quarto episodio della stagione 2018/19 di Shanti! Anche in questa notte di Febbraio saremo allo Zoobar per contrastare le gelide temperature invernali col calore del nostro amatissimo Psychedelic Carnival! Il menu prevede due dancefloor psytrance e techno, decorazioni soprannaturali e soprattutto i vostri sorrisi. Travestimenti, maschere e stravaganze di ogni genere sono più che benvenuti!
Siamo felicissimi di ospitare in questa serata i nostri amici della Merkaba Crew di Torino che ci daranno un assaggio delle vibrazioni psichedeliche del TAURUS CONNECTION, primo appuntamento della stagione dei festival, dal 24 al 26 maggio in Piemonte.
All info here:
[facebook.com]
===========================
ॐ MAIN FLOOR ॐ
ॐ Downtempo, Full-on, Psytrance, Forest, Dark ॐ
◆The Interstellar Overdrive (Free Spirit Foundation)
soundcloud
◆ G(B)entley (Free Spirit Records)
soundcloud
◆Purio (Merkaba Crew)
soundcloud
◆Djane Flow (Merkaba Crew)
soundcloud
◆Kenon (GreenTree Records)
soundcloud
◆Hadron (Free Spirit Foundation)
soundcloud
◆Ocram (Merkaba Crew)
[facebook.com]
===========================
ॐALTERNATIVE ROOM ॐ
ॐ Techno ॐ
◆Frank Blake (No Sense Of Place - Gain Records - C.Records)
soundcloud
◆Giorgio Superman (Fakktory records - Pocket Panther rec.)
soundcloud
◆Acid Marfi (Proper Tekno dealer)
===========================
ॐ VISIONARY UV DECORATIONS ॐ
◆INDACO DECO
[facebook.com]
===========================
◆ ENTRY FEEs
10€ - Ingresso ridotto entro mezzanotte.
13€ - Ingresso dopo mezzanotte.
Vi raccomandiamo di arrivare presto onde evitare code dell'ultimo minuto.
NB: ai prezzi indicati sopra vanno aggiunti 2 euro di tessera annuale dello Zoobar pertanto ॐ BE SMART! ॐ portate con voi la tessera dello Zoobar 2019 se già l'avete fatta in precedenza!!!
===========================
◆ ZOOBAR ROMA
via Generale Roberto Bencivenga 1
00141 Roma
◆ COME ARRIVARE:
Fermata BUS: Nomentana/Val d'Aosta
Linee BUS: 60, 66, 90, 351, 211, 211F
(ultima partenza Sabato a Mezzanotte, prima partenza Domenica alle 5:30am)
BUS NOTTURNO: N4 (da Mezzanotte alle 5:30am)
Fermata Nomentana/Val d'Aosta
============================
La musica elettronica è solo uno dei molti strumenti per trascendere le limitazioni dell'essere fisico. Pensiamo sia bene superare il preconcetto che vede la musica elettronica legata al mero "divertimento" ed abbracciare un'idea più ampia, che recupera il valore della musica e della danza come mezzo di trascendenza e guarigione.
Psychedelically Yours!
Free Spirit Foundation
[facebook.com]
[flickr.com]
vimeo
#psytrance
#psyculture
#goatrance
#psytranceparty
#freespiritfoundation