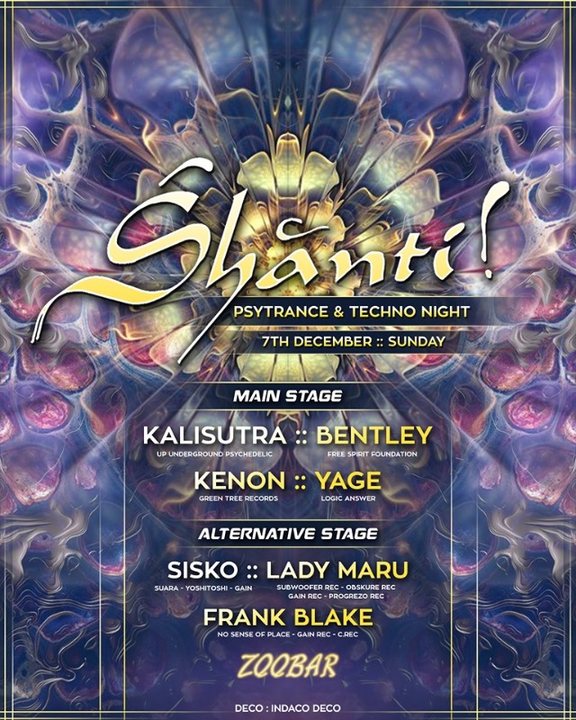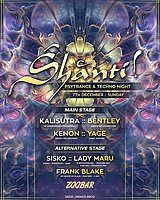 Line Up
Śhānti! Psytrance&Techno night
Secondo episodio della stagione 2019-2020. In questa serata saremo ospiti dello Zoobar,location che ci accoglie calorosamente già da alcuni anni e che ci da la possibilità di raddoppiare l'offerta musicale. La mainroom vedrà esibirsi nomi vecchi e nuovi della scena psytrance italiana mentre nell'alternative room lasceremo spazio alla techno di Lady Maru e del suo team. Il tutto sarà accompagnato da decorazioni soprannaturali e dai vostri sorrisi.
=================================================
MAIN FLOOR: Downtempo, Psytrance
(powered by Free Spirit Foundation)
◆THE INTERSTELLAR OVERDRIVE
(Free Spirit Foundation)
soundcloud
◆KALISUTRA
(UP Underground Psychedelic)
soundcloud
◆G(B)ENTLEY
(Free Spirit Records)
soundcloud
◆KENON
(GreenTree Records)
soundcloud
◆YAGE
(Logic Answer)
soundcloud
================================================
ALTERNATIVE ROOM: Techno
(powered by Lady Maru)
◆ LADY MARU
(Subwoofer Rec, Obskure Rec., Gain Rec., Progrezo Rec.)
soundcloud
◆ FRANK BLAKE
(No sense of place Rec.)
[facebook.com]
◆SISKO ELECTROFANATIK
(Electrofanatik)
soundcloud
===========================
ॐ VISIONARY UV DECORATIONS ॐ
◆INDACO DECO
[facebook.com]
===========================
◆ ENTRY FEEs: 10€
Vi raccomandiamo di arrivare presto onde evitare inutili code.
NB: ai prezzi indicati sopra vanno aggiunti 2 euro di tessera annuale dello Zoobar. La tesserà dovrete farla solo se non l'avete già fatta (ad esempio chi è venuto al party shanti di carnevale e/o del 24 aprile allo Zoobar è già stato tesserato quindi non paga i due euro. Pertanto mi raccomando portate la tessera con voi!!!).
===========================
◆ ZOOBAR ROMA
via Generale Roberto Bencivenga 1
00141 Roma
◆ COME ARRIVARE:
Fermata BUS: Nomentana/Val d'Aosta
Linee BUS: 60, 66, 90, 351, 211, 211F
(ultima partenza Sabato a Mezzanotte, prima partenza Domenica alle 5:30am)
BUS NOTTURNO: N4 (da Mezzanotte alle 5:30am)
Fermata Nomentana/Val d'Aosta
==================================================
Free Spirit Foundation (FSF) is one of the most respected and loved Italian psytrance organizations. It was born in 2006 when a group of close friends decided to start throwing their own parties in the sunny beaches of Rome. Over the time it has built strong connections with several visionary musicians and decorators. After more than 150 parties, FSF has become a benchmark in the psytrance Italian community due to the very fine quality of its productions. "Śhānti", the Roman legendary monthly psytrance party, is known all over the world for being a mind-blowing psychedelic experience, the ultimate combination of music and visuals! FSF still continues spreading worldwide the psychedelic culture, hosting the most appreciated international live acts and pushing its talented djs on the most important international dancefloors. FSF is also deeply involved in the management of the We Are One Festival (WAO), the biggest Italian psytrance summer gathering.
If you want to know more about the FSF project or if you want to propose your art/music/performance contact us on facebook.
Psy your life
Free Spirit Foundation
[facebook.com]
[flickr.com]
vimeo
#psytrance
#psyculture
#goatrance
#psytranceparty
#freespiritfoundation