Shanti! :: PsyPool Party :: DUST Live + Maya Dj Set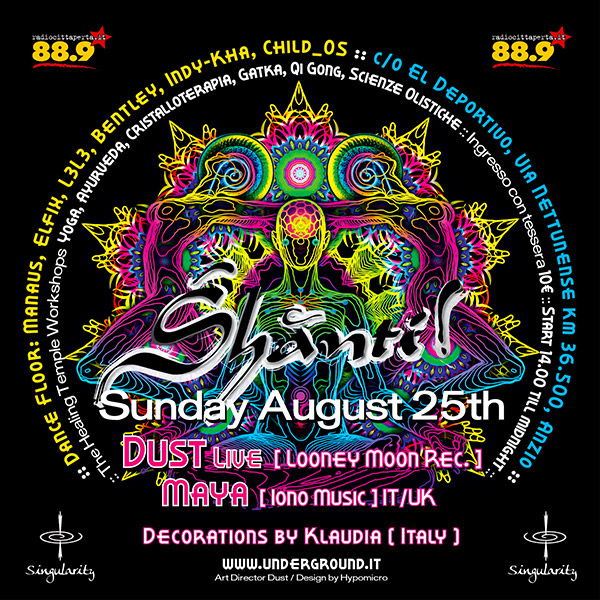 Line Up
DUST ( Live ) [ Looney Moon Records ]
Florence based musician, Andrea Lunghi a.k.a DUST is rising strong from the underground vaults of Looney Moon Records. His space lab located in the heart of Florence, Dust has been shaping sounds since 2004 and has enjoyed being released on a large number of compilations this year alone.
Blessed with a musical range stretching from night-time haunts and forest soundz to the groove of daylight full-on, every track touched by him has that unmistakable Dusty sound. Most of us have caught a glimpse of this dusty surprise on compilations while the full-length album "I don't like psychedelics" is eagerly awaited for release on Looney moon Rec this year.
Often been suspected of either alien DNA or robotic nerves as he blazes through his Live performances and heads back to the studio where the music unfolds under his numerous guises; Mindshuffle (with the italian Ilai from 24/7), Foam (with Assioma from Looney Moon rec), Dust in Face ( with Giacomo Phase), Assault Junkies (with Thomas Peace-ka), ComaDust (with Nicola Hypogeo/Comasector) and Latin Loser ( with Giacomelli). Guaranteed to raise the dust from the floor with his monstrous Live sets "" there is no escaping the Dusty sound
soundcloud
[myspace.com]
[facebook.com]
MAYA [ Iono Music ] ( UK-IT )
Maya started his artistic career as a Mc in 1995, performing in the best italian clubs and after parties.
In the early '00s he founded Technoexperience, a cooperative project with aim to organize goa parties, and soon began to emerge on the italian goa-trance scene as one of the main promoters, contributing to bringing the scene to a mainstream level and introducing to the italian scene international goa-trance artists for the first time.
Technoexperience is the mind behind some of the most important events on the local trance scene, such as SINAPSY, 24 ORE GOA, UNITED COLORS OF MUSIC (the first italian three days legal festival). At the same time he started an electronic live act, where he collaborated with other musicians to create an experimental type of progressive goa, putting togheter electronic sounds (made using synthesizers and drum machines) and mixing them with tribal instruments such as didjereedoos and djembes.
This resulted into becoming an avant-garde project, something never heard before at the time, which went on to become a feature of many Technoexperience parties and other related events around italy
In late 2003 he started to dj as well and this went on to become his main activity. His adventure as an international dj began in 2009 and soon his music style started being appreciated in many different countries. His name appears in the lineup of many killer parties and festivals in all around Europe, Brazil and Thailand. Maya enjoys playing different musical styles but his favourites genre are progressive-trance and psy/fullon! He's Iono Music label dj since 2011.
soundcloud
[facebook.com]
Info
>> INDICAZIONI <<
GOOGLE MAPS:
[goo.gl]
COORDINATE : Lat: 41.459646 Lon: 12.621272
Da roma in macchina: raccordo anulare, uscita 26 ,seguire per anzio /nettuno
from rome with a car: take GRANDE RACCORDO ANULARE, exit 26 PONTINA then follow for ANZIO/NETTUNO
con il bus:
metro fino ad anagnina, bus per ANZIO/NETTUNO.la fermata è CENTRO/SPORTIVO/PISCINA COMUNALE di ANZIO.
per gli orari [click here] capolinea terminals anagnina 06/7222153
with the bus:
take the underground(red line)until ANAGNINA.then the bus for ANZIO/NETTUNO. you get down in front of the place of the party. ask the driver for CENTRO SPORTIVO/PISCINA COMUNALE. the party is there.
for leaving time: [click here] capolinea terminals anagnina 06/7222153
per chi viene da fuori:
da bologna-firenze: dall'autostrada prendere il raccordo, uscita 26 pontina, seguire per anzio -nettuno.
from bologna-florence:from the highway take the RACCORDO, exit 26, follow for ANZIO/NETTUNO.
da napoli:dall'autostrada uscire a frosinone, dal casello girare a destra per latina, seguire per nettuno e poi per anzio.
from naples:from the highway exit FROSINONE, turn right for LATINA, follow for NETTUNO and then for ANZIO.
LASCIATE A CASA I CANI, GRAZIE
Entry fee
Entry fee
INGRESSO 10 €
TESSERA ASSOCIATIVA 1 €
Organizer
Organizer
Free spirit Foundation