SHANTI! Parallel Illusions, Entropy Live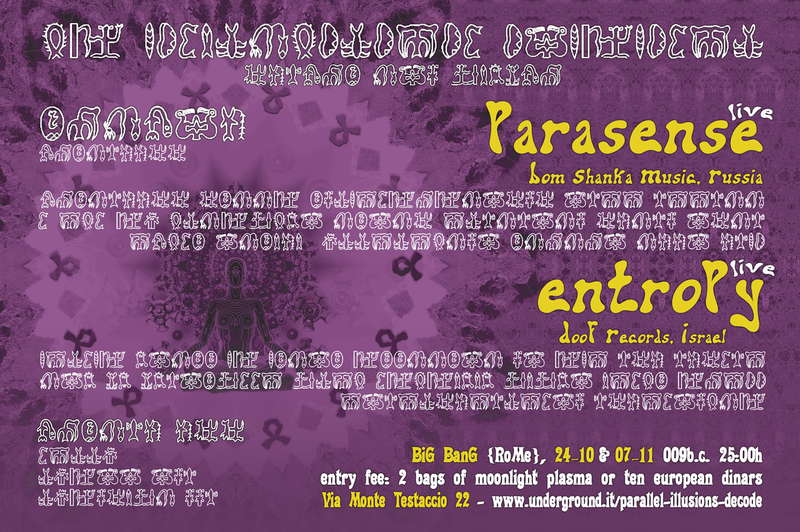 Line Up
Entropy [ DooF Records ], Israel
[myspace.com]
sabato 31 ottobre 2009 c/o Leoncavallo – Milano
sabato 07 novembre 2009 c/o Big Bang – Roma
Pitt e Omer sono due ragazzi che condividono un profondo background musicale cresciuti nel sud di Israele. Entrambi hanno avuto una formazione musicale di tutto rispetto, Omer è ingegnere del suono, Pitt un pianista. Tutto filava liscio nelle loro esistenze finquando lo Spirito della trance non li rapì. Dapprima fondarono il progetto Kopsses ed in seguito, per non perdere la sana abitudine del cambiamento, Omer e Pitt decisero di passare al lato oscuro della forza. Il secondo principio della termodinamica diede il nome al loro album di consacrazione "The Second Law of Thermodynamics" nel 2004 prodotto sotto il nome di Entropy, inziò così il loro viaggio nel mondo della Dark Psychedelica. Come tutti sappiamo la trance opera per vie misteriose e attraverso una singolarità gravitazionale giungeranno fino a noi per accompagnarci nella nostra seconda Illusione Parallela.
Alkemic Drop [ Free Spirit Foundation, MantaRay ]
[myspace.com]
Chill
InCreDible TiDe [ Peak Records, LooNey MoOn Records]

NaBla [ Free Spirit Foundation ]

Chilaili [ Free Spirit Foundation ]

VeRo [ Free Spirit Foundation ]

VetiQual RedroM [ Metromaritmica ]
Deco
Deco
Fluoro Botanics
Atlantix Tribe
Prox
Location
Location
Big Bang
Via di Monte Testaccio 22, Roma
Entry
Entry
2 bisacce di plasma lunare o dieci denari europei

20% off - 8 € entry fee for Erasmus students and people coming from economic developing countries of Eastern Europe (Albania, Belarus, Bosnia, Bulgaria, Croatia, Macedonia, Romania, Serbia, Turkey, Ukraine , Russia), Latin America, Africa and Asia (except Israel and Japan).

Sconto del 20% sull'biglietto d'ingresso per gli studenti Erasmus e per chi proviene da paesi in via di sviluppo dell'europa dell'est (Albania, Bielorussia, Bosnia, Bulgaria, Croazia, Macedonia, Romania, Serbia, Turchia, Ucraina, Russia), dell'america latina, dell'africa e dell'asia (eccetto Israele e Giappone).
Organizer
Organizer
Free Spirit foundation