Backend
SHANTI ! - On The Beach MUBALI 2 Hours Live Set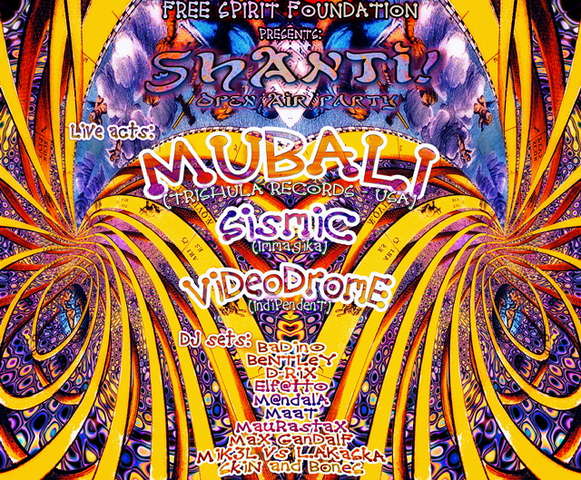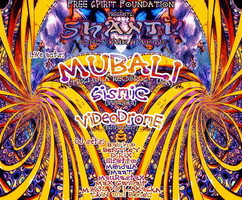 Line Up
Line Up
MUBALI @@ 2 HOURS LIVE SET
[Trishula Records - San Francisco, CA]

Mubali is the trance project of Greg Farley. He has been producing and releasing psychedelic trance since 2003 and has several releases on various labels including Mistress of Evil, Trishula, Parvati, Insomnia, and Psycircle Records. His style varies from being slightly funky to slightly mental, but his hard hitting sets have reached some of the far corners of the globe. His second full length album titled Shenanigans, will be released this fall on Trishula Records. Currently based in San Francisco, he also has spent some time in the midwest with the superduo Primordial Ooze. Get ready to blast off with Greg's interpretation of hard psychedelic madness with a little twist of funk.
Info
Nello stabilimento balneare troverete un bar e un ristorante con ottime specialità marinare. Per chi vuole prendere il sole c'è la possibilità di affittare lettini a 3.50 euro invece che 5 per tutto il giorno.

XXX--CON IL CALARE DELLE OSCURITA' CI TRASFERIREMO AL RIPARO DA VENTO ED EVENTUALE PIOGGIA NELL'AREA RISTORANTE--XXX

How to reach Colle Romito - Ardea (RM)

Lat : 41°32'21.49"N
Lon : 12°32'55.65"E

By Car From Rome's ring road
Exit the ring road (G.R.A.) directed to Via Pontina (SS148) direction Latina (exit n. 26 of G.R.A.). Exit at Anzio Nettuno (SS 148 Km 44.9). Keep on driving through the provincial road Nettunense till you reach Campo di Carne turn left in direction "Eucaliptus Golf Club". Drive straight on "Via Cogna" and then on "Via Campo di Carne"
till you reach "Tor San Lorenzo". Turn left and follow the main road "Via Ardeatina" till "Via delle Dune Colle Romito".


Dal G.R.A. (Roma), uscita 26 strada Pontina in direzione Latina, prendere lo svincolo per Anzio Nettuno, proseguire per la Via Nettunense, a campo di carne girare a sinistra e seguire le indicazioni per l "Eucaliptus Golf Club". Proseguire su "Via Cogna" e poi su "Via Campo di Carne" fino a Tor San Lorenzo. Girare a sinistra e proseugire fino a "Via Romagna" circa 2 Km. Girare a destra sulla strada sterrata e prosguire fino al mare.
Location
Stabilimento balneare "La Playa Del Sol"
Organizer
Organizer
XXX---FREE SPIRIT FOUNDATION---XXX
Added

14y 2m

· Update

13y 10m

· 8 Parties ·

/ 24