SHANTI! :: DJ NUKI [BOOM SHANKA MUSIC] (UK) + Deco by Kλαυδια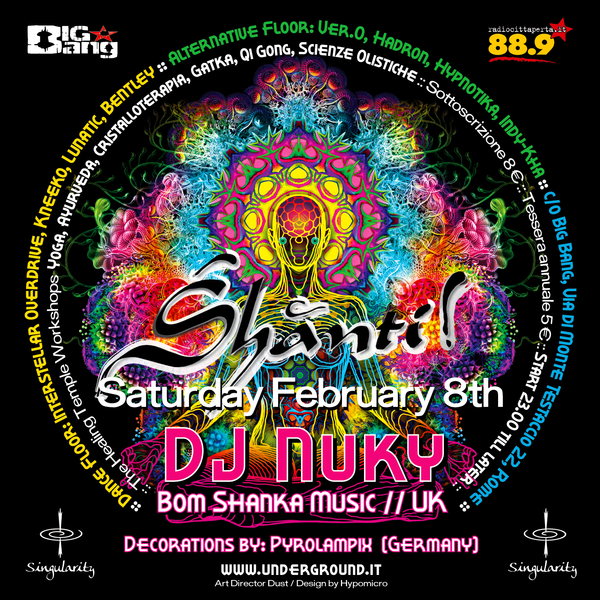 Live
Line Up
>> DJ NUKI [ Boom Shanka Music ] UK
soundcloud
[bomshanka.com]
DJ Nuky has immersed herself in Tranceland for many years working in all aspects of the Psy-Trance scene.
A natural DJ she started to mix 3 years ago and very quickly gained a huge reputation and following for her super-smooth mixing technique, cultured choice of music and awesome power and energy behind the decks.
Now one of the core DJs with Bom Shanka, Nuky has compiled our 4th release "The Laboratory" and is making a move into the studio, writing under the name 'Dirty Saffi' with some bloke she met (Al Psymmetrix) in order to distill some of that awesome power and energy into cripsy, crunchy full power psychedelic music!
Info
Info
>> Z€ro N€uri Anti Crisis Social Price <<
Mettiamo a disposizione 15 ingressi completamente gratuiti per i nostri fratelli e sorelle che hanno una voglio matta di partecipare al nostro RITUALE DI GUARIGIONE COLLETTIVA pur avendo Z€ro N€uri in tasca (la tessera però la dovete già avere). Per mettervi in lista potete scrivere a
socialprice@underground.it
dalle 15.00 alle 16.00 del Venerdi precedente all'evento. I nominativi accettati riceveranno una email di conferma da stampare e consegnare all'ingresso.
E' un iniziativa di responsabilità individuale, chiedere di entrare in questa lista non avendone realmente motivo toglie la possibilità a chi invece ne avrebbe diritto di entrarci. MI RACCOMANDO !!!!
!!! ATTENZIONE !!! Le liste chiudono alle 01.00, quindi anche se avete ricevuto la mail di conferma ma venite dopo l'una, non potrete usufruire del socialprice.
Location
Location
Big Bang
Via di Monte Testaccio 22
00153 Roma RM
Entry
Entry
>> ENTRY FEES <<
Sottoscrizione 8 €
Tessera annuale 5 €
NON HAI LA TESSERA E VUOI SALTARE LA FILA?
Da oggi è attivo il servizio di WEB CHECK-IN!!
Visita l'indirizzo
[bigbangroma.org]
e effettua il log-in direttamente coi tuoi dati di Facebook!! Riceverai così il QRCODE che ti permetterà di entrare al Big Bang direttamente tramite la nostra nuova CASSA VELOCE.