Backend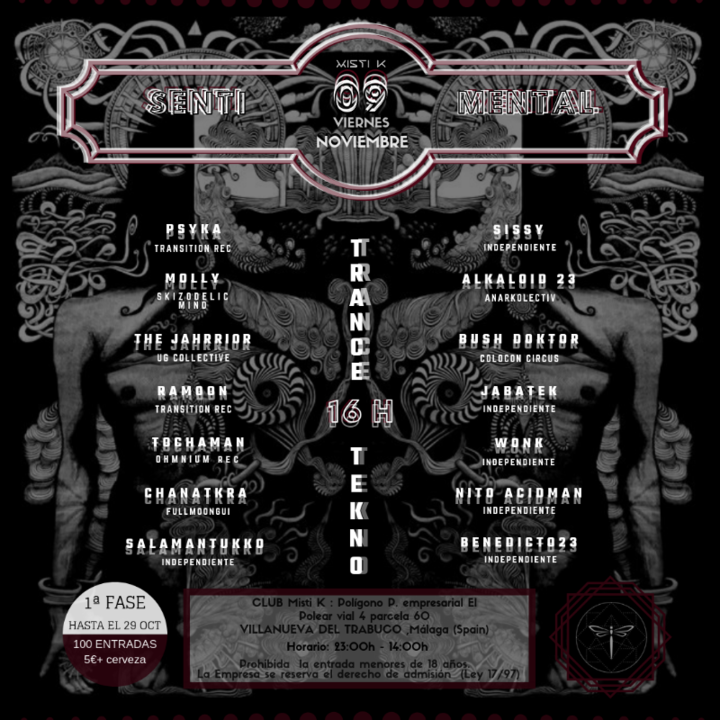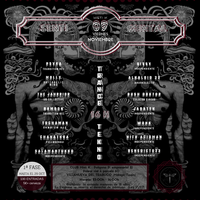 Line Up
22:00 - 23:10 ❊❖ TOCHAMAN ❖❊ Dark progressive
(Ohmnium rec) Sevilla

23:10 - 00:20 ❊❖ THE JAHRRIOR ❖❊ Twilight
(UG collective) Granada

00:20 - 01:30 ❊❖ RAMOON ❖❊ Twilight
(Transition crew)

01:30 - 02:40 ❊❖ PSYKA ❖❊ Twilight
(Transition crew) Huelva

02:40 - 03:50 ❊❖ MOLLY ❖❊ Dark Forest
(Skizodelic mind) Málaga

03:50 - 05:00 ❊❖ SALAMANTUKKO ❖❊ Darkpsy
(Independiente) Granada

5:00 - 06:10 ❊❖ CHANATKRA ❖❊ High tech - psycore
(Fullmoongui) Granada

................... TEKNO---- TEKNO.....tekno.-----TEKNO........tekno...........tekno.....

06:10 - 07:20 ❊❖ ALKALOID23 ❖❊ Tekno-Tribe
(Anarcolectiv) Málaga

07:20 - 08:30 ❊❖ JABATEK ❖❊ Acid Core
(independiente) Málaga

08:30 - 09:40 ❊❖ WONK ❖❊ Acid Core
(independiente) Granada

09:40 - 10:50 ❊❖ SISSY ❖❊ Gabber
(independiente) Málaga

10:50 - 12:00 ❊❖ BENEDICTO23 ❖❊ Mental
(independiente) Granada

12:00 - 13:10 ❊❖ BUSH DOKTOR ❖❊ Acid tekno
(Colocon circus) Granada

13:10 - 14:20 ❊❖ NITO ACIDMAN ❖❊ Acid
(independiente) Granada
Info
▲▼ Misti K ▼▲ Sound system
ૐ ·· SENTIMENTAL ·· ૐ

Sesión de 16 horas de música Trance ( Progressive - Zenon - psytrance - Forest - Darkpsy - higt tech) y Tekno ( Mental - Acid - Tribe - Gabber)

*-Conectate con tu ser mediante la danza donde reinaran el amor, paz y alegría-*
*Decoración psychedelic flúor
*videomapping art psychedelic
*Chillout exterior.
*20kw sound system

Session of 16 hours of Trance ( Progressive - Zenon - psytrance - Forest - Darkpsy - higt tech) and Tekno ( Mental - Acid - Tribe - Gabber)

*-Connect with your being through the dance where love, peace and joy reign-*
* Psychedelic fluor decoration
* Art psychedelic videotaping
*Outside chill out.
*20kw sound system
Location
*-DIRECCION/ADDRESS-*
*-MISTI K-*
ELECTRONIC MUSIC SPACE


Polígono P. empresarial El Polear vial 4 parcela 60
Villanueva Del Trabuco, Andalucia, Spain

*-AMOVENS/ BLABLACAR-*

Solicitar viaje Malaga-Granada o Granada- Malaga.
Hablar con el conductor y decirle que necesitais un trayecto parcial y teneis que bajar en la salida de la autovia( nº 7 villanueva del trabuco) en una gasolinera repsol, está al lado de la autovia.
De la gasolinera a Misti k solamente hay 5 minutos andando.

Request a trip Malaga-Granada or Granada-Malaga.
  Talk to the driver and tell him that you need a partial trip and you have to get off at the exit of the motorway (nº 7 villanueva del trabuco) at a repsol gas station, next to the highway.
From the gas station to Misti k there are only 5 minutes walk.
Entry
Entry
29 octubre - 8 noviembre 10 € + 2 cervezas
Puerta 12€ + 2 cervezas