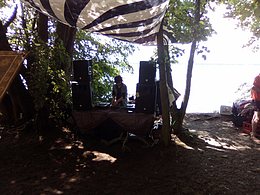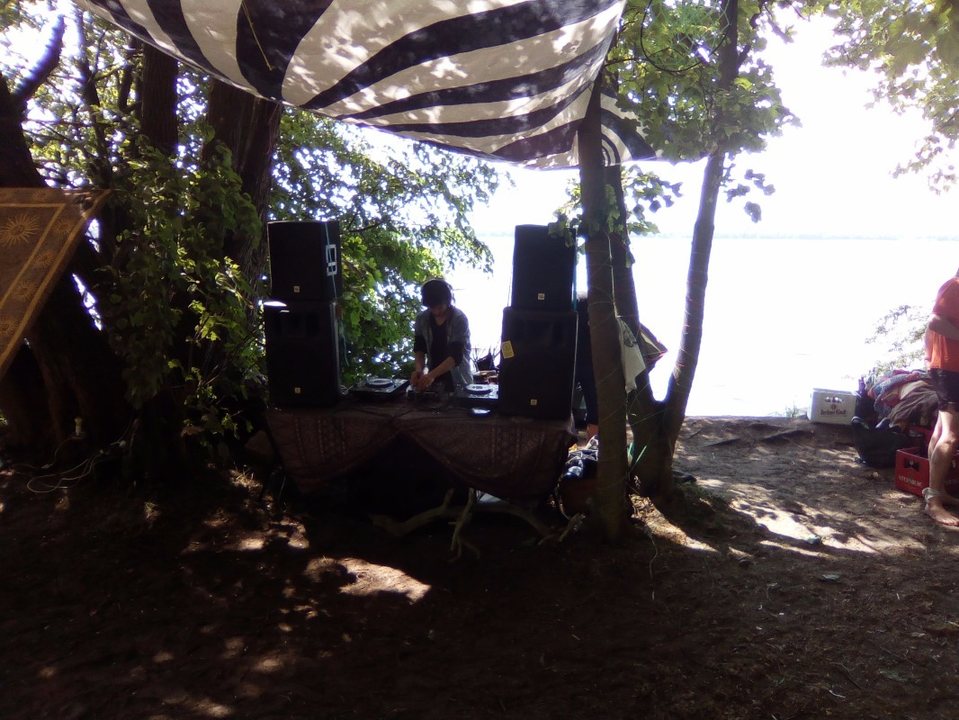 Line Up
◆

◇ Opening

◇ OMritz

◇ Naturio

◇ Bleck Panther

◇ OMritz ₪ KrachInfo

◇ KrachInfo

◆

°°°

Gespielt wird Psy.
Wir wollen probieren verschiedene Styles unterzubringen und werden uns dabei nach der Tageszeit orientieren.
Wer erwartet das nur Proggy oder nur Hi-tech oder Wasauchimmer gespielt wird, wird enttäuscht. Es wird zur Nacht hin immer schneller werden.

•••

It will be all about Psy, but we don't want to play exclusively one style. The music will follow the time of the day and speed up during the party.

∆∆∆

Psy-Trance>Full-On>Twilight>Forrest>Dark-Psy>Hi-Tech>Morning>Psy-Trance

+++

Plus Chill-Out by New Eden
Deco
Natur, Stoffe und Licht.
•••
Nature, fabric and light.
Info
••°•∆ 17.06. ~ 18h → 18.06. ~ 7h ∆•°••
~••°•∆•°••~ ★ ~••°•∆•°••~ ★~••°•∆•°••~
Lasst uns gemeinsam tanzen und ein Ritual der Musik zelebrieren... Und das soll hier im Vordergrund stehen: Musik & der Spaß an der solchen. Wir lieben die Freiheit und wollen das feiern.

• 100% unkompliziert, unkommerziell und unabhängig. •

☫ Die lieben Leute von New Eden werden auch mit von der Partie sein, und einen kleinen Chill-Out installieren ☫

>>>bitte gib dir Mühe alles sauber und so zu hinterlassen wie du es auch gerne vorfinden würdest.<<<

•••

Let us dance together and perform a ritual based in music. And this is what's it about: music and the joy coming of it. We love freedom and we wanna celebrate it.

•100% uncomplicated, non-commercial and independent •

☫ The lovely New Eden crew will join and implement a small Chill-Out ☫

>>>please respect the nature, we don't want to litter it, and you shouldn't either<<<

★★★ No gods, no masters, no nazis -> no discussion. ★★★
Location
Gute Nachrichten, das Wetter soll trocken sein und bei 24° geht es los.
∆
Die Feier wird sich am großen Müggelsee abspielen, genauer: Link für dich oder
GPS-Koordinaten (einfach bei Google reinkopieren):
∆
52°26'50.5"N 13°39'42.0"E
∆
[goo.gl]
∆
Zu erreichen in dem du von der Straßengabelung Fürstenwalder Damm/Müggelseedamm ein wenig weiter östlich den Fürstenwalder Damm runter bis zum 'Jugenddorf am Müggelsee' gehst und dann da den Aufgang zum See nimmst, am See dann rechts halten und 200-300 Meter am Ufer entlang. Schon bist du da.
~
Die nächste S-Bahn Station (S3) wäre 'Friedrichshagen' von dort dann entweder mit dem Rad oder zu Fuß (~3km) bis zu besagter Gabelung...
Oder von Friedrichshagen die Straßenbahn (Linie 60) nehmen und bis zur Station 'Fürstenwalder Damm/Müggelseedam' fahren.
∆
Es ist weit und breit kein Wasserhahn zu finden, bitte bringt euch was zu trinken mit.
Nachts soll es kalt werden (11°)!
•••
The party will be at the 'Müggelsee'.
Link or GPS-coordinates (copy&paste Google):
∆
52°26'50.5"N 13°39'42.0"E
∆
[goo.gl]
∆
You'll have to find the 'Jugenddorf am Müggelsee' which is close to "Fürstenwalder Damm/Müggelseedamm" (intersection) and get down to the lake there, now you just walk right along the shore, after 200-300 meter you'll reach us.
~
The closest train station is 'Friedrichshagen' (S3) - now you better have a bike, or you can take the tram (line 60) to "Fürstenwalder Damm/Müggelseedamm"
∆
Please bring some water and warm clothes for the cool night (11°) with you.
Organizer
Organizer
Bunter Haufen von Freunden.
•••
A bunch of friends, nothing fancy.
Added

5y 8m

· Update

5y 7m

·