Backend
Schalltherapie@Villbreiter.ch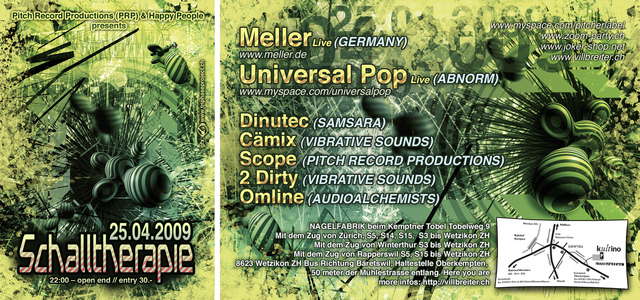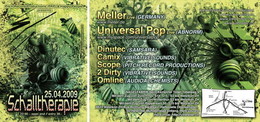 Live
Line Up
MELLER (GERMANY) ( crotus rec. ) New Album Release !!! Spacewalk
Meller aka Marco Scherer and DJ Mel represents a fusion of hard rocking tribal trance and bold progressive sound. Meller doesn't follow typical standards of electronic dance music but reflects the prefered styles of the producers in a rude mixture without frontiers or puristic boundaries. The Meller liveset is programmed strictly for the dancefloor and holds numerous psychedelic elements for brain stimulation as well as a massive amount of energy.
[meller.de]
[psyshop.com]
Universal Pop (ABNORM)
[myspace.com]
Deco
Deco
Pitch Reord Productions
supported by HAPPY PEOPLE PRODUCTIONS
[zoom-party.ch]
Info
FULL ON / PROGRESSIVE-GOA / Psy
CHILLOUT Nr 1 OUTDOOR MIT ARABISCHEM ZELT
CHILLOUT Nr 2 OUTDOOR MIT FEUERSTELLE UND DIREKT AM BACH GELEGEN.. SEHR IDYLLISCH
CHILLOUT Nr 3 GROSSES INDOOR CHILLOUT MIT NATRAJ KLEIDERSTAND,JOKER SHOP,FOOD etc
CHAI AND FOOD BY
JOKER SHOP
[joker-shop.net]
NATRAJ KLEIDERSTAND
[natraj.ch]
Martin`s Schmuckständchen
FETTE SOUND ANLAGE 10kW JBL
WIR MUSSTEN UNS EINE ANDERE LOCATION SUCHEN. WIR HABEN SIE GEFUNDEN !! :) ECHT COOLE SACHE
KOMMT ZAHLREICH
no Dogs
no Children
Respect the Nature
Don`t feed the Troll
Mysticalforum Link
[mysticalforum.ch]
Location
Location
NAGELFABRIK beim Kemptner Tobel
TOBELWEG 9
8623 WETZIKON ZH
Bus Nr 850 ab Wetzikon Richtung Bäretswil oder Bauma Haltestelle Oberkempten, 50 meter der Mühlestrasse entlang. Here you are
[villbreiter.ch]
ACHTUNG BEGRENZTE PARKPLÄTZE ! !
weitere Parkplätze bei Eugen Seitz AG Spitalstrasse 204 8623 Wetzikon ca. 600 Meter Fussweg
Der Shuttle Bus entfällt