Backend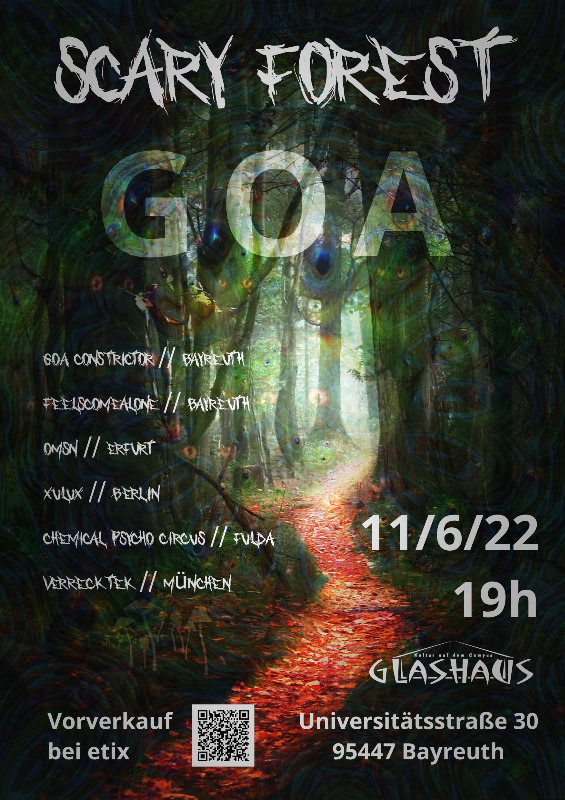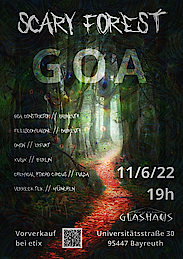 Line Up
Line Up
19:00 – 20:40 Goa Constrictor // Bayreuth
20:40 – 22:20 FeelingComesAlone // Bayreuth
22:20 – 00:00 Omsn // Leipzig
00:00 – 1:40 XuluX // Berlin
1:40 – 3:20 Chemical Psycho Circus // Fulda
3:20 – 5:00 Verrecktek // München
Info
Info
Ihr wagt Euch in den finsteren Wald, verlockenden Klängen hinterher. Dabei trefft ihr seltsame Gestalten und fürchtet Euch umso mehr. Faszinierende Lichter blitzen, die Musik tanzt Euch in Trance. Sie drehen sich wie die Derwische und verlieren die Contenance.

*Special: Come in a costume and get a magic shot for free.

9€ entry + GH-membership (1€ per month, 6€ a year – available at the entry or beforehand)
Pre-sale-tickets are handled like reservations, valid until 9pm. After 9pm you have to wait in line hoping to get in due to the capacity.

Racism, sexism, violence & bad vibes are not welcome! Bring & share love!