Scandinavian Psytrance Party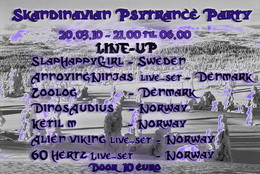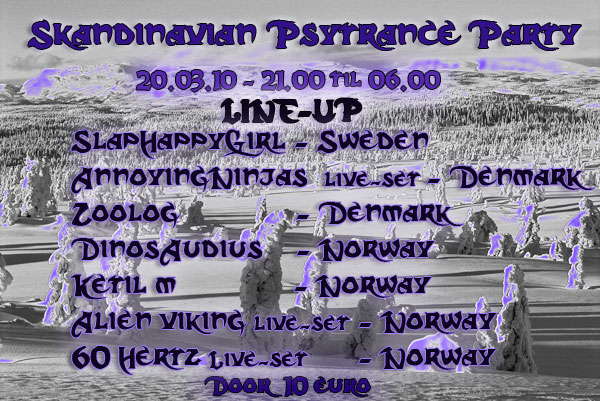 Live
Line Up
AnnoyingNinjas (Denmark)
Alien Viking (Norway)
60 Hertz (Norway)
DJs
SlapHappyGirl (Sweden)
Zoolog (Denmark)
DinosAudius (Norway)
Ketil m (Norway)
Deco
FraqtalBros. and sidekicks
Info
Scandinavian Psytranceparty
20.03.10 - 21:00 - 06:00
You're invited!
It has been a long time since we've came together for a night of good psychedelic music and dancing.
March 20, 2010, outside Bergen, this will just happen. Lineup is of Scandinavian width, both light and dark.
Bring some good friends with good humor and come dance with us!
The premises are limited to max 200 people. we have added up to registration in order not to end up in a boring situation, where someone has to go home ...
The subject field in the registration email will contain: SPP0310 registration - Number of participants.
In Mail, type your full name on the participants and any questions if you have any.
Confirmations will be sent out from us as we check the mail.
Send mail to:
Psytrancelist@gmail.com
Information on location and transportation will be sent out later @ the said mail.
Div info:
Begen, Norway
NOK 1007 10 euro - per person.
All facilities in place.
It will not be sold alcohol.
Best transport: Bus.
Bus stop 50 meters from the premises.
Possible to sleep over at the place from Friday to Saturday.
It is FREEZING cold here now with lot's of snow, so bring GOOD!!! clothes!!!
Welcome !!!
Location
A nice place outside Bergen city center.
Entry fee
Entry fee
100 Kr.

10 euro
Organizer
Organizer
Thomas og Shambo "the speaker carrier"
Added

12y 11m

· Update

12y 11m

·

/ 1