SAMSARA pres. PSY SOCIETY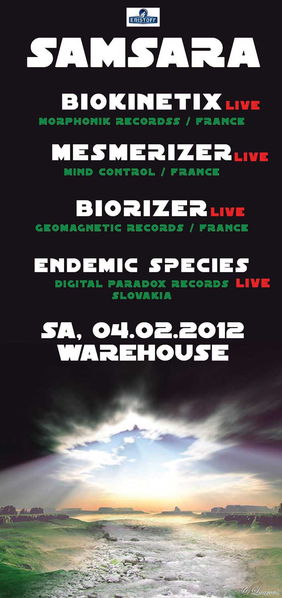 Line Up
FU..ING AMAZING PSY SOCIETY LIVE ACTS....
LOOK HEEEEEEERE... >>>
MAIN FLOOR:
BIOKINETIX // MORPHONIK RECORDS // GEOMAGNETIC RECORDS // FRANCE
[myspace.com]
soundcloud
MESMERIZER // MIND CONTROL // FRANCE
soundcloud
[myspace.com]
BIORIZER // GEOMAGNETIC RECORDS // FRANCE
Side Projekt >>>Biokinetix vs Mesmerizer
soundcloud
[myspace.com]
PROGY FLOOR:
***FIRST TIME IN AUSTRIA***
ENDEMIC SPECIES // DIGITAL PARADOX RECORDS // SLOVAKIA
soundcloud
MAINFLOOR:
LAGUN //SUNSHINE EXPLOSION // SAMSARA // KETUH RECORDS // AUSTRIA
[myspace.com]
MARCATO // SUNSHINE EXPLOSION // SAMSARA // KETUH RECORDS // AUSTRIA
[facebook.com]
DA RAY // KICK SLAVES // OHHRRIGINAL // AUSTRIA
[myspace.com]
MANDULIS // KICK SLAVES /7 OHHRRIGINAL // AUSTRIA
[myspace.com]
PROGY FLOOR:
OHHRRIGINAL PSYSOCIETY DJ CREW
you can be suprised...!!!
Chill
WE CAN CHILL AFER THE 21. DEZEMBER 2012! zhhh... What a theory...?!?

USE THE TIME AND ENJOY THE PSY SOCIETY PARTY by SAMSARA and THE WONDERFULL DREAM OF LIFE!
Deco
***BIG DECO CONCEPT BY 3 INTERNATIONAL DECO TEAMS***
*FIRST TIME IN AUSTRIA*
QUENDI MANWATHIEL // SLOVAKIA
[omicrondeco.com]
OMICRON // BELGIUM
[omicrondeco.com]
PHAIDON // BELGIUM
[omicrondeco.com]
VISUALS:
VIDEO PERFORMANCE by V-MOTION // VIETNAM // AUSTRIA
[myspace.com]
LASER:
LASER PERFORMANCE by SONNY VIRTUAL LIGHTS
Info
TIMETABLE:
MAINFLOOR:
23.30-01.00
SKYWALKER
01.00-02.00
MESMERIZER ***Live***
02.00-03.00
BIOKINETIX ***Live***
03.00-04.00
BIORIZER ***Live***
04.00-06.00
LAGUN vs. MARCATO
LOUNGE FLOOR:
22.00-23.00
BENGROOVE
23.00-24.00
HOCHEGGER
00.00-01.30
ENDEMIC SPECIES ***Live***
DA RAY und MANDULIS musste Krankheitsbedingt die Party leider absagen!
Aber wir haben für Ersatz gesorgt! Skywalker aus Portugal wird für Ersatz sorgen!
Enjoy the Psy Society
BIOKINETIX:
Biokinetix is the hottest new presence from the French Underground trance Resistance. -Fabry was born in France in 1977 and was rocked in a varied musical world from an early age (Rock / Soul / Rnb / Electro / Trance / Reggae ...) -His first experience was in 1998 on vinyl in London, mixing NuNRG and Hard-trance. After 4 years of partying with the Brits, he decided to come back to France and started DJing on the French stage. -in 2006 he joined ETC promoter's team residante (epidemictrancecorp) and start to shared the stage with a big names like , Bizzare-Contact, Time-Lock, Ananda-Shake, Hyper Frequencies ... -2008 he felt inspired to create his own tracks under the project name "Biokinetix" less then 1 year later he finally presents his first live at the "Regular" Morphonic.records party. -end of 2008 first release is out on Geomagnetic.rec (USA) with the track "Crystal-Activity" Beginning of 2009, Fabry signed with Morphonic.rec (japanise & french label) and released a digital EP "i2D1". After that, the Biokinetix sound started to propagate on the dance-floors worldwide including Live performances in Europe tour ... -2010 started with the release of his "first album CD I3D1" in January on the big label Geomagnetic.rec ,after that biokinetix released on many compils aroud the world . mind-control.rec / goa.rec / hadra.rec / digital-drugs-coalition.rec....... biokinetix continue is world tour and work on many project has the biorizer project ( biokinetix vs mesmerizer ) -the story continue with his new release cd (Biokinetix & Friends - Remixes Album I3D3) out in october 2010 on geomagnetic.rec , and His 2dr CD album "21st century" be released this january 2011 on morphonic.rec..... VA Magnetik Attraction / Compiled by Biokinetix & Minstorm : OUT NOW !!! Stay connected ;)
MESMERIZER:
Mesmerizer is a french project composed of Neo (Thomas Bivaud) and Veek (Victor Moasser), both started playing guitars for various bands before discovering psytrance during their first parties. In 2000 they start deejaying Full-on wich leads them to Music production with the intention of mixing powerful sounds and energy with a touch groove and funk. After many successful performances during many years Mesmerizer produces now with Jaws Underground, Talamasca, XSI, Biokinetix, Skoocha, Freeze...and share the stage with artists like artists like Lost&Found, Phatmatix, Rinkadink, Bizarre Contact, Silicon Sound, Ex-Gen, Hyper frequencies… through various parties (Yabai, Crystal Matrix, PsyArt, Illumaughty...) Their debut album "Like A Machine" was released on 2I4U Records. For live act and Dj set please contact us at
mesmerizer@hotmail.fr
BIORIZER:
coming soon...
ENDEMIC SPECIES:
Endemic Species is a solo project of Michal Candrak from Slovakia. He is a young emerging DJ and since short time also a producer. His first contact with electronic music was at very young age when he got in contact with progressive house for the first time. Influence of this music can still be seen in his dj-sets and live performances. His production varies from minimal, house to break beat. After few years of gaining experience as a dj he started to produce his own music. His talent and skills were immediately recognized by the public. After short time his first works were released on Digital Paradox Records and his very first live performance was an opening live act at Bee Free Festival in Slovakia.
Entry fee
Entry fee
22.00-23.00 8€ incl. FREE Welcome Drink and Fluro Present

after 23.00 10€ incl. FREE Welcome Drink and Fluro Present
Organizer
Organizer
Gi_Ovanny vs. Warehouse