Samhain Gathering 2018 - A Psychedelic Castanyada Tale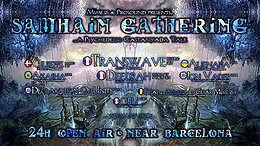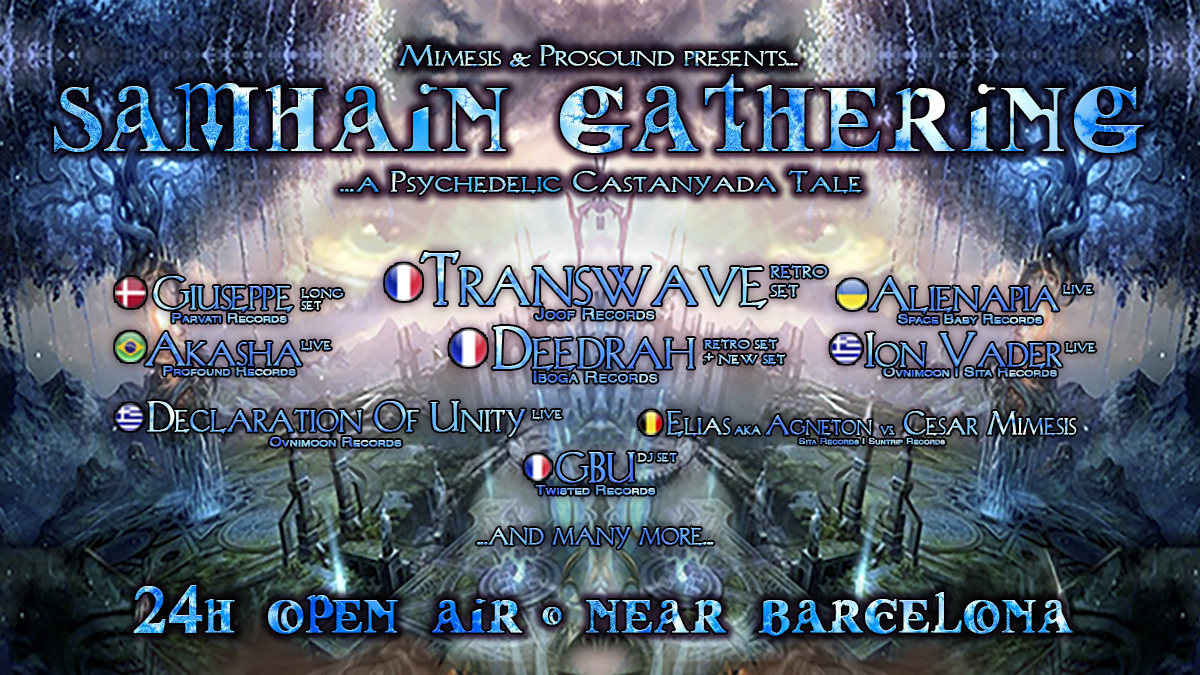 Line Up
★ TRANSWAVE [Retro Set] ★ Joof Records ★ FR ★
soundcloud
★ DEEDRAH [Retro Set + New Set] ★ Iboga Records ★ FR ★
soundcloud
★ GIUSEPPE [Long Set] ★ Parvati Records ★ DK/IT ★
soundcloud
★ ALIENAPIA [Live] ★ Space Baby Records ★ UKR ★
soundcloud
★ AKASHA [Live] ★ Profound Records ★ BR ★
soundcloud
★ ION VADER [Live] ★ Ovnimoon / Sita Records ★ GR ★
soundcloud
★ GBU [DJ Set] ★ Twisted Records ★ FR ★
youtube
★ DECLARATION OF UNITY [Live] ★ Ovnimoon Records ★ GR ★
soundcloud
★ ELIAS aka AGNETON vs. CÉSAR MIMESIS ★ Sita Records / Suntrip Records ★ BE / CAT ★
soundcloud
soundcloud
★ KHAOSCOPE [Live] ★ Gloom Records / Bassground ★ CAT ★
soundcloud
★ CELS MIMESIS [Live] ★ Mimesis ★ CAT ★
soundcloud
★ TOXIC [20 Years Anniversary Closing Set] ★ Trance Culture ★ CAT ★
soundcloud
★ DUMI ★ Prosound ★ CAT ★
[click here]
★ EIVYAN ★ Trance Culture ★
soundcloud
★ GONTA ★ Psykomaniak ★
[facebook.com]
Location
The event will happen at the football camp of El Jou, at the area of Hotel El Jou surrounded by a privileged natural landscape, 15km's north from Berga (110km's from Barcelona).
Additionally, for the most fancy there's option to rent rooms on it :P if you're interested only need to send an e-mail to
info@eljou.com
and you'll be attended :)
Maps location:
[goo.gl]
Coordinates:
42.194909, 1.858602 // 42°11'41.7"N 1°51'31.0"E
Entry fee
Entry fee
500 TICKETS LIMITED!!
-> EARLY BIRD (first 100): 15€ (can enter at any hour) - SOLD OUT
-> PRESALES 1st PHASE (until 300): 18€ (can enter at any hour)
-> PRESALES 2nd PHASE (until 500): 20€ (can enter at any hour)
- BUY HERE:
[seetickets.es]
Organizer
Organizer
Mimesis & Prosound
Added

4y 7m

· Update

4y 3m

·