Sacklife w/ Yawanawa / Moglicore / Malum /Synthetic Flora uvm.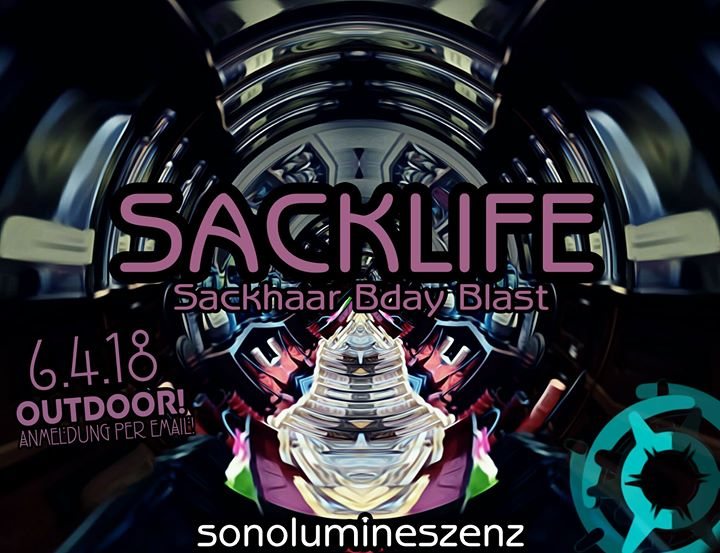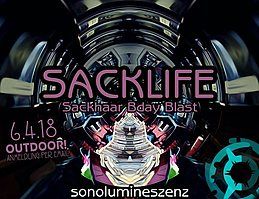 Line Up
SACKLIFE 2018
Es wird wieder wärmer und wir halten es schon fast nicht mehr in den Clubs aus! Es ist wieder an der Zeit raus zu gehen! Da gibts auch keine Sperrstunde oder sonstigen Quatsch!
Wie jedes Jahr wird die Outdoor Saison mit Sackhaar's Geburtstag eingeleitet. Dieses Jahr jedoch nicht komplett im Wald, wie bei Project Xandoz, sondern an gewohnter Stelle. Die die öfters dabei sind wissen bescheid :D (Meldet euch trotzdem an!! Ohne Anmeldung kein Einlass!).
Als ausgleich gibt's Ordentlich was auf die Ohren! Die Musiker, die kommen, wurden nach penibelsten Kriterien ausgesucht. Sie kommen von weit her: Berlin, Wien, Salzburg und Sachsen um mit uns das jährliche Ritual zu zelebrieren!
Doch wir werden dieses Jahr noch oft genug in den ungeschützen Wald gehen, seid gespannt! Sobald es die Witterung zulässt!
Für extrem PORNÖSEN Sound sorgen:
______________________LINE - UP________________________
♫ Yawanawa
Squamata Records / Sonolumineszenz Rec.
Head of Squamata Records, darkest Live Act from Salzburg!
soundcloud
♫ Moglicore
Squamata Records / Shamanism Records / Sacred Sound
Dark Psychedelic Tunes from Vienna!
soundcloud
♫ Malum
Shamanism Records / Impios Rec. / Sonolumineszenz Rec.
Berlins Best Hi-Tech DJ!!
First Live Session!! (Live & DJ Set)
soundcloud
♫ Okklumentik
Sonolumineszenz Rec. / Squamata Records
NEW DJ Project von Ritualien & Yawanawa
♫ Ritualien
Squamata Records / Sonolumineszenz Rec. / Sacred Sound
Some destroying tunes from Vorarlberg
soundcloud
♫ Syηthetic Flora
FreiGeist SoundArt / Sonolumineszenz Rec.
Music is his Passion! Originally from the Allgäu but now studying Akustik Engineering in Mittweida!
soundcloud
______________________________________________________
Deko: Sonolumineszenz Rec.
Design: Sectumsempra Art
______________________________________________________
Unkostenbeitrag: tba
Location und Anmeldung nur über email an:
sonolumineszenz.privatparty@gmail.com
ANMELDUNGEN NUR BIS EINEN TAG VOR DER VERANSTALTUNG
Ladet bitte eure Freunde ein!!
Hinterlasst die Location wie ihr sie vorgefunden habt! Müllbehälter und Aschenbecher werden gestellt, diese bitte auch benutzen!
ab 18!
NO KIDS, NO NAZIS, NO COMMERCIALISM
Organizer
Organizer
Sonolumineszenz Rec.