Backend
Rythm Of Druids // Psytrance Night In Da Wood // Open Air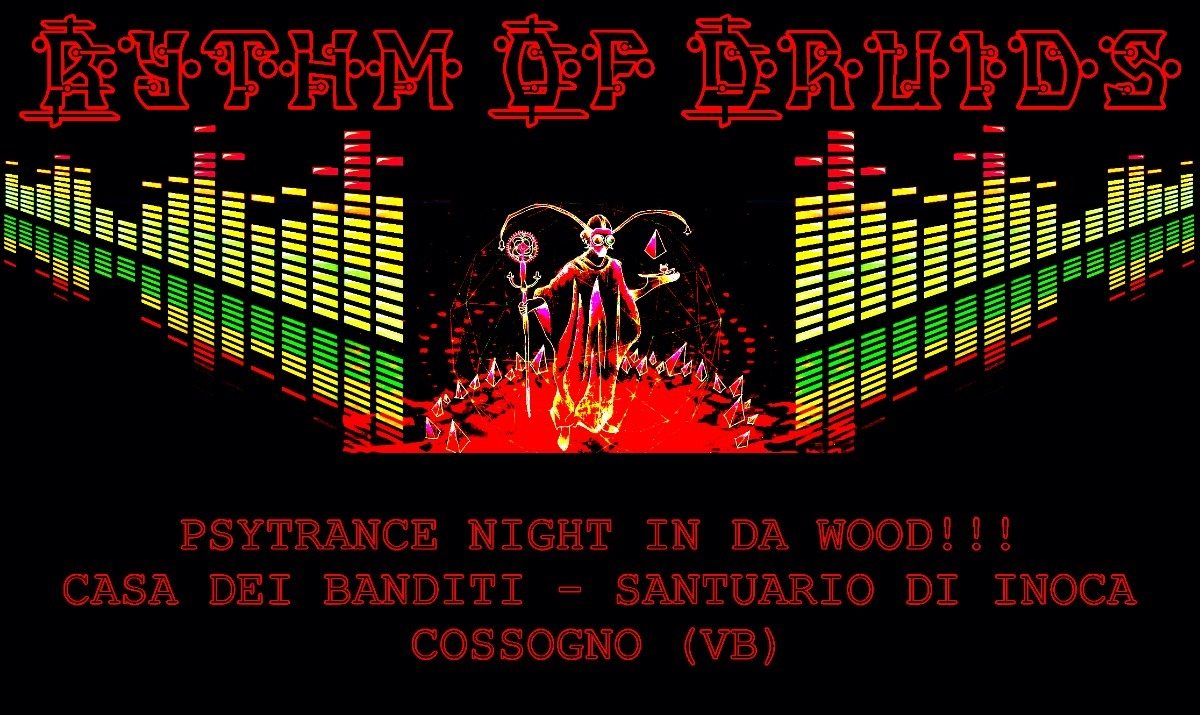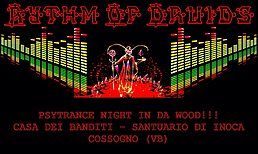 Line Up
- UPLOAD
- (Sonic Tree Project)
-
[facebook.com]
- HAN PIECK
- (Han Live / The Lounge / Flippin Music)
- YGGDRASIL
- (Sonic Tree Project / The Underground Society)
-
soundcloud
- PSYSOUL
- (Psyko Klown / The Underground Society)
-
[facebook.com]
- STACK OVERFLOW
- (Cosmic Crew Rec. / Creative Visions Records & ArtNetwork)
-
soundcloud
- LUCASH
- (Sonic Tree Project)
-
[facebook.com]
Deco
Deco
PSYKO KLOWN DECO PSYLAB
Info
)))))) ॐ (((((( RYTHM OF DRUIDS )))))) ॐ ((((((
- PSYTRANCE NIGHT IN DA WOOD!!! 2ND EDITION!!
IN COLLABORAZIONE E PER GENTILE CONCESSIONE DEL
COMUNE DI COSSOGNO (VB)
[parcovalgrande.it]
SAREMO OSPITI DI UNA LOCATION SPECIALE E D'ALTRI TEMPI, RICCA DI ARCHITETTURA, STORIA E DI VERDE!!!
"SANTUARIO DI INOCA & CASA DEI BANDITI"
- PARCO MADONNA DEL RE -
"All'ingresso del paese, appena passato il ponte sul rio Aurelio, prendendo a destra, si va in località Inoca, toponimo che significa luogo acquitrinoso, punto di partenza di itinerari escursionistici nella Val Grande.
Lungo il percorso si possono ammirare le cappellette della Via Crucis. La chiesetta di Inoca è stata edificata nella prima metà del '600, su una precedente cappelletta dedicata alla Madonna di Re, patrona del Parco. Annesso all'oratorio vi è la "Casa dei banditi", così chiamata perché durante le epidemie di peste era adibita a lazzaretto.."
POWERED BY:
- "SONIC TREE PROJECT" / DEEP ROOTS OF SOUND
- "THE UNDERGROUND SOCIETY"
-
[facebook.com]
- "PSYKO KLOWN DECO PSYLAB"
-
[facebook.com]
MAP LOCATION:
[google.it]
ENTRY FEE: € 10
(MUNICIPAL AREA IN CONCESSION
SUPPORT THE PROJECT & THE PARK MAINTENANCE THROUGH BAR SERVICE)
BAR SERVICE / CAMPING & GRILL AREA / SANCTUARY PARK
RESPECT YOURSELF AND THE LOCATION!!!
NO DRUGS / NO EXTERNAL ALCOHOLES / NO DOGS
ONLY GOOD VIBES!!!
Location
Location
Via per Inoca Cossogno (Vb)
Organizer
Organizer
The Underground Society / PSYKOKLOWN DECO PSYLAB / SONIC TREE PROJECT