RUMSOMMERN electronic music endsummer indoor&beach festival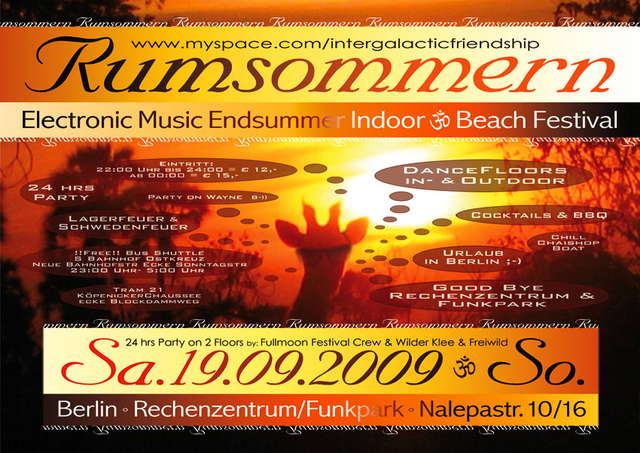 Live
Line Up
- 24 hrs on 2 Dancefloors: TIME TABLE ONLINE!!!!! (see below)
Time in Motion (iono - denmark)
[myspace.com]
Bitkit (naturall productions - belgium)
[bitkit.be]
.
/ Swing / Downbeat / Ambient / Intro & Outro @ the Beach: TIME TABLE ONLINE!!!!! (see below)
Moarice (swing & chill - berlin)
[myspace.com]
Sacred Ayin (dynamic unity - berlin)
[myspace.com]
Kjell Åke (echnotone - berlin)
[myspace.com]
.
Info
Timetable Indoor
22-01 Branko
01-04 Jackomo
04-05:30 Bitkit Live
05:30-07:30 Cowan
07:30-08:30 Time in Motion Live
08:30-11:30 Lil'ly
Timetable Outdoor
22-02 Moarice
02-06 S.Ayin
06-09 Gandalf
09-12 Dr. Changra
Timetable Outdoor or Indoor (depending on the weather)
12-15 der Loth
15-18 Makusu + Pardauz
18-22 Kjel Ake
Was haben wir nich schöne Partys im RZ / Funkpark gefeiert. Bevor es nun doch im Herbst dank der Riedel Reederei in Grund und Boden gestampft wird, ergreifen wir unsere letzte Chance, ehrenvoll und mit einem satten Booking das RZ / FP gebührend zu verabschieden.
Mit einer weiteren Auflage von RUMSOMMERN, einer Kooperation von *Freiwild* *Full Moon Festival Crew* und *Wilder Klee* wird ein dezentes ;) Festival kurzfristig ins Leben gerufen. Wie schon zur Sommersonnenwende wird liebevoll dekoriert, feist gebucht und durch satten Sound und Licht- und Feuerspiele eine zaubervolle Stimmung kreiert, in der Mensch wieder Kind sein darf und den Glanz des Sommers nochmal nachspürt: im Sand springen, tanzen und fröhlich sein!
presse-LINKS:
rumsommern banner mit link (komplett html):
<p><a href="http://www.msplinks.com/MDFodHRwOi8vd3d3LmdvYXRyYW5jZS5kZS9nb2FiYXNlL3BhcnR5L2RldGFpbHMvNDc5MDY=" target="goabase_1"><img src="http://c3.ac-images.myspacecdn.com/images02/29/l_7217532bc92f4d8f9750ab41c417d98a.jpg" height="80" width="468" border="0" /></a></a><br /><b>
rumsommern flyer front:
[myspacecdn.com]
rumsommern flyer back:
[myspacecdn.com]
rumsommern streifen:
[myspacecdn.com]
link rumsommern myspace:
[myspace.com]
link rumsommern goabase:
goabase
Entry fee
Entry fee
15,- (22H - 24H = 12,-)
Organizer
Organizer
joint @ venture (fullmoon festival crew & wilder klee & freiwild)