Roots of Goa / TALAMASCA live in Mainz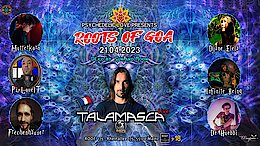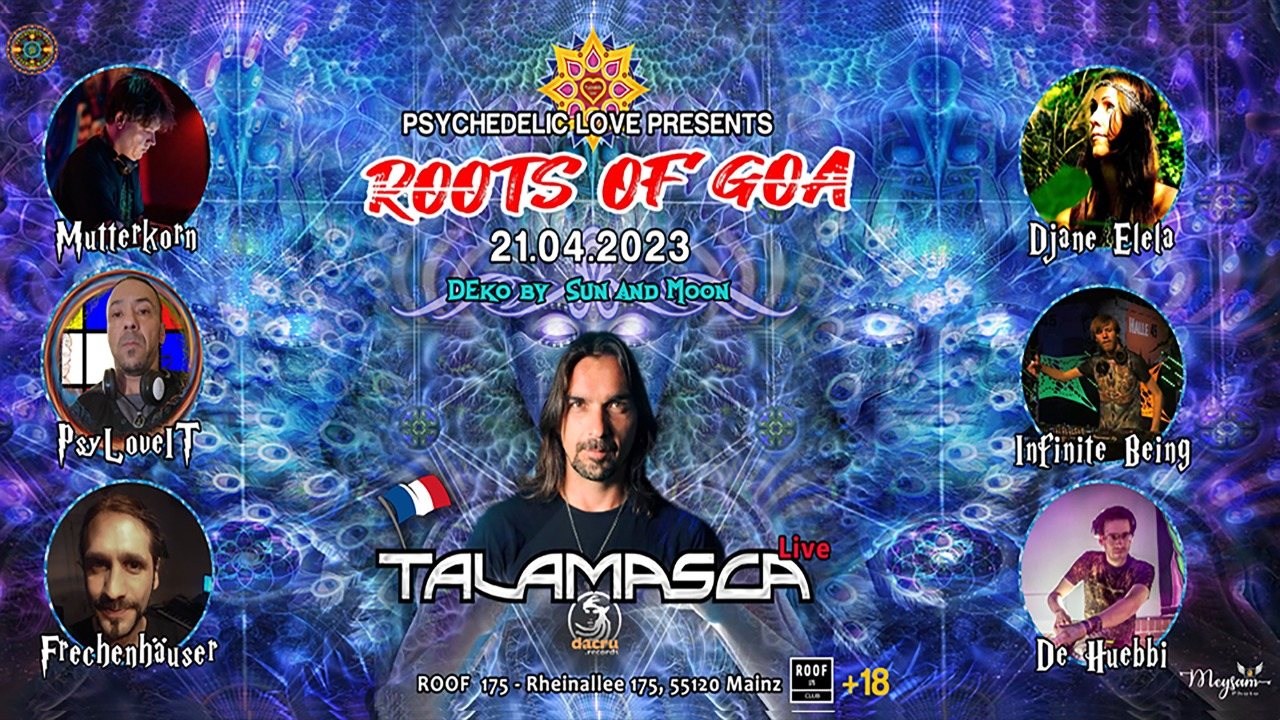 Info
ᖇᏫᏫᎿᎦ ᏫᎰ ᎶᏫᎯ / TALAMASCA live
Club Roof 175 Mainz
My dear ones, we are looking forward to Friday the 21st of April to celebrate this great event with the great
Dj TALAMASCA, one of the best and most famous djs in the world.
He is a very difficult artist to book as he always has dates completely booked up playing all over the world, and that's why we are so happy and grateful to have had this opportunity.
Tickets are now on sale /
limited tickets
Phase -1 - 18€ until Monday, January 23rd 10pm or all tickets are sold.
[eventbrite.pt]
Phase -2 - €20 from January 23rd to April 21st at 10 pm. or all tickets are sold
Tickets at the door cost €25.
So don't miss the opportunity to see TALAMASCA live and 5 other great Artists.
We will have a lineup of 6 great Artists,
The decoration will be done by SUN and MOON which is for us one of the best decoration teams in Germany.
As in all our events we will have the Psychedelic shop with Psyshopmaria with fimo art and accessories for the Party.
Psyshop / outdoor area / Psychedelic Deco / Free fruits / Free candy's
.
Deco by
Sun and Moon
[facebook.com]
Psychedelic shop by
Psyshopmaria
[facebook.com]
Psychedelic Love ॐ events in
Mainz/Wiesbaden/Bingen
ॐ══ॐ
17/12/2022
ᎶᏫᎯ iᏁ ᏰiᏁᎶᏋᏁ / Bingen
[fb.me]
ॐ══ॐ
06/01/2023 / Roof Mainz
Psychedelic Fridays #19
[facebook.com]
ॐ══ॐ
26/01/2023/ Schlachthof Wiesbaden
GOA RITUAL+Logic Bomb live Sweden 🇸🇪
[facebook.com]
ॐ══ॐ
03/02/2023 / Roof Mainz
Psychedelic Fridays #20
[facebook.com]
ॐ══ॐ
03/03/2023/ Roof Mainz
Psychedelic Fridays #21
Information soon
ॐ══ॐ
31/03/2023/ Roof Mainz
Psychedelic Fridays #22
Information soon
ॐ══ॐ
21/04/2023/ Roof Mainz
TALAMASCA Live Fr.🇫🇷
(Dacru records)
Information soon
ॐ══ॐ
05/05/2023/ Roof Mainz
Psychedelic Fridays #23
Information soon
÷÷÷÷÷÷÷÷÷÷÷÷÷
FOLLOW US ON
●ॐ
Instagram
[instagram.com]
●ॐ
Facebook page 👇
[facebook.com]
●ॐ
Group Psychedelic events in Germany 👇
[facebook.com]
●ॐ
Group Psychedelic love international group 👇
[facebook.com]
●ॐ
Psychedelic Love WhatsApp group 👇
[whatsapp.com]
●
Namaste
☮٠ૐ ٠PЄƛƇЄ• ॐ •LƠƔЄ• ॐ •UƝITẙ• ॐ •RЄSPЄƇT٠ ૐ ٠☮ Ver
Location
Roof 175
Rheinalle 175 55120 Mainz
55120 Mainz
Added

5m 51min

· Update

2m 25d

·