Revolution Psychedelic Party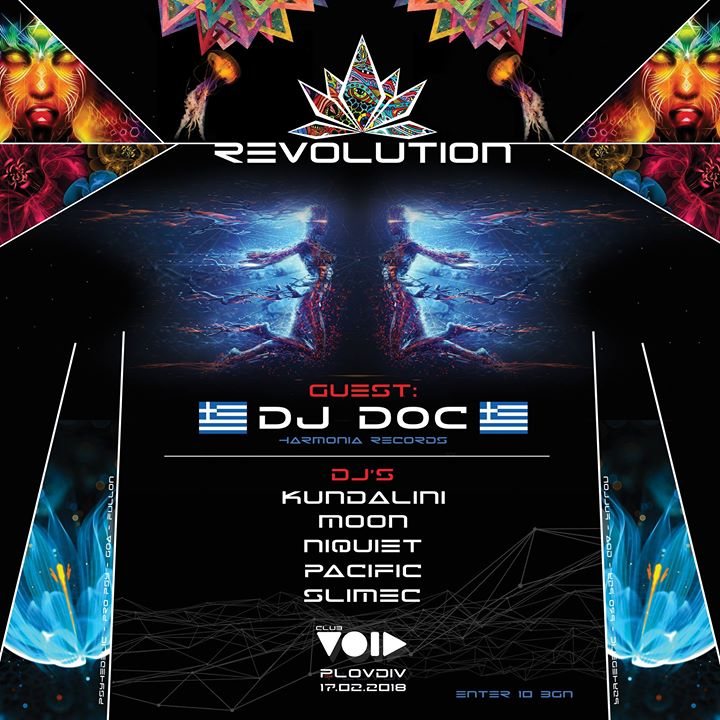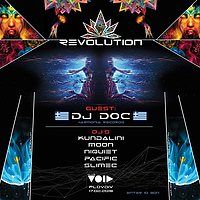 Line Up
We are happy to announce you that after a long break from the underground scene, Revolution is coming back with an event on the 17th of February 2018, at club VOID, Plovdiv. The special guest at the party will be the famous Greek DJ:
Dj DOC
soundcloud
soundcloud
Amongst the numerous festivals he took part in, the ones that are outstanding are Ozora, Antaris, Boom, Aurora, Samotraki and many more, in Europe as well as in Asia, Australia and North America. Dj DOC blows away every stage by mixing high quality psychedelic and progressive beats surrounded by evolutionary sound waves.
And for adding an extra flavor to the party, we have invited some of the most prosperous and popular Bulgarian Dj artists in the trance culture.
The party line up is as follows:
Kundalini
soundcloud
Slimec
[click here]
Moon
Pacific
Niquiet
Kundalini is the psychedelic trance project of Nikolay Sabchev connected with labels like Оvnimoon, Gen, Phantasm. Through the last decade he had gigs in different festivals in Bulgaria, Greece, Serbia, England, Macedonia and other countries, where he shared the scene with one of the most famous Djs and artists in the psychedelic music. There are also artists that still continue developing the club scene in Bulgaria, namely MOON, Pacific, Niquiet and the youngest and most prosperous among them - Slimec. These people are the beginning of what we consummate in good mood today. Their music, saturated with the clear, energetic rhythms will be supplementary fortified by the engineering perfection of the Funktion One sound systems.
Let's immerse together in this psychedelic atmosphere on the 17th of February 2018. The doors will open at 8 pm for all fans (who are at least 18 years of age) and will close at 8 am on Sunday, the 18th of February 2018.
Entry: 10 BGN
Location
Location
Club VOID
ul. Atanas Samokovetza 2
4000 Plovdiv