Backend
RETURN TO ATLANTIS Chapter II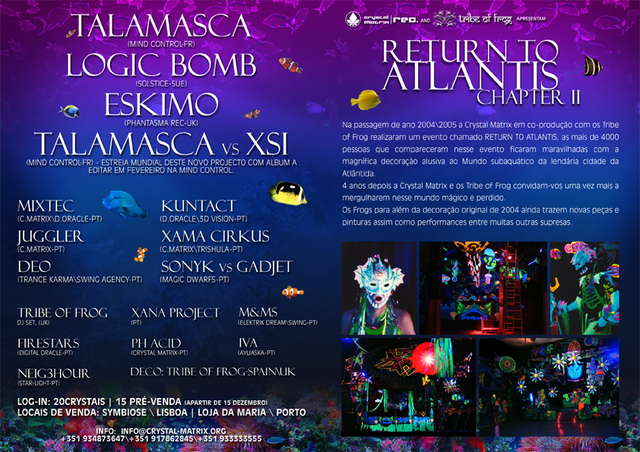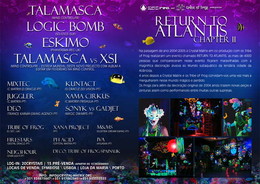 Line Up
TALAMASCA
(Mind control-Fr)

LOGIC BOMB
(Solstice-Sue)

ESKIMO
(Phantasma Rec-Uk)

TALAMASCA VS XSI
(Mind Control-Fr)
Estreia Mundial deste novo projecto com album a editar em Fevereiro na Mind Control.
Info
Info
Na passagem de ano 2004\2005 a Crystal Matrix em co-produção com os Tribe of Frog realizaram um evento chamado RETURN TO ATLANTIS, as mais de 4000 pessoas que compareceram nesse evento ficaram maravilhadas com a magnífica decoração alusiva ao Mundo subaquático da lendária cidade da Atlântida.
4 anos depois a Crystal Matrix e os Tribe of Frog convidam-vos uma vez mais a mergulharem nesse mundo mágico e perdido.
Os Frogs para além da decoração original de 2004 ainda trazem novas peças e pinturas assim como performances entre muitas outras supresas.
Organizer
Organizer
Crystal Matrix & Tribe of Frog