Backend
RetroSpektro - Giuseppe (Parvati rec.) 3h set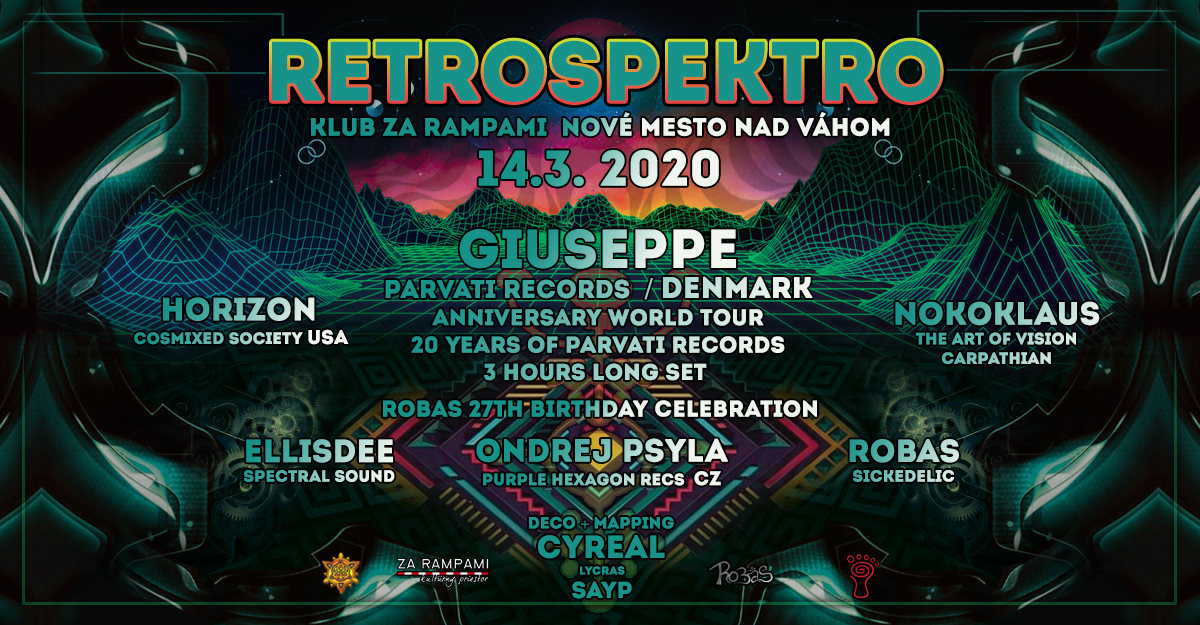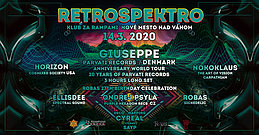 Line Up
ૐ MAIN DJ ACT:
• Giuseppe parvati-records (DK) ●•٠·
!Special "20 years of Parvati records" 3 hours long set!
youtube
ॐ DJs:
• Horizon (USA) ●•٠·
(Cosmixed Society, Funny Moon Festival)
[click here]
• DJ Ondrej Psyla (CZ) ●•٠·
(Purple Hexagon Records, Digital Forest Festival)
soundcloud
• Ellisdee (SK) ●•٠·
(Spectral Sound)
[click here]
• DJ Nokoklaus (SK) ●•٠·
(The Art of Vision, Carpathian)
[click here]
• Robas - Sickedelic (SK) ●•٠·
soundcloud
Deco
ૐ DECO AND MAPPING BY:

• Cyreal (CZ) ●•٠·

ૐ LYCRAS BY:

• Sayp (SK) ●•٠·
Info
PARTY WILL NOT HAPPEN THIS WEEKEND!!!
PARTY WILL BE 23.5.2020 THANKS TO CORONA PRECAUTION LAWS IN SLOVAKIA!
IF THE SITUATION WILL BE BETTER IT WILL HAPPEN ALSO WITH HEADLINER GIUSEPPE!

RetroSpektro is a psytrance party where mostly music of 2000-2010 period will be heard!

Considering that RetroSpetro didn't happen in 2019 and Robas - Sickedelic is going to celebrate his 27th birthday, we've prepared a special FOREST-PSY delicacy and invited to KLUB ZA RAMPAMI the founder and owner of Parvati Records and one of the most famous DJs in the world - Giuseppe parvati-records from Denmark!

GIUSEPPE is going to delight us by a special set celebrating 20 years since the founding of Parvati Records, so we are looking forward to section of 20 years of their production!
Fasten your seatbelts and enjoy your flight!
Location
KLUB ZA RAMPAMI
Trenčianska 1189, 915 01 Nové Mesto nad Váhom
Entry
Entry
15€ - Tickets available only on gate
Organizer
Organizer
Robas, psytrance.sk and Klub za Rampami