Backend
**Reporté/Verschoben** Millenium invites "Les Fines Herbes" w/ Electrypnose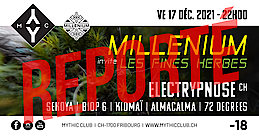 Info
***Due to new Covid-19 regulations, we decided to postpone this event later in the year 2022! Thanks for your understanding!***

MILLENIUM invite LES FINES HERBES w/ELECTRYPNOSE !
Downtempo - Techno - PsyTech - DarkProg
::
Millenium a le plaisir de vous convier au Mythic Club pour une soirée en collaboration avec le collectif vaudois des Fines Herbes.
Le projet aux abords organiques allie la musique électronique à l'énergie de mère nature. Les artistes œuvrent avec passion pour le développement de la scène électronique en suisse romande et 4 d'entre eux seront présents pour vous faire danser !
Pour marquer le coup, Electrypnose, grand nom de la scène Techno/PsyTrance en Suisse nous fera le plaisir de rallier les contrées fribourgeoises une fois de plus pour nous présenter son LIVE.
Sekoya de Millenium se chargera du closing avec un Dj set bien dosé.
::
Portes : 22h00
Fin : 05h00
Entrée : CHF 15.-/Bon de conso CHF 5.- inclus
Vestiaire
18 ans révolus
::
RESTRICTIONS COVID
Nous devons travailler malgré ces restrictions car il en va de notre survie...
Ce n'est pas un choix, mais une Obligation qui nous est imposée par notre gouvernement !
...
Un certificat Covid avec QR Code valide ainsi qu'une pièce d'identité sont exigés.