Backend
Renegade Psy campout -- Black Rock Desert, Nevada -- Free!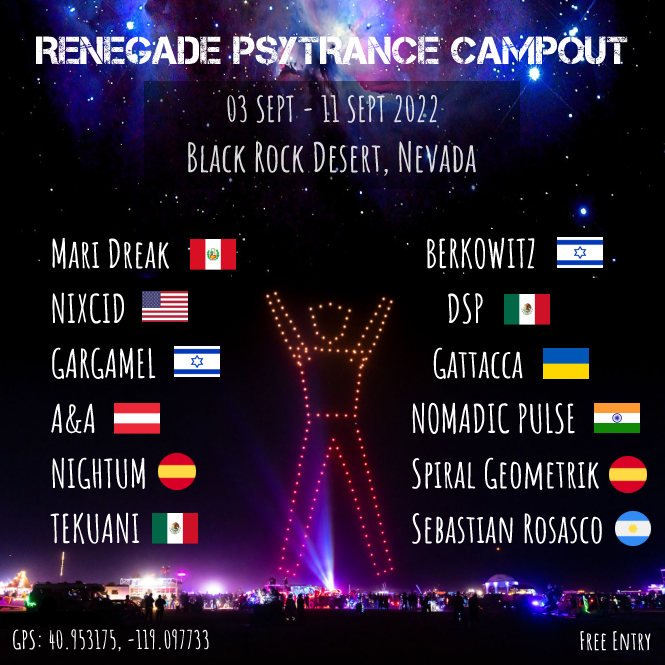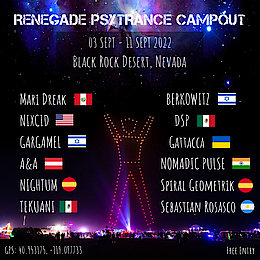 Line Up
-- DSP (Alvaro Dsp) [MX] (twilight/forest psy)
145-150 BPM
[facebook.com]
soundcloud
-- Tekuani (Manu Haro) [MX] (hitech)
180-200 BPM
Manu Productions / Tlālōcān festival
-- Kanaiiya (श्री गुरु) [US] (goa/fullon/twilight)
Pulse (California), Space Elevator
soundcloud
-- Sokolentos [IL] (fullon)
-- Gattacca [UA] (darkpsy/forest)
soundcloud
-- GarGamel ( שילה נחמיה ) [IL] (psytrance)
145-150 BPM
soundcloud
-- Nixcid (Nik Sit) [Key3 Music] (darkpsy/hitech)
soundcloud
soundcloud
-- Berkowitz (Tom Berk) [IL] (live chillout act + psyprog dj)
soundcloud
soundcloud
-- Mari Dreak ( Pachahunai Beets) [Peru] (tech house)
soundcloud
-- A&A [AT/US] (psy/goa)
-- Wamsi Challa (techno/psytechno)
soundcloud
Info
Come join our next psy camp starting on 03 Sept 2022 @ black rock desert, NV. Play your set or dance your ars off! Free! 7-10 nights long!
Music: Goa, Psytrance, Psyprog, Forest, Full-on, Dark Psy, Psytechno, Techno, Hitech and Minimal Psy. 130-180 BPM. Artists from Europe, Israel, Mexico, Peru as well as local psy talent.
Applications are still open for main stage. Reach out!
• 7kw+ sound system
• Music till 08:00 am daily
• 24/7 bar
• Free of charge, on public land
• No services, leave no trace
🗺️ GPS coordinates:
40.953175, -119.097733
40°57'11.4"N 119°05'51.8"W
[goo.gl]
🚐 Directions:
[google.com]
Come to camp as early as you like, the sound arrives on 02 sept evening.
This is a collaborative event in the desert, y'all welcome, there are no gates or tickets, please bring art, lights, food, water, shade structures and everything else you'd like to share.
Gracias! Danke! !תודה
Added

1m 26d

· Update

13d 21h

· 1